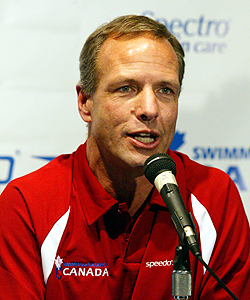 QUEBEC CITY, Canada, February 24. SWIMMING Canada and Canadian Interuniversity Sport proudly announced Thursday the launch of Canada First!, a joint initiative to retain top swimmers in Canada. SNC and CIS plan to increase awareness of the advantages of pursuing athletics and university academics in Canada.
The initiative will involve surveying swimmers about what influenced their decision in the selection of a Canadian or an American university, conducting an economic comparison of the true costs of education in Canada and in the United States, and developing recruiting strategies and tools that illustrate the advantages for top swimmers to pursue their high-performance goals and education in Canada.
"Through the Canada First Program, we will ensure that our athletes have a full understanding of the attributes associated with pursuing their swimming and academic training in Canada," said Pierre Lafontaine, the CEO of Swimming Canada. "In partnership with CIS, SNC will develop the right tools with which athletes and their families can make informed choices on where to study and train."
"We know what Canada has to offer, and by creating a better understanding of these benefits, more top swimmers will enjoy a first-class education and achieve their high-performance swimming goals at Canadian universities," added Marg McGregor, the CEO of Canadian Interuniversity Sport.
Byron MacDonald, head coach at the University of Toronto and president of the CIS Swimming Coaches Association, is also very enthusiastic about the new program.
"The strength of the Canadian university swim experience is its ability to cater to the individual needs of its swimmers – the coaching method of the future," said the former Olympic athlete and coach. "With the university swim season in sync with SNC and international swim scene, it's easier for the top athletes to achieve their training and competitive goals in Canada."
The 2006 CIS swimming championships, taking place this weekend (Feb. 24-26) at Laval University, represent a perfect occasion to announce the partnership of SNC and CIS on the Canada First Program. Many world-class swimmers have gone through the CIS system and achieved a world-class degree and results in the pool, and it is expected that many more will leave their mark over the next few days. Such individuals include Olympic medalists Alex Baumann, Curtis Myden and Mark Tewksbury.
Laval University is also an excellent venue for the launch of Canada First as the Rouge et Or swimming program is one of the finest in North America and the institution, the oldest in Canada, offers the very best in academics and athletics.
"Laval University and the Rouge et Or program are extremely proud of this historical partnership between Swimming Canada and Canadian Interuniversity Sport," said Laval athletic director, Gilles D'Amboise. "We truly believe that university sport is an extraordinary means to develop excellence. The marriage between academics and sports, steered by the human and financial resources provided by the institutions, is an invaluable asset for sport and society."