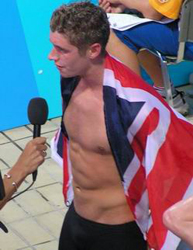 VIENNA, Austria, December 8. BRITISH Swimming reports that a squad made up of both Olympians and younger athletes aiming to continue their development, some first timers on the international stage, will contest the European Swimming Championships in Vienna December 9-12, 2004.
The 41-strong group is currently undergoing final preparations before the four-day short course (25m) championships begin on Thursday.
Olympic bronze medalist David Davies (pictured), Olympians James Gibson, Mel Marshall, Sarah Price (Loughborough University) and World Champion Mark Foster (University of Bath) lead the squad and will provide a valuable mentoring role to a large squad the majority of which is relatively new to the international scene.
The concept behind such a large contingent is to give the less experienced element as much international exposure as possible as British Swimming begins its next four-year cycle culminating in the Beijing Olympics.
"The swimmers will be looking to start the Olympic cycle again," explained Head Coach Dave Champion.
"This is where it begins for everyone whether they've been there before or whether the next four years will be there first journey to an Olympics.
"The squad is a real mixture of youth and experience but it's a combination that works well. The youth gain the valuable experience while the youthful zest rubs off on the older guys.
Britain's athletes will train throughout the meet and have not rested ahead of their races unlike their opposition. However, the targets set by British Swimming will remain high.
"The main aim for the squad is to improve rankings right across the board. That is ultimately what we're here to do," said Champion.
"We would like to improve on past performances as a team but that is going to be hard as this team is very much at a development stage although I know the swimmers are fired up for this meet and will give their all."
For Olympic medalist David Davies it will be his first international meet since his podium appearance in Athens on the final day of competition.
"It's going to be interesting as it's the first time I've competed since Athens but I'm hoping to do well to end the year on a high," said Davies.
"After Athens I was back in the pool pretty much straight away. I've been training hard and this will be my last chance to swim well this year."
The meet is special to Davies as he was crowned best newcomer at the same championships in 2002, which helped to unearth his self-belief in his own talents and therefore his chances of Olympic success.
"It's always a great atmosphere at the Europeans. In Vienna they've built a temporary pool in a fantastic auditorium and it really works.
"Short course can be really exciting, the swimming is faster because there are more turns and the skills need to be good in order to do well. But it's going to be interesting as a tough field will be contesting the 1500m Freestyle as Europe has some very strong distance swimmers."
Britain will be without James Hickman who has been forced to withdraw from competition due to an injury. The 200m Butterfly World Champion was in action in Paris at the weekend and damaged his shoulder.
-ends-
The British squad for the European Championships comprises:
Matthew Bowe (Loughborough University)
David Carry (Aberdeen Dolphins)
Matthew Clay (University of Bath)
Chris Cozens (Loughborough University)
David Davies (City of Cardiff)
Edward Downes (Maxwell Chipping Norton)
Matthew Edwards (Loughborough University)
Craig Elliot (Cockermouth)
Ranald Falconer (Aberdeen Dolphins)
Mark Foster (University of Bath)
Craig Gibbons (Maxwell)
James Gibson (Loughborough University)
Kristopher Gilchrist (City of Edinburgh)
Andrew Hodgson (Newton Hall)
Ross Hughes (Stirling Swim)
Alex Scotcher (Loughborough University)
Liam Smith (City of Leeds)
Neil Van den Broek (Swim Swansea)
Rebecca Adlington (Nova Centurion)
Rosalind Brett (Loughborough University)
Zoe Cray (Ipswich)
Lisa Chapman (Loughborough University)
Terri Dunning (City of Birmingham)
Lauren Greenshields (City of Edinburgh)
Kate Haywood (Loughborough University)
Sarah Healey (Loughborough University)
Stephanie Johnson (Chester Le Street)
Amy Konowalik (Nova Centurion)
Melanie Marshall (Loughborough University)
Rosie Morahan (Millfield)
Hollie O'Connor (Kingston Upon Hull)
Cassandra Patten (Plymouth Leander)
Keri-Anne Payne (Stockport)
Sarah Price (Loughborough University)
Stephanie Proud (Chester Le Street)
Alex Savage (Ferndown)
Gemma Spofforth (Portsmouth Northsea)
Lorna Tonks (University of Bath)
Claire Windeatt (Kingston Upon Hull)
Rachel Wilson (Durham University Aquatics)