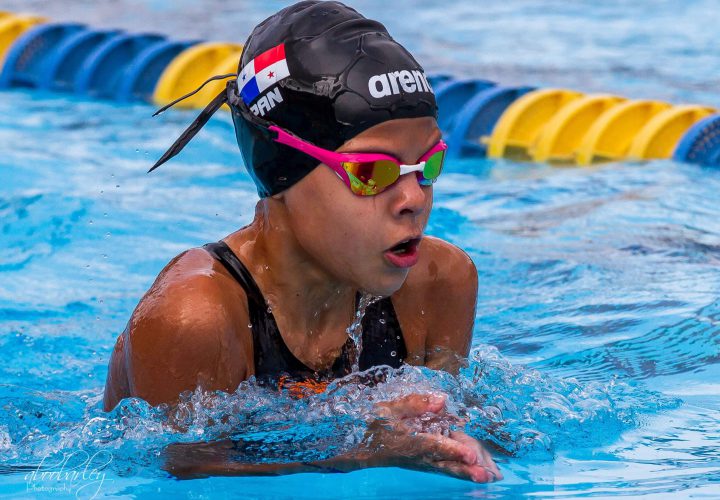 Photo Courtesy: Aboobarely Photography
Both Brazil and Mexico's squads continue to impress on day two of the 2018 UANA Swimming Cup in Coral Springs, Florida. Colombia and Argentina also posted some impressive performances on both the men's and women's side. Check below for event-by-event coverage of each race.
The girls 13-14 400 IM opened up the meet which featured Argentina's Selene Alborzen (5:00.96) winning the  event with her teammate Ana Hussman touching second in 5:04.83 while Mexico's Paulin  Sansores Vega took third (5:16.68).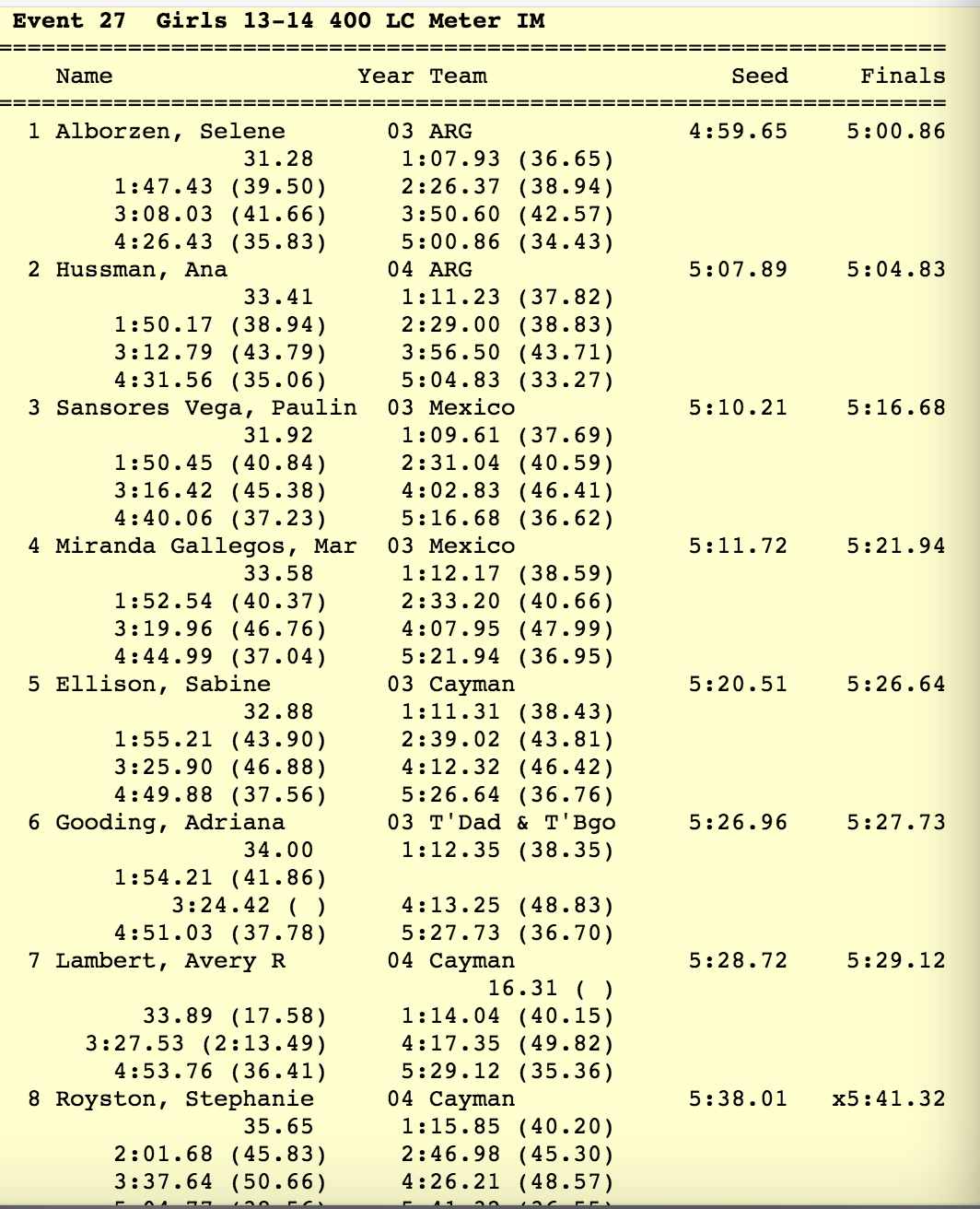 The girls 15-17 event followed with Mexico's Marie Conde Merlos winning the race in 5:00.79 with Peru's Andrea Marce Hurtado. Argetnina's Delfina Dini took third in 5:10.60.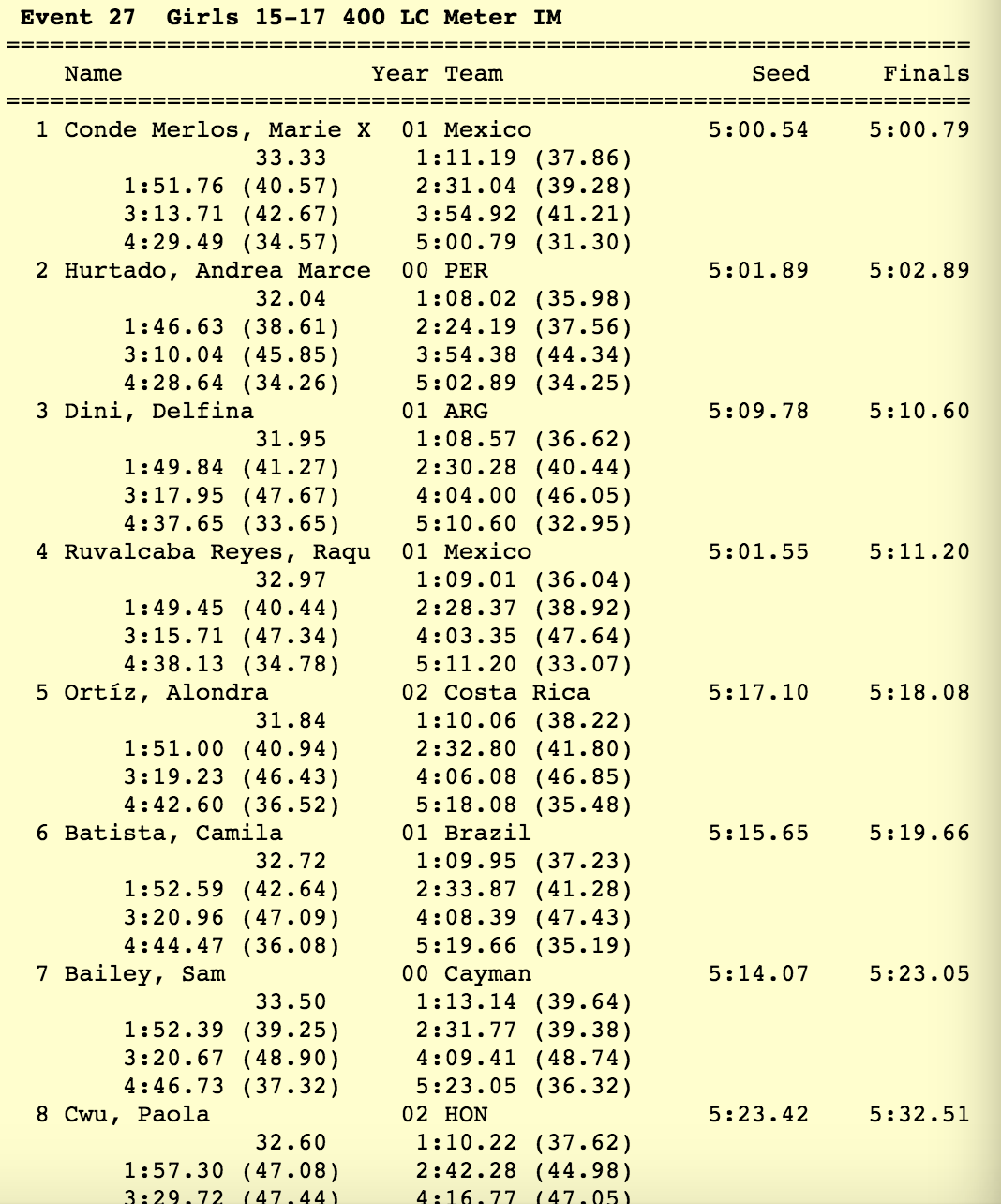 The boy's 13-14 400 IM saw Mexico's Maximilion Vega Cuevas take the win un 4:46.10 while Barbados' Roan Baker took second in 4:56.55. Argetina's Manolo Rodriguez nabbed third in 4:58.47.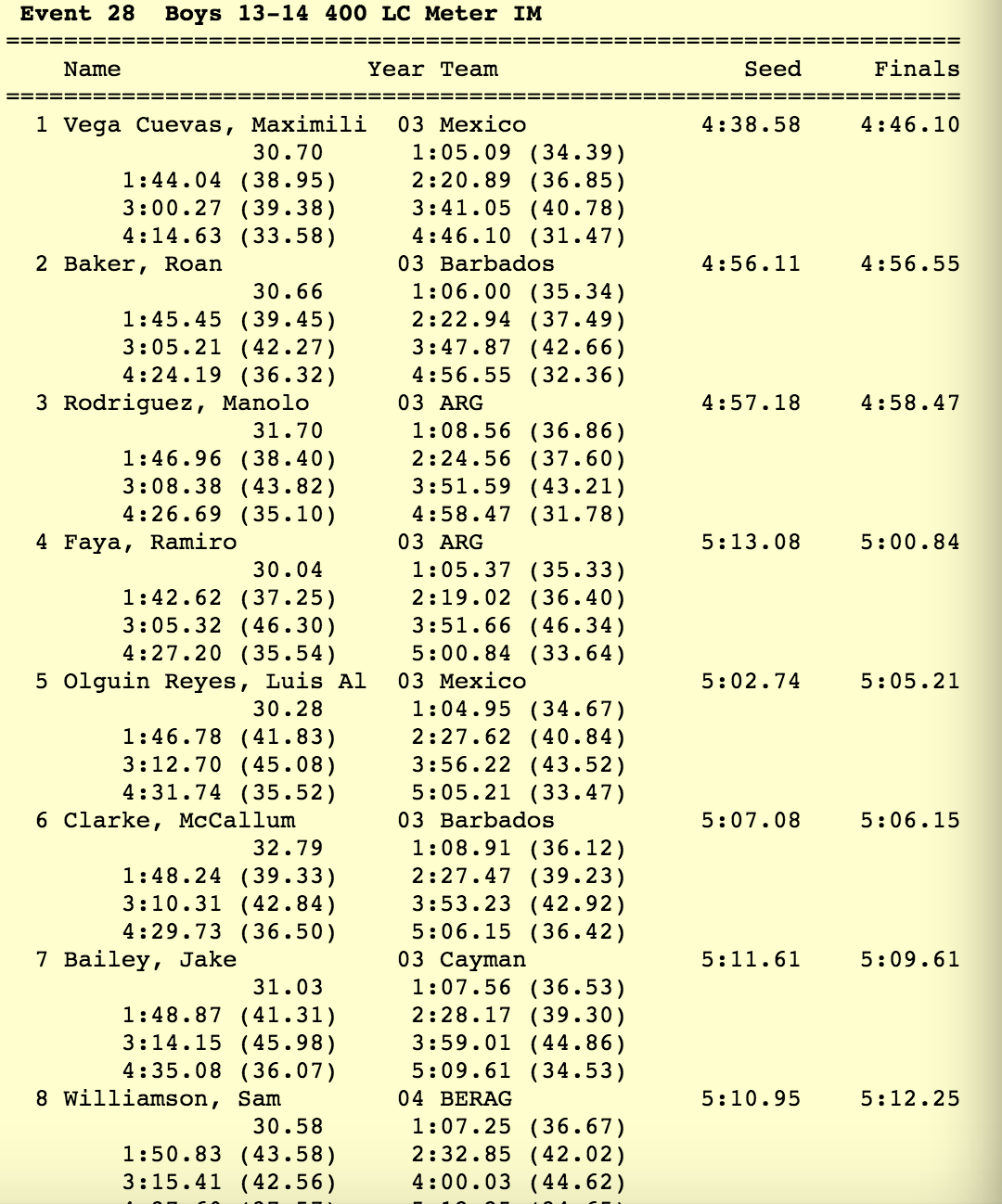 The 15-17 boys took their turn at the IM with Jose David Solis taking the win with a 4:36.22 while Nicolas Weigandt touched in a 4:37.32. Nicholas Vale out of Jamaica took third in 4:56.85.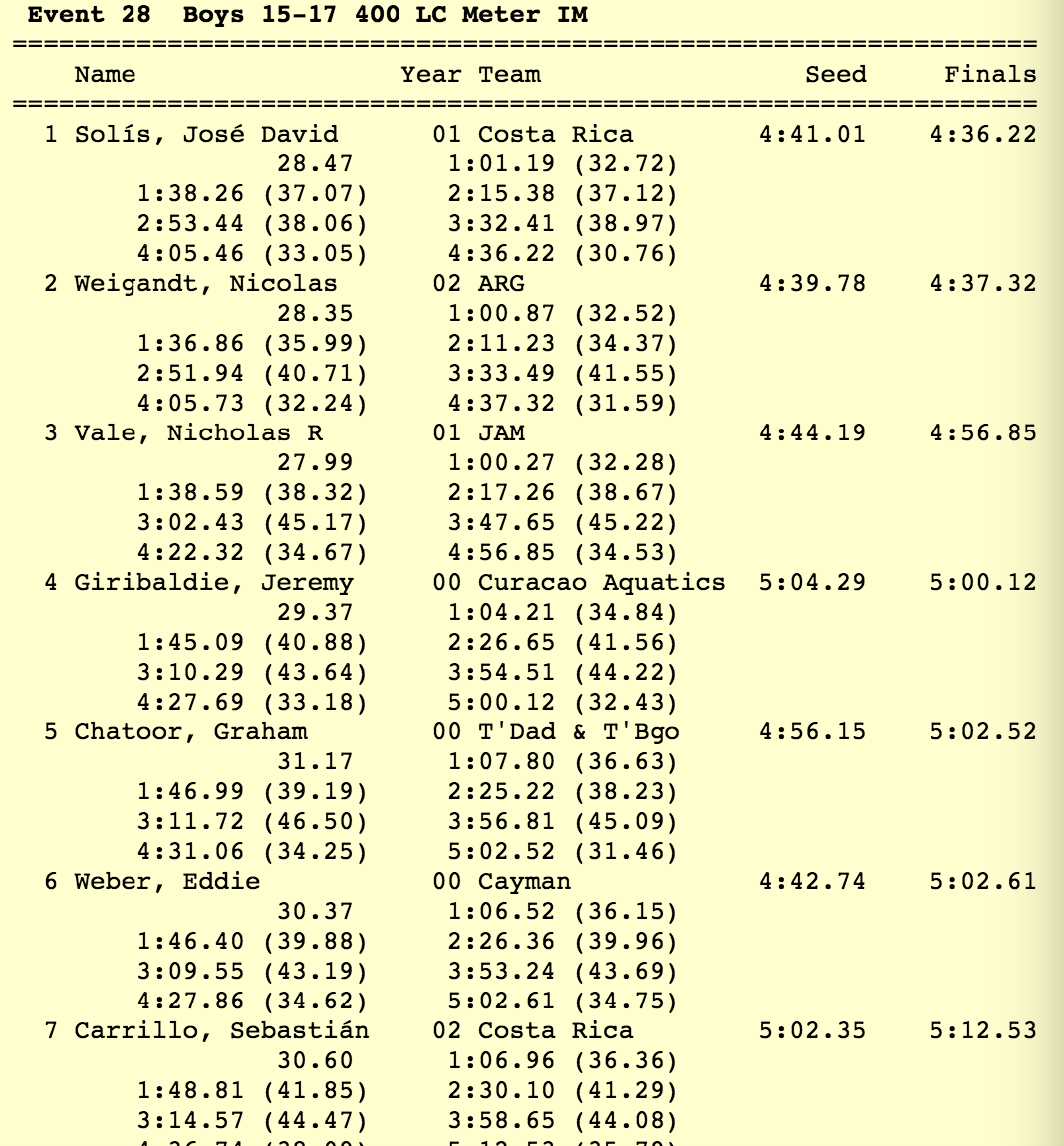 The girls 11-12 100 butterfly was captured by Mexico's duo of Sofia Laureano Perez and Dahl Jimenez Saldaña while Brazil's Ariana Martins took the bronze in 1:09.48.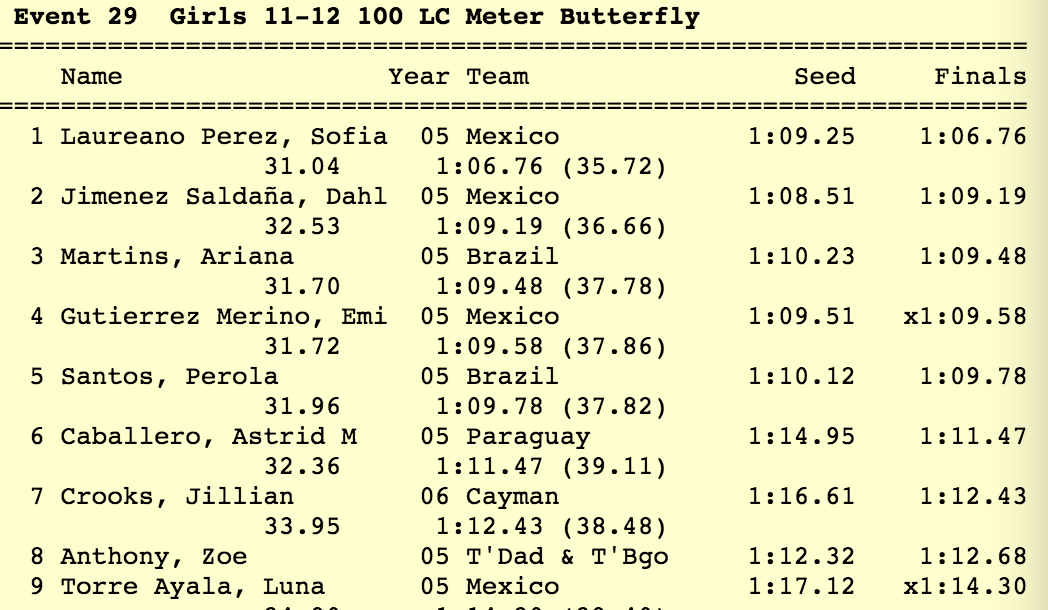 Brazil's Joao Piere Campos took the boys 11-12 100 fly in a 1:02.02 while Nigel Forges out of the Bahamas took silver in 1:03.34. Trinidad and Tobago's Zarek Wilson nabbed third in 1:03.48.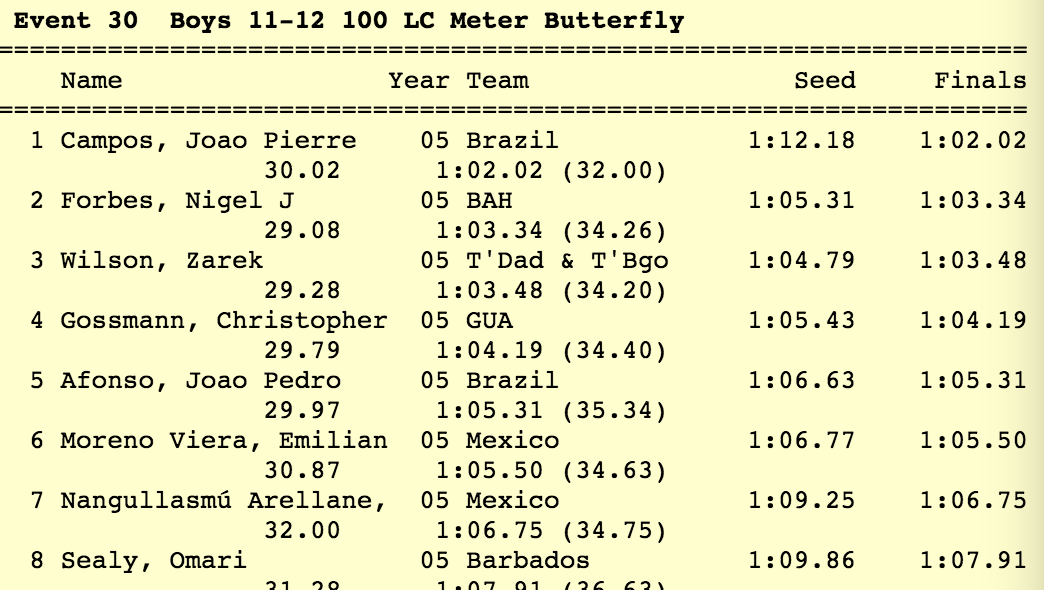 Mexico's duo of Athena Meneses Kovacs and Celia Pulido Ortiz took 1-2 in the girls 13-14 100 butterfly while Jamaica's Emily MacDonald earned third in 1:05.86.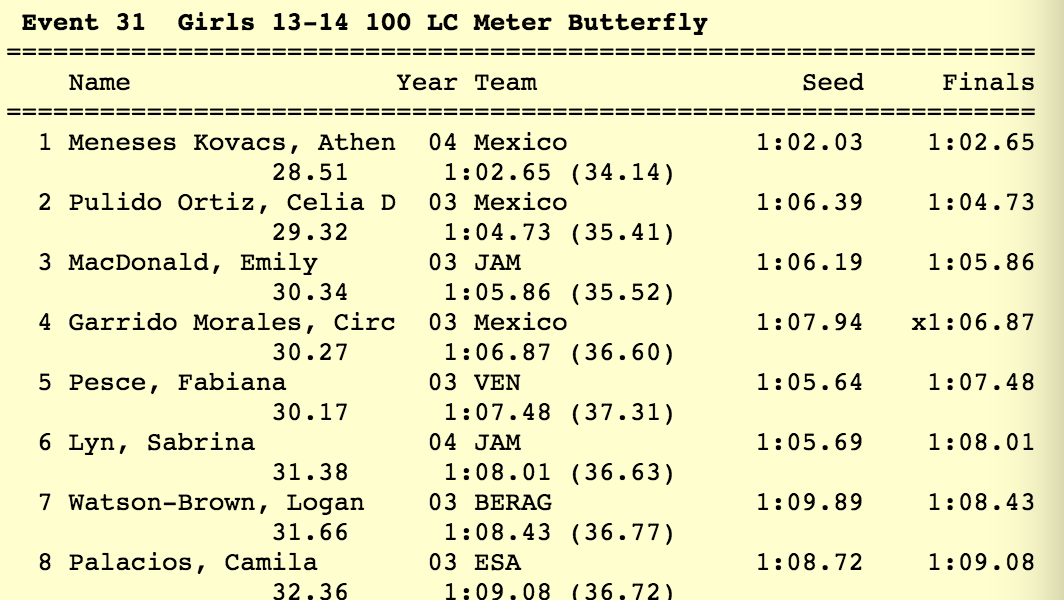 Brazil took the boy's 13-14 100 meter butterfly with their pair of Gustavo Saldo and Gabriel Dias. Manuel Carrasco took third for Argentina.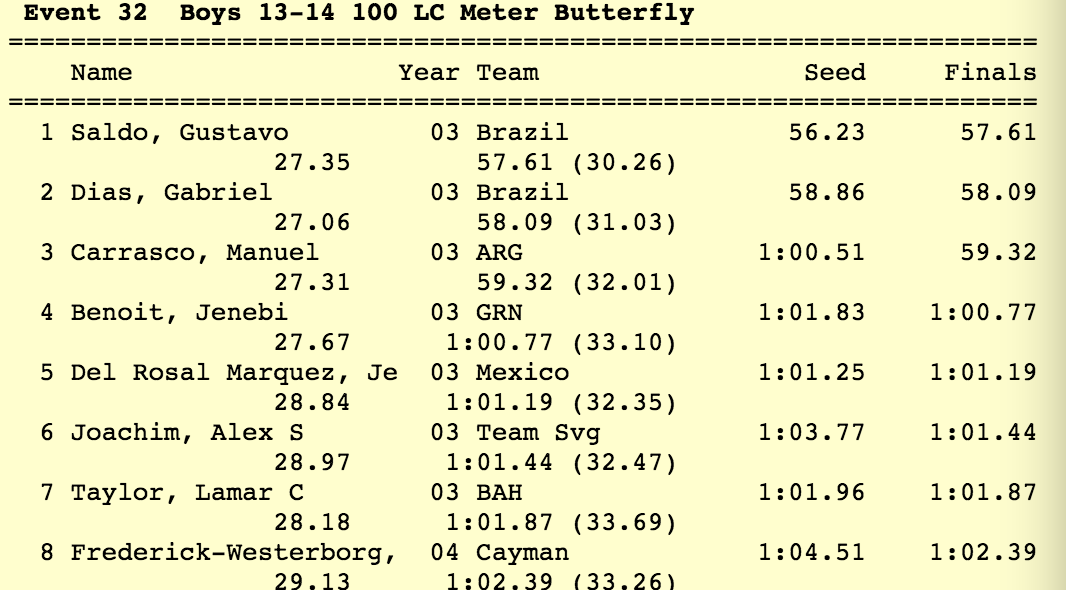 The girls 15-17 100 fly was taken by Becerra Quintanilla from Colombia in a 1:01.82 while Venezuela's Lyon Lismar took second in 1:01.85. Colombia's Durango Restrepo took third in 1:05.04.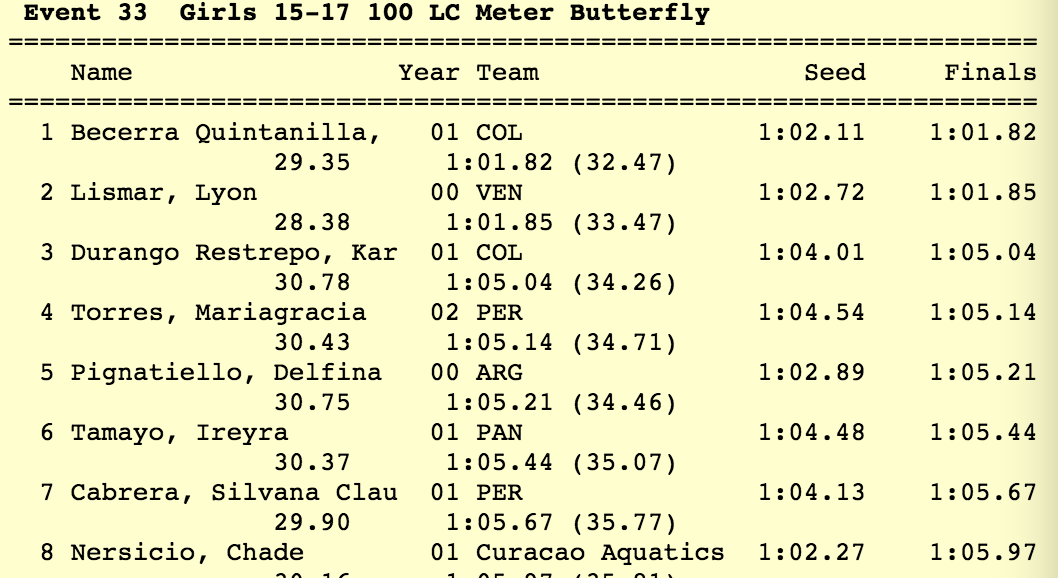 Mexico's duo of Guillermo Cruz Zuniga and Alvaro Ibarra Reyes who posted times of 56.01 and 56.21, respectively in the boys 15-17 100 butterfly. Taking third was Kael Yorke from Trinidad and Tobago in 56.53.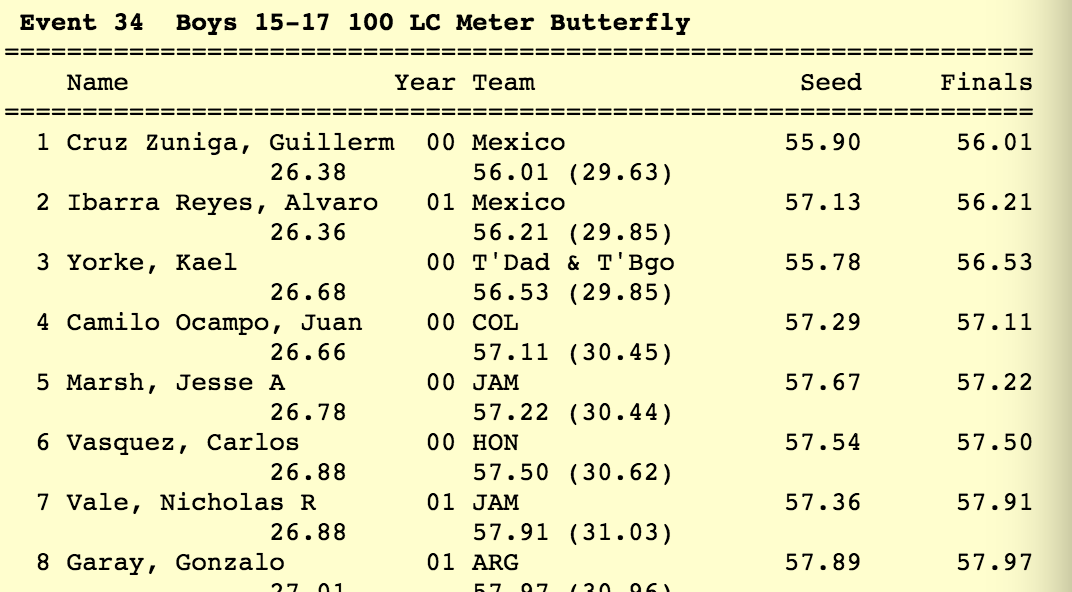 Brazil's Luiza Lima took the win in the girls 11-12 200 freestyle in a time of 2:15.27 while Mexico's Naranjo Carballeda and Rivera Santaolaya took second and third behind Lima.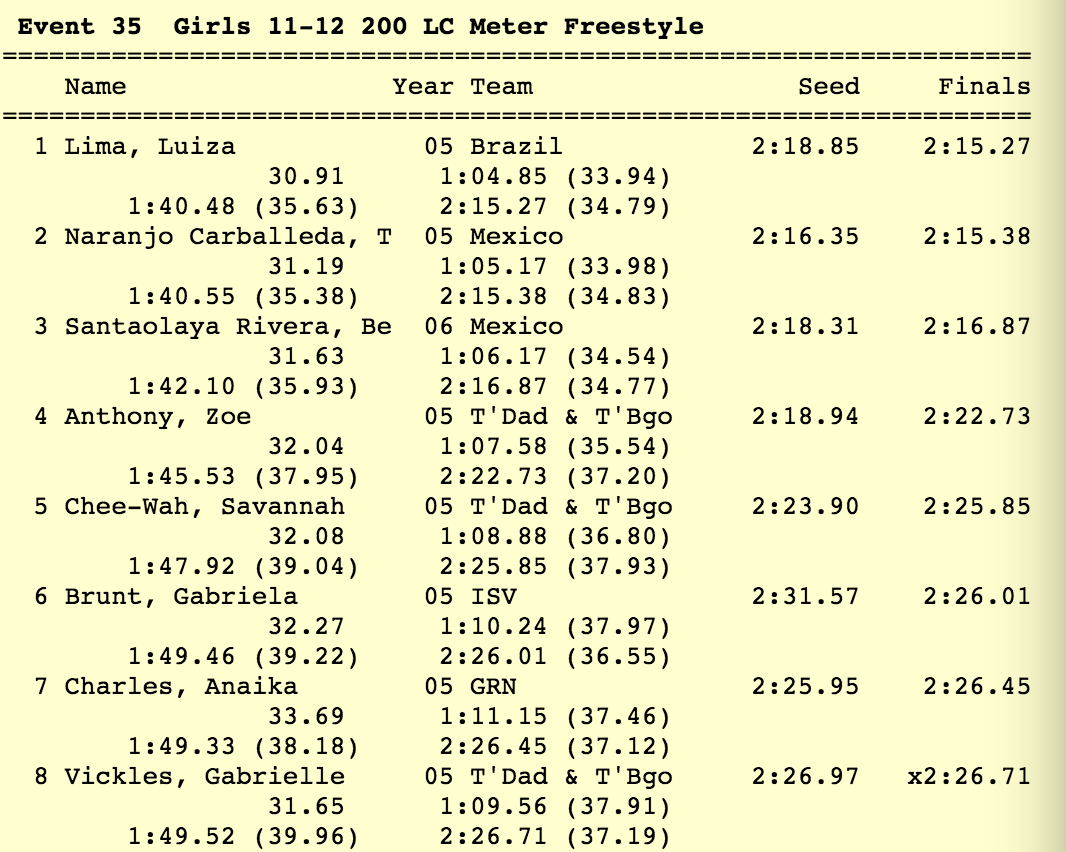 The boys 11-12 200 freestyle was taken by Brazil's Joao Pierre Campos in a 2:04.05 while Emiliano Moreno Viero out of Mexico took second in 2:07.13. Trinidad's Zarek Wilson was third in 2:09.05.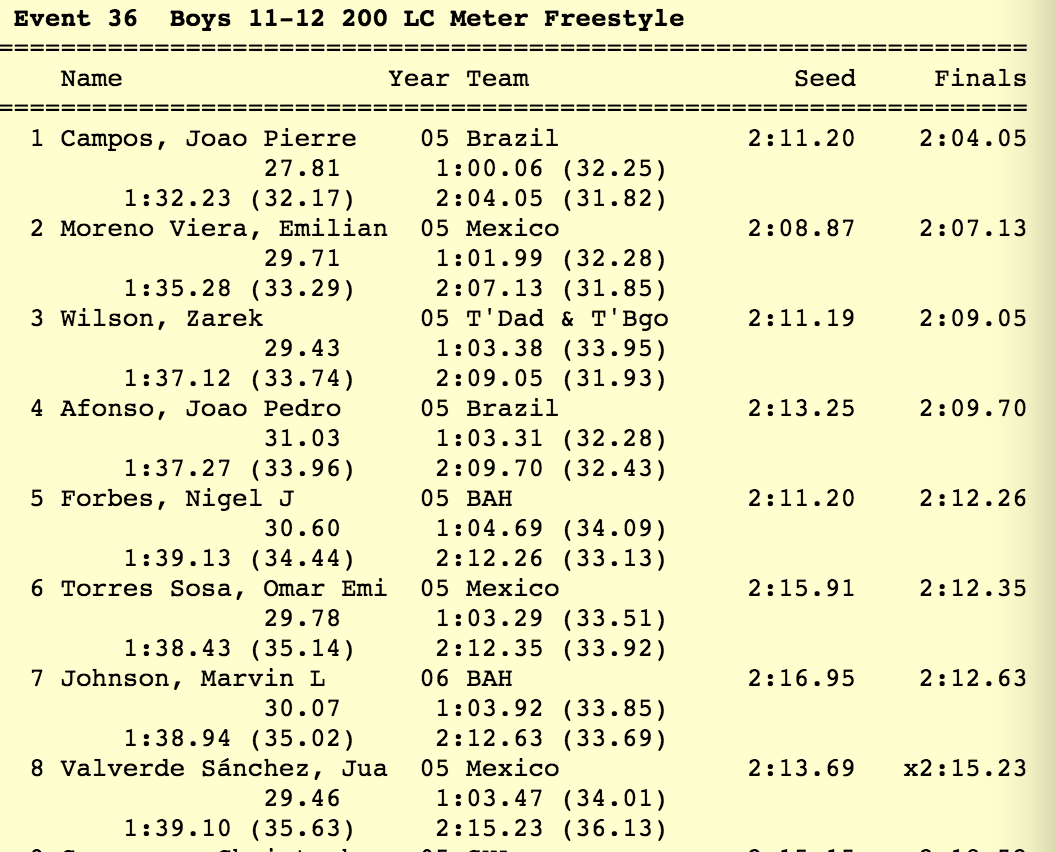 Mexico's Athena Meneses Kovacs earned her second win of the day in the girls 13-14 200 freestyle in a 2:08.70 while Argentina's Ana Hussman was 2:08.93 ahead of Mexico's Dani Flores Bautista (2:09.34).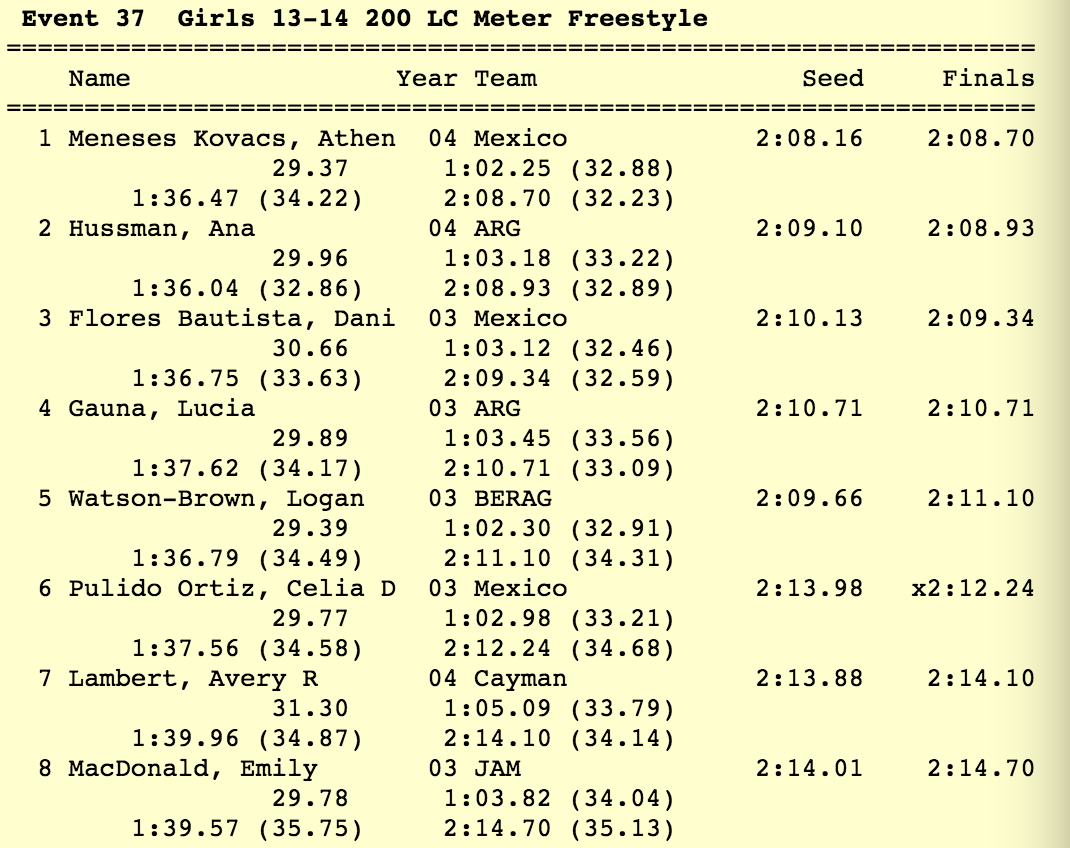 Gustavo Saldo out of Brazil took his second win of the day in the 13-14 200 freestyle in a 1:58.56 while Mexico took 2-3 with Vega Cuevas and Marquez Del Rosal.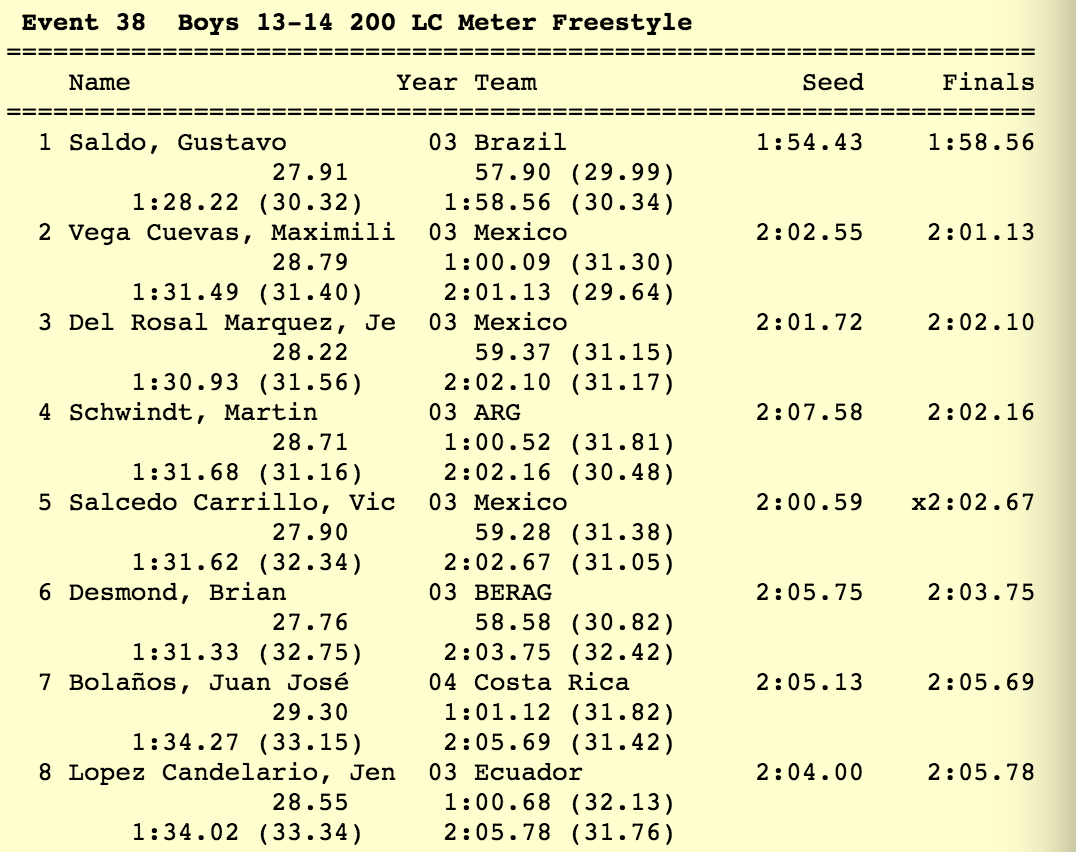 Argentina's Delfina duo of Delfina Pignatiello and Delfina Dini swam to a 1-2 finish in the girls 15-17 200 freestyle while Mexico's Meza Coronado took third place.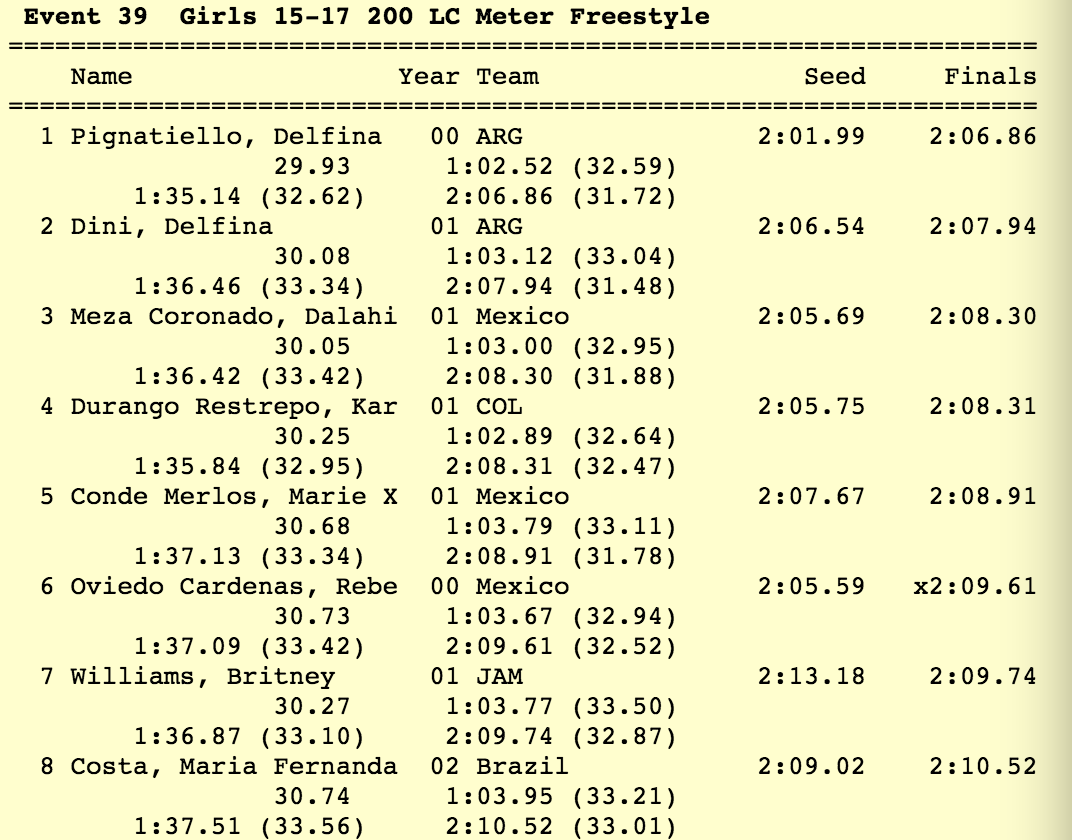 The boys 15-17 200 freestyle saw Morales Restrepo from Colombia take the win in 1:52.43 while Joaquin Daniel Vargas took second for Peru in 1:55.22. Argentina's Lucas Alba swam  1:55.69 for third.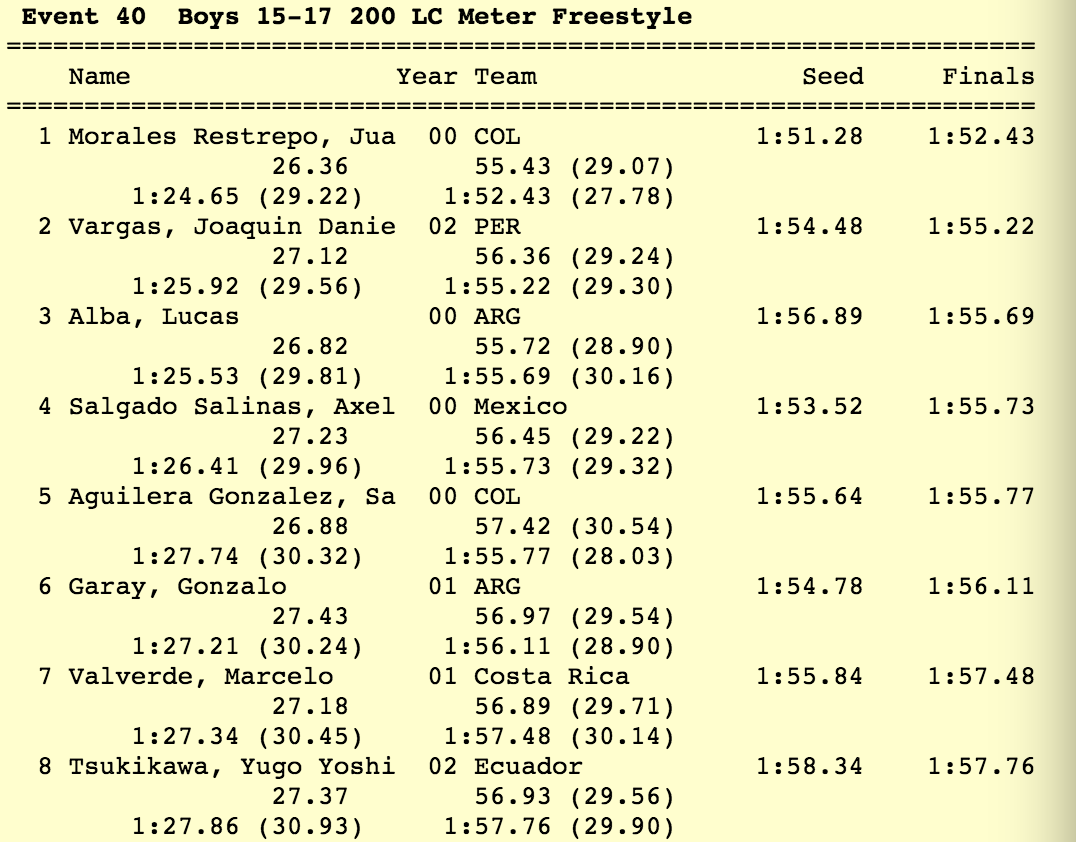 Panama's Emily Santos took the win in the girls 11-12 50 breaststroke in a 35.15 while Paraguay's Astrid Caballero took second in 35.44. Brazil's Perola Santos was third in a time of 35.47.

Forbes out of the Bahamas took the win in the 11-12 50 breaststroke with a 34.20 while Mexico followed with a 2-3 finish behind Forbes with Valverde Sánchez and Ochoa Neurouth.

Argentina produced a 1-2 finish in the girls 13-14 200 breaststroke with Alborzen and Ornella Copes while Jamilah Hepburn touched third for the Bahamas.

The boys 13-14 50 breaststroke was taken by Argentina's Juan Bautista Carroccia while Brazil's Raphael Windmuller touched second. McCallum Clark took third for Barbados.
Mexico topped the girls 15-17 50 breaststroke with Maria Jimenez Peon while Argentina took a 2-3 finish with Valenina Marcantonio and Julieta Lema.

Bastian won the boys 15-17 50 breaststroke for the Bahamas in a 29.23 while Cruz Zuniga took second in 29.33. Martijena Diaz took third for the Dominican Republic in a 30.19.

Mexico took 1-2 in yet another event, this time in the women's 11-12 100 breaststroke with Luna Torre Ayala and Emily Gutierrez Merino. Keianna Moss took third for the Bahamas.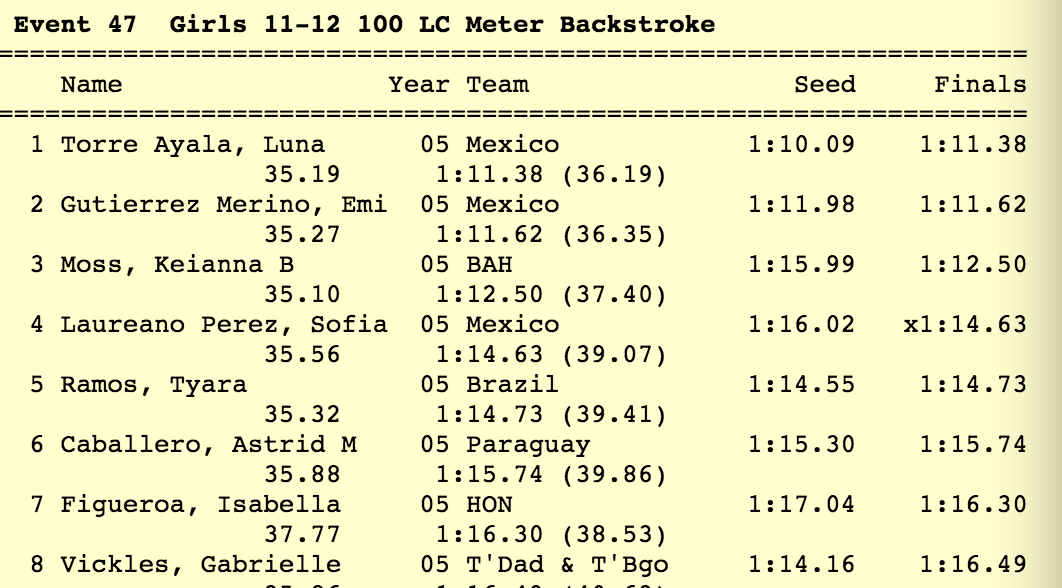 The boys 11-12 100 backstroke was won by Wilson out of Trinidad and Tobago while Mexico's Nangullasmu took silver and Colombia's Simon Bermudez took third.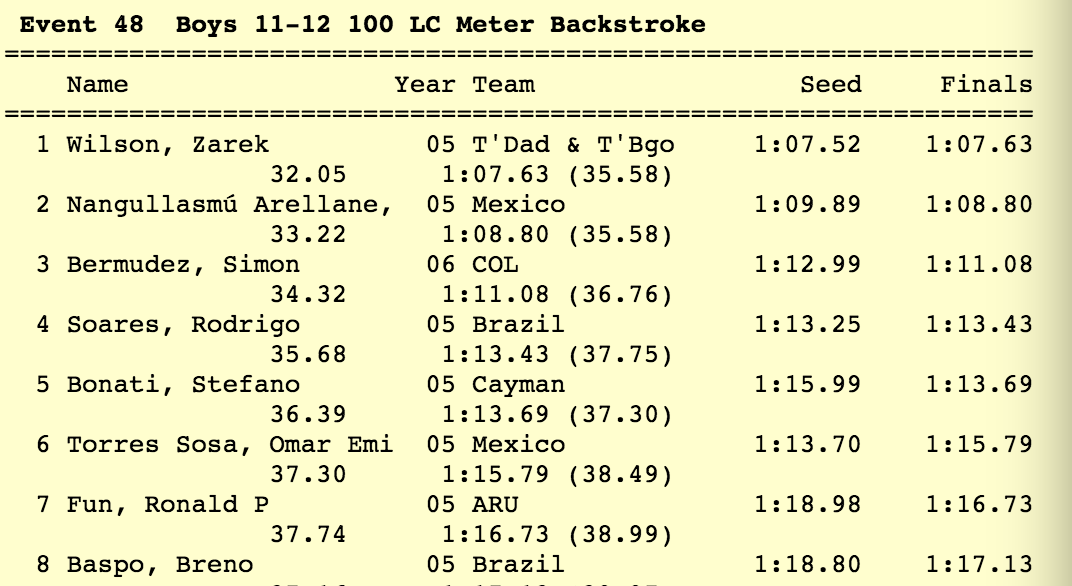 Mexico picked up another 1-2 finish, this time in the 13-14 girls 100 backstroke with Pulido Ortiz and Meneses Kovacs, who posted times of 1:06.07 and 1:06.23, while Peru's Casariego took third in 1:08.27.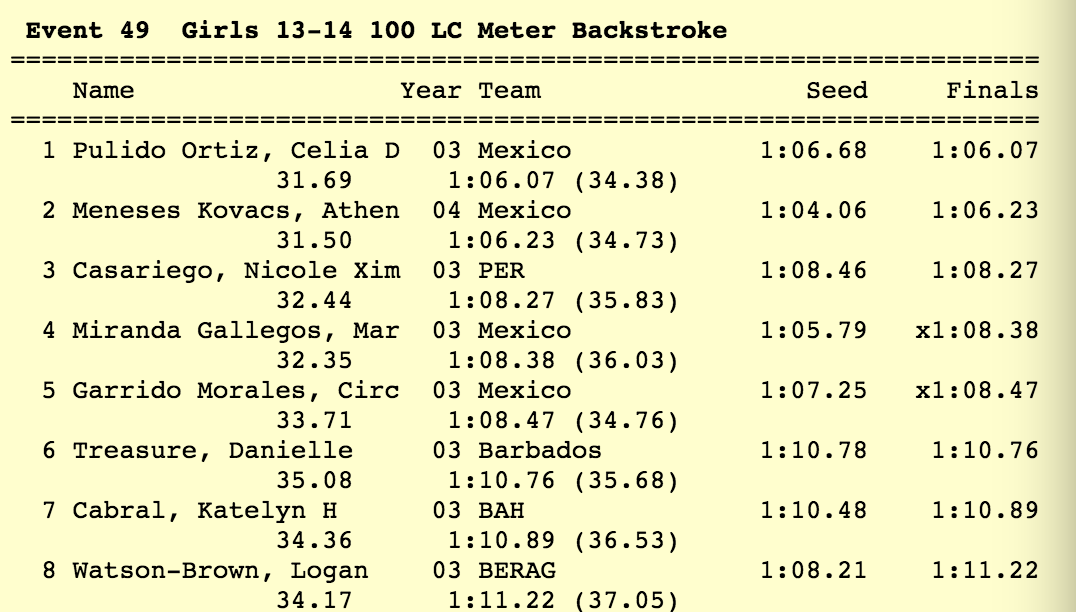 Brazil's Gabriel Nascimento took the boys 13-14 100 backstroke in a 1:02.12 while Trsitan Pragenll took silver in 1:02.23 and Argentina's Ramiro Faya took third in 1:02.38.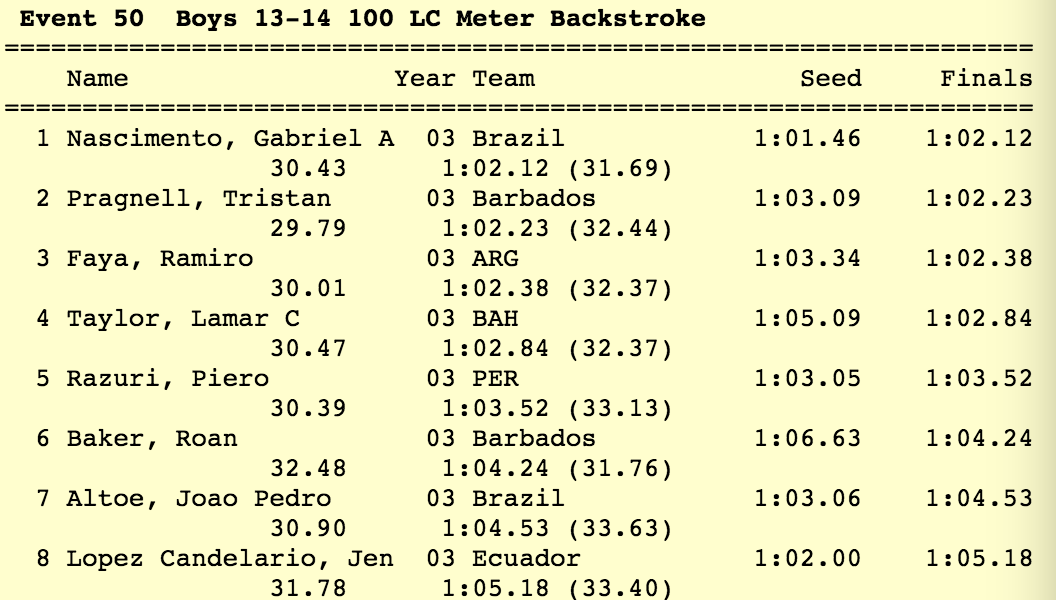 Peru's Andrea Hurtado took the girls 15-17 100 backstroke with a 1:05.10 while Valentina Arce Paez took second for Argentina in a 1:05.12 and Laura Melo Barrera took third in 1:05.31 for Colombia.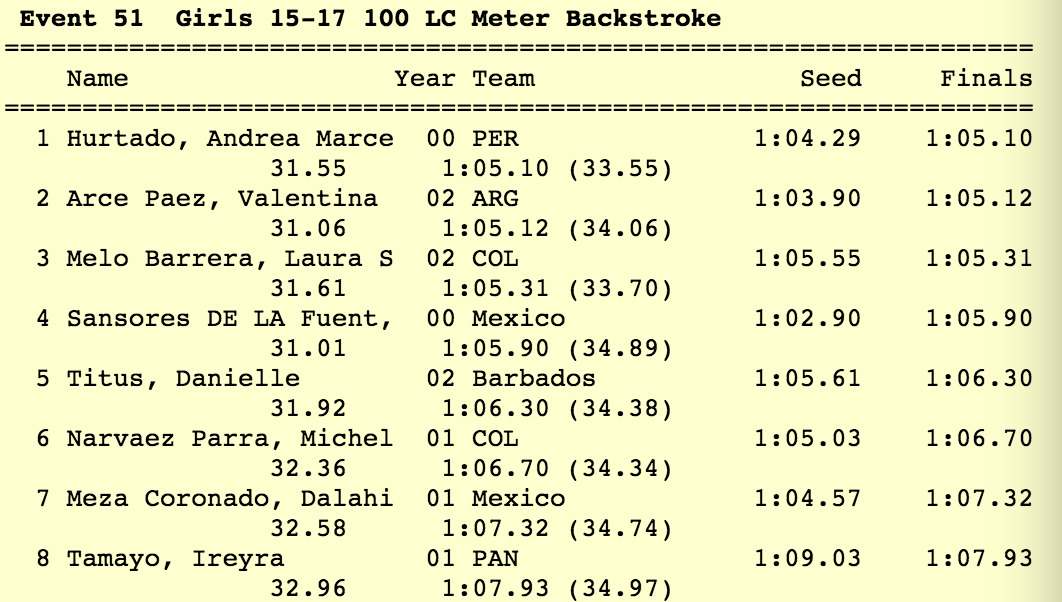 Barbados' Jack Kirby took the win in the boys 15-17 100 backstroke in a 56.34 while Mexico's Cruz Zuniga took second in 58.80. Colombia's Anthony Rincón took third in 59.25.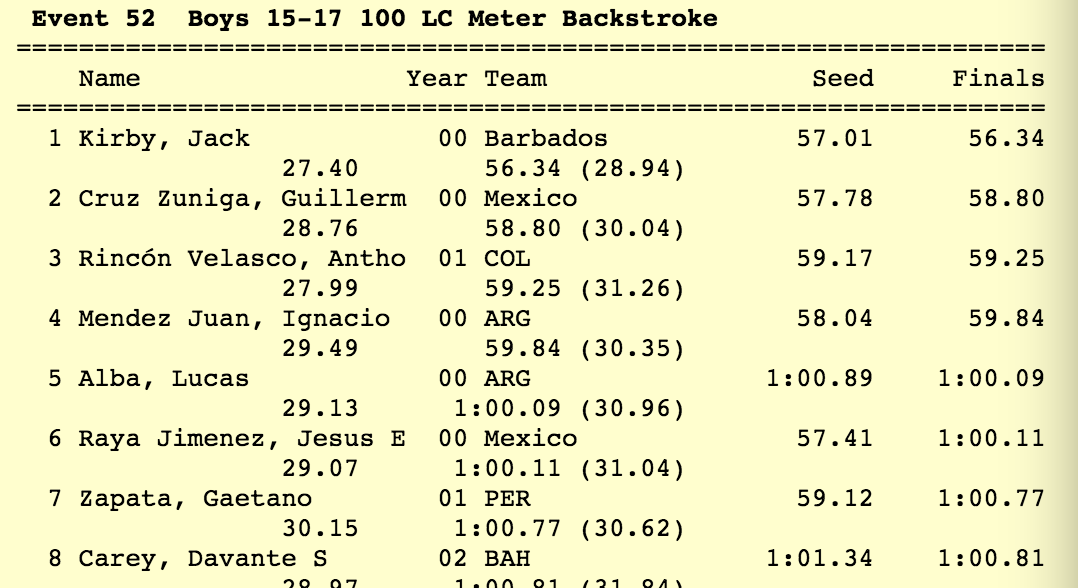 Brazil swept both the boys and girls 11-12 4×50 freestyle relay with times of 1:48.13 and 1:55.90 respectively. Mexico would take the girls 13-14 4×100 freestyle relay in a 4:04.94 but Brazil would take the men's race for the 13-14 age-group in a time of 3:43.29. In the 15-17 age-group, Argentina tool the win for the women in a 4:00.63 while Mexico took the men's race in 3:33.65.
For full results, click here.
Photos courtesy of Dave Brewington and aboobarley Photography.