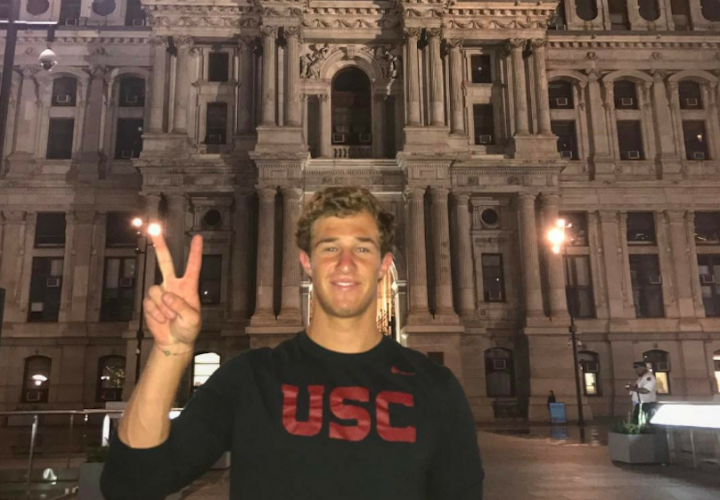 Photo Courtesy: Ariel Spektor
Agon is the proud sponsor of all high school coverage (recruiting, results, state championships, etc.) on SwimmingWorld.com. For more information about Agon, visit their website AgonSwim.com.
To report a college commitment, email HS@swimmingworld.com. Join Swimming World's Watch List
Ariel Spektor has verbally committed to the University of Southern California. He'll make the move west after graduating from Bolles in 2018. Spector is originally from Philadelphia.
Spektor has enjoyed a successful high school career thus far at Bolles. He has played a role in six relay state titles and is the two time defending high school state champion in the 100 butterfly, going nearly identical times (2015: 47.85, 2016: 47.84) each of the past two years.
At this year's Winter Junior Nationals East Spektor was in three Championship finals, finishing third in the 200 IM, fourth in the 100 fly, and eighth in the 100 freestyle. He was also a 2016 Olympic Trials qualifier in the 100 butterfly with a time of 54.01.
His best SCY times include:
200 IM- 1:46.57
100 Fly- 47.39
200 Free- 1:37.21
100 Free- 44.50
100 Breast 56.03
Spektor shared,
"I chose USC for the excellent academics and outstanding swim program. When I visited I really felt at home, and the team and coaches really made me feel welcomed, which made me feel like it was the perfect place for me. I can't wait to join the Trojan Family! Fight On!"
At this year's Pac12 Championships Spektor would have finished at the top of the C final in the 200 IM and the 100 butterfly. With still over a year of high school training remaining, he's already setting himself up to make an impact for the Trojans.
To report a verbal commitment email HS@swimmingworld.com.