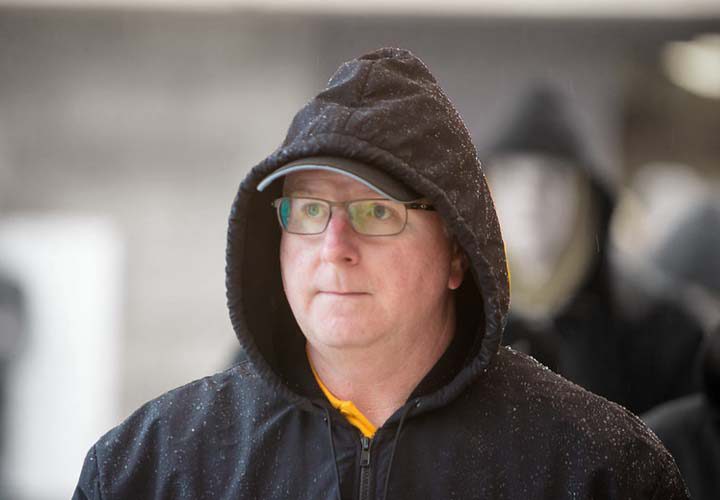 Photo Courtesy: Matt Rubel of Rubel Photography
Morning Splash by David Rieder.
Two and a half years ago, Bob Bowman committed to lead an Arizona State swimming program that had previously been the doormat of the Pac-12 conference, a team that was largely noncompetitive and, at least on the men's side, just seven years removed from near-extinction.
In 2008, ASU had dropped men's swimming, and although the program was reinstated after an inspired fundraising effort, it remained on shaky ground for many years. With all of those factors in mind, Bowman had little intention of taking the head coaching job when he agreed to sit down with Sun Devils athletic director Ray Anderson in April 2015.
"When I took the meeting, I was like, 'This is going to be just another athletic director, normal thing. 10 minutes into it, I realized, 'This was completely different,'" Bowman said after he accepted the job. "For someone to say, 'We want to be elite in swimming' at a program that essentially left for dead a few years ago, it's beyond belief."
Anderson promised full financial support for the men's swimming program, and Bowman saw potential: one of the country's largest undergraduate institutions, located in the swimming-rich Phoenix area, with a premium outdoor facility already in place and year-round warm, sunny weather.
Even if the program had little recent history of swimming success, Bowman believed he could recruit to that.
"What's going to determine our fate is recruiting," he said. "If we get the right people in here and we get enough of them, we get good in a hurry."
There would, of course, be some bumpy patches along the way. During year one, Bowman's Sun Devil women won just two of their nine dual meets, against Oregon State and UNLV. And the seven losses included some lopsided numbers.
Against Stanford, 176-63. Visiting the Cal Golden Bears, ASU lost 181-98. Competing against in-state rival Arizona, the score was 208-88.
Bowman's men acquitted themselves a little better early on, particularly in an early-season 20-point loss against USC, but the highlight of the season came in January, when the team topped their rival Arizona Wildcats in a dual meet for the first time since 2002.
Excellent victory, but they had pulled out all stops—including tapering and shaving—to secure that win, and the Sun Devils fell flat at the Pac-12 championships.
In year two, Arizona State's men took down USC in November and then, in a wacky finish, tied Arizona in a dual meet in Tucson. Both teams wore tech suits for the occasion, but there was no shaving this time. The women's team, while still not beating the likes of Arizona, Stanford or Cal, kept the margins closer than they had one year earlier.
Now in year three, the teams have reached a level that Bowman called "competitive." Case in point: USC's men, the No. 6 finisher from last year's NCAA championships, had to pull out all stops to secure a 153-147 win over the Sun Devils on Nov. 3 in Tempe.
"You can see the men, we're competing with what's a top-five team probably, talent-wise," Bowman said after the meet. "Our goal is to be a top-ten team, and we're right on track."
Sophomore freestyler Cameron Craig pulled off the race of the afternoon against the Trojans, making up two seconds on 2017 NCAA runner-up Dylan Carter and touching him out to win the 200 free. A few events later, Patrick Park overcame a deficit almost as large as he edged out USC's Alex Valente in the 200 fly.
After their wins, both Craig and Park threw up their right hands in ASU's trademark pitchfork salute, and both showed some excitement—even if it was just a dual meet.
"It means a lot because I think we work hard for this stuff," Bowman said. "Face it, we're fighting for credibility, right? How do we get it? Beat these guys. We're not there yet, but we're close."
As for making noise at the end of the year, the Sun Devil best positioned to do that will be Craig, who stunningly dropped a 1:31.71 in the 200 free at the Pac-12 championships during his freshman campaign. Craig entered the NCAA championships seeded second in the event before ultimately finishing fifth.
His first long course season under Bowman's watch wasn't quite as stellar, although he did qualify for B-finals in both the 100 free and 100 fly at U.S. Nationals. But Bowman says that meet was a turning point for his 19-year-old pupil.
"He's just trained fantastic since the World Championship Trials," Bowman said. "We had kind of a rough spring after NCAAs, and then he got back into it this fall, and he has not missed a beat. He's much stronger, bigger and stronger. He is training on a very consistent high level."
Opening up his sophomore year, Craig swam at the USA College Challenge in Los Angeles, and he earned himself some attention when he anchored the Pac-12 team's meet-capping 400 free relay win in 41.92.
Craig, complete with his shaggy beard and grown-out haircut, has oozed confidence this fall, and Bowman has seen it, too.
He's the first of Bowman's high-profile recruits to come to Tempe and thrive, but stars do not a team make. In the holdover swimmers he inherited, Bowman found leadership, and it's them he credits for his team's ability to hang with the likes of USC, to be in a position to seriously challenge for a top-ten finish this March.
"There are some people leading the team as seniors now that were on those teams that were getting killed," he said. "And they've chosen to buy in and step up, and they've improved so much, so it's really meaningful from that standpoint."
The ASU men are "further along, probably a year or two," than Bowman's women's team, and that unit still could not muster up much of a challenge against USC—although, as Bowman pointed out, the 200 free A-squads from the two schools swam to a virtual tie before Louise Hansson anchored for the Trojans. "One piece short," Bowman said.
But just one day after the USC meet, the Sun Devil women took down UCLA for the first time in six seasons. Led by backstroker Chloe Isleta and breaststroker Silja Kansakoski, the score was never close, with ASU finishing on top 189-111.
And Bowman has plenty of reason to be optimistic for the future of his women's team. Among his talented class of incoming freshman: Ruby Martin, an Iowa-native who finished fourth in the 200 fly at the 2016 U.S. Olympic Trials.
Bowman's ambition of elevating Arizona State into one of the country's top programs obviously still has a long way to go, and for that to happen, more has to go right—like Martin continuing her development as one of the country's top flyers.
Still, Bowman has already seen plenty from his first three teams at ASU that he and his staff can take pride in. No, they haven't won anything yet—but they're becoming competitive.
"That's kind of what we came here to do," he said. "I hope it means we're on track."