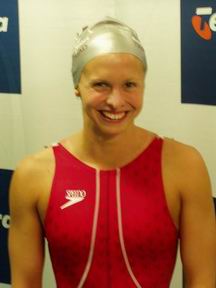 By Stephen J. Thomas
BRISBANE, Australia. September 26. OLYMPIC gold medalist Libby Lenton, the former world record-holder over the 100m free in the long course pool, lowered her own national record in the short course version of the event by 0.18 of a second in a semifinal to clock the second fastest time in history – 52.46 – behind the global mark of 52.17 held by Sweden's Therese Alshammar.
The 19-year-old Queenslander, who picked up Olympic gold as part of the world record-breaking Aussie 400m freestyle relay in Athens as well as individual bronze in the 50m freestyle, certainly had something to prove here after failing to qualify for the final of the 100m freestyle last month. Lenton arrived in Athens as world record-holder only to miss the final and lose her world mark to teammate and the eventual gold medalist, Jodie Henry. Lenton is the only member of the winning 400m freestyle relay team backing up at this meet, and she was a full second ahead of her nearest rival, Olympic teammate Shayne Reese, when she flipped in 25.09.
Soon to turn 21-year-old West Aussie Adam Lucas (pictured below) got an early birthday present when his all-the-way win in the men's 400m individual medley in a PR 4:11.37 got him under the qualifying time for the team to compete at the World Champs in Indianapolis next month. Lucas, who missed the 200IM semifinals in Athens by only 0.01 of a second in his only swim, was keen to make amends here taking his second consecutive national title over the grueling sixteen-lap race.
Sophie Edington and Tayliah Zimmer produced a tie in the women's 100m backstroke final, both touching the pads in 59.38 and equaling the second fastest performer on the all-time Aussie performers, just 0.18 of a second outside the national record held by Olympic gold medalist Giaan Rooney who skipped this meet. Third place went to Belinda Nevell who lowered her PR again to 59.53.
Dorsal specialist Matt Welsh put a disappointing second Olympics behind him when he took his sixth consecutive national 100m backstroke title clocking a swift 51.41, just under half a second outside his Aussie record of 50.95. Ethan Rolff swam a PR 52.75 for second and 4th all-time Aussie performer.
Queenslander Brenton Rickard was just 0.01 of a second slower than his national record set in the semifinals last night when he easily won the 100m breaststroke in a very consistent 58.54. Mark Riley swam a PR 59.22 for second ahead of James Beasley 59.59. Olympian Jim Piper was fourth in 59.69.
Andrew Richards won his first national title when he took out the men's 100m fly in a PR 52.05 – fifth all-time Aussie performer – as did 17-year-old Olympian Sarah Paton, the women's 800m freestyle in a PR 8:25.95 – seventh all-time Aussie performer.