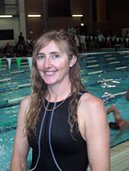 Stephen J. Thomas
SYDNEY, August 13. AUSSIE Masters ace Jenny Whiteley, 45, posted her fifth world record for 2003 on the 26th of July at a small meet (SCM) at Campbelltown west of Sydney, when she clocked 2:36.44 to lower the 200m individual medley global standard held by American Danielle Ogier by 0.16 seconds.
It was some consolation for Whiteley who had just missed the world record in the 100m IM by 0.05 seconds a few weeks earlier when she swam the four-laps in 1:10.92. No doubt the 100 IM will remain unfinished business for her until the State Short Course championships to be held in early October.
Whiteley broke three Aussie records in her other swims. In the 100m breaststroke she went a 1:18.77, just 0.27 seconds outside Brit Maggie Kelly's global standard. She also took a double in the 50-100 dorsal events, setting new national marks of 34.35 (WR 32.39 Laura Val, USA) and 1:15.48 (WR 1:09.98 L Van Pelt-Diller, USA).