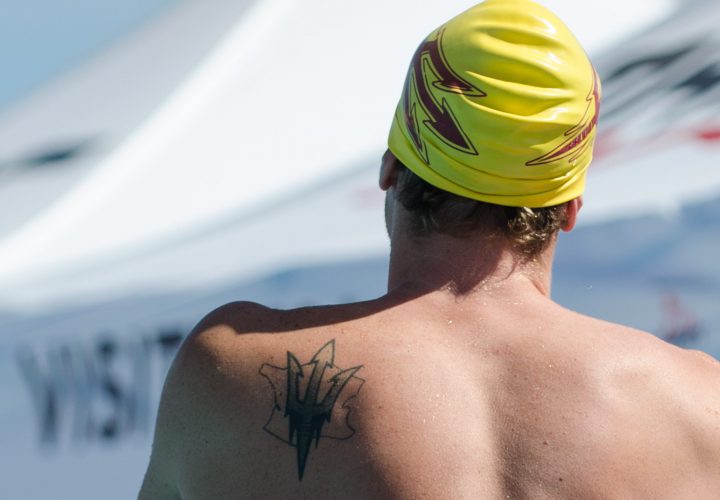 Photo Courtesy: Brooke Wright
By Guerby Ruuska, Swimming World College Intern.
Arizona State University is home to an aquatics program on the rise. Last season the ASU men finished in 4th place in the Pac-12 Championships, just beating out in-state rival, the University of Arizona. It was the greatest Pac-12 finish in Sun Devil history…but the history-making year didn't stop there.
In 2015, the ASU men finished in 44th, but then jumped to 14th at 2016 Pac-12s. Not only did the team score 100 points more than they did the previous year, break several school records and produce the first ASU All-Americans since 2008, but the team was also named the most-improved men's team in the nation.
On the women's side, the Sun Devils moved up to 6th place at Pac-12s in 2017 from their 8th place finish the year prior. They finished in 31st at 2016 NCAAs and bumped themselves up to 29th in 2017.
Under the guidance of head coach Bob Bowman, ASU has seen some tremendous growth in just the past few years. But before we can talk about their rise, we have to take a few steps back to a time when ASU's men and women were guided by Dorsey Tierney-Walker.
Tierney-Walker took over the program back in 2009. In 2011 she led the women's team to a 6th place finish in the Pac-12 and while the men finished 5th. The women were 12th at the 2012 NCAA Championships but have since struggled to get back to top 15 form. In 2013, the men were 18th at NCAAs. All stellar accomplishments, considering the fact that at one point, ASU almost didn't have a men's team.
In 2008, a young Baltimore native was off becoming the greatest Olympian of all time by winning eight gold medals at a single Olympics. Meanwhile, ASU was about to pull the plug on the men's team for budget reasons. Enough money was raised to keep the program afloat and in 2009, Tierney-Walker was hired. After becoming the program's saving grace, Tierney-Walker was let go by ASU. The university brought in legendary coach Bob Bowman in 2015.
Bowman, known for coaching the greatest swimmer of all time, Michael Phelps, earlier talked about ASU being the greatest pick for him because of all the opportunities.
"I have just sort of thought of the things that I would have liked in a program, and when this opportunity came up, it just started checking all the boxes of things I wanted," Bowman said in a previous interview. "The boxes were I wanted to coach men and women, I wanted to have a program where there was support in place to get the job done at the top level, to be able to compete for championships. So it had to have all those resources available."
Bowman and his staff have made big moves, and fast, especially within recruiting. The ASU staff hit the jackpot with the No. 1 recruit in the nation, Grant House, and several other key additions to this year's incoming class.
"The training level of the group is definitely on the rise," senior assistant coach, Rachel Stratton-Mills said. "We are able to ask more of our athletes with each month that goes by and we have seen a tremendous increase in training over previous years."
Stratton-Mills was hired back in April and saw early on that ASU had the support to be successful.
"Our athletic department, as a whole, is comprised of amazing, high-quality people. Beginning with our Athletic Directors and continuing with every member of our support staff, we have so much assistance and encouragement by all in Sun Devil Athletics.  This type of administrative support really makes a positive impact on our program's quest to be the best."
Stratton-Mills says that being around Bowman – a man with such passion for his craft – makes her want to do the same.
"Coach Bowman is fully invested in making each athlete and this entire program the absolute best," Stratton-Mills said. "Personally, this motivates me to be the best coach I can be and to strive for ways to improve. This is how our athletes react to his coaching style also; they know that under his leadership they can reach the top of their potential and are motivated to push their limits on a daily basis."
Alongside sophomore standout, Cameron Craig, House, and several other freshmen, ASU is slowly building itself into a team with tons of potential.
"We, of course, are looking to continue the improvements made last year during Pac 12s and NCAAs," Stratton-Mills said. "We know with the great work all the athletes have been putting in conjunction with a tremendous freshman class, we will continue making huge strides in the national rankings."
ASU is in a unique position where despite the success from last year, there's no real pressure……aside from their own high expectations.
All commentaries are the opinion of the author and do not necessarily reflect the views of Swimming World Magazine nor its staff.