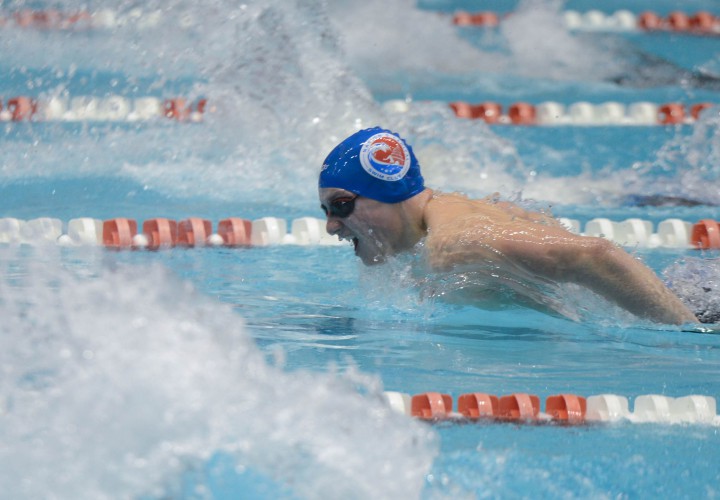 CHRISTIANSBURG, Virginia, February 27. THE Albemarle girls dominated the competition at the Virginia 5A High School Swimming and Diving Championship February 20-21 in Christiansburg. Princess Anne claimed the team title, also in convincing fashion, in the boys portion of the meet.
Boys
Princess Anne scored 317 points, with Thomas Jefferson finishing second (263), Hickory third (158), Albemarle fourth (148) and Potomac Falls fifth (118). Princess Anne senior Harrison Pierce, who has committed to Virginia Tech, doubled in the sprint free with 20.72 in the 50 free ad 45.61 in the 100 free. Pierce also swam third on the Cavaliers' victorious 200 medley relay (1:33.27) with senior Mark Wilson, sophomore Daniel Arris and junior Jordan Bovee. Senior Donovan Pope led off the winning 400 free relay with Wilson, Bovee and Pierce (3:07.75).
Jamestown's 200 free relay of junior Andrew Seliskar, senior Alex Li, sophomore Emilio Sison and senior MIles Oakley combined for a 1:25.30 triumph. Seliskar claimed victory in the 200 free (1:35.76) and 100 breast (53.90).
Ted Schubert, a sophomore at Patrick Henry, completed the 200 IM with his first-place 1:51.05 and 100 back clocking of 49.97.
Hickory Falls' Logan Burton, who will be swimming at Eastern Michigan in the fall, finished first in the 500 free with his 4:34.13. Wyatt Grubb, a senior from Atlee, came from behind in the 100 fly to squeak out a 51.05 to 51.08 triumph over Thomas Jefferson's Miles Oakley. Grubb is headed for the College of William and Mary next year, while Oakley will be at Navy.
George C. Marshall sophomore Ian Shelton was the top diver with his 412.35 point total.
Girls
Albemarle scored a commanding 341-point total for the team title. Thomas Jefferson claimed second (190), followed closely by Atlee (173). Princess Anne came out three points ahead of Hickory for fourth, 159 to 156.
Olivia Fisher earned two titles in her first year of high school competition. The Atlee freshman posted times of 23.91 in the 50 free and 51.56 in the 100 free. Teammate Brittainy Wilkerson, a junior, chimed in with a winning 1:54.37 in the 200 free.
Brooke Pointe junior Caroline Wanner also climbed to the top of the podium stand twice with her 4:56.80 in the 500 free and 2:04.28 in the 200 IM.
Caroline Heilbrun, a Thomas Jefferson junior, cruised to a 56.37 first-place finish in the 100 back. Orange County senior Larisssa Neilan's 1:03.94 gave her first place in the 100 breast. Molly Sheffield, a Lee-Davis freshman, posted a 55.39 in the 100 fly. Princess Anne senior Lydia Jabs was the diving champion, scoring 376.45 points.
Albemarle's 200 medley relay of junior Jeanette Yan, freshman Megan Jones, sophomore Maggie Woods and junior Emma Lockman combined for a 1:49.76 win; senior Hannah Harper, juniors Abby Wuensch and Madison Noga, and senior Corie Morton put together a 3:37.25 for the 400 free relay triumph. Jillian Breeger (junior), Catherine Montgomery (senior), Summer Wilcox (junior) and Madeline Morello (freshman)  prevented an Albemarle sweep with their 1:38.40.
Submit your All America Application now