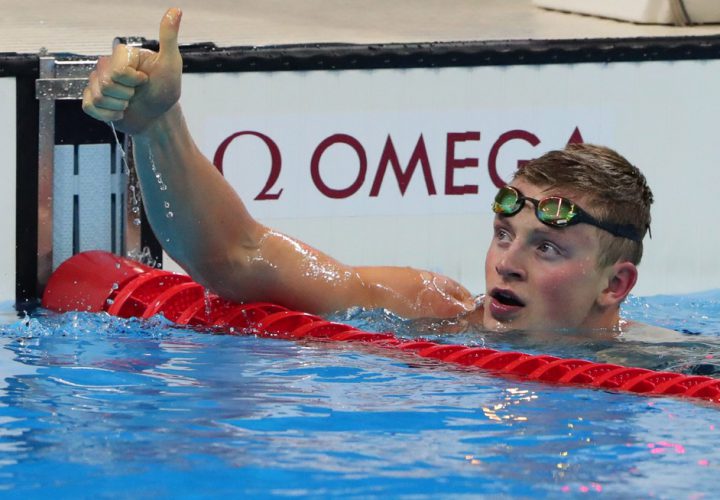 Photo Courtesy: Rob Schumacher- USA TODAY Sports

Editorial Coverage Sponsored By FINIS
By David Rieder
It's not as though Adam Peaty was an underdog coming into the 100 breast at the Olympics Games. He entered as the world record-holder with a time of 57.92, more than a half-second faster than anyone else had ever swum.
Sarah Sjostrom entered with a similar rankings advantage as her world record-time of 55.64 in the 100 fly is more than three tenths ahead of what everybody else in history had ever done. Dana Vollmer was not that far behind Sjostrom in prelims (56.26 to 56.56), but Sjostrom entered with such a cushion that not much could have happened in prelims to move the needle.
Peaty did, though. He topped all qualifiers with a 57.55, almost a second and a half faster than anyone else. He broke his world record by almost four tenths. The margin between Peaty and number-two qualifier Yasuhiro Koseki (1.36) was actually one one-hundredth greater than the margin between Koseki and the two swimmers who tied for 16th, Glenn Snyders and Daniel Gyurta.
Koseki's winning time of 58.91 actually matched the time that his compatriot Kosuke Kitajima posted to win gold eight years ago—the first Olympics with a winning time under the 1:00-barrier. Cameron van der Burgh won gold four years ago in a then-world record-time of 58.46.
Now we're down to 57.55, and Peaty still isn't satisfied. He hopes his success can be inspiration to the young swimmers watching the Games.
"We're not going to get too complacent now," Peaty said. "At the end of the day, I want to inspire thousands or millions of kids out there who want to take up the sport. Doesn't matter what country you come from—you can. I didn't have the best placement when I was younger. I've worked hard every single day, and here I am talking to you guys at the Olympic Games."
*Peaty's world record was the first of the Olympics but only after a near-miss from Katinka Hosszu in the women's 400 IM. Hosszu was more than three seconds under world record-pace at the 300 before barely missing the mark. Ye Shiwen's world record from London four years ago stands at 4:28.43, and Hosszu came in with a second-fastest time ever at 4:28.58.
But Hosszu did not fade—her freestyle split was still the fastest in the field (in which no one swam within four seconds of Hosszu's time in prelims). But the 1:02.08 split did not even come close to Ye's 58.68 from her record-breaking performance when she touched more than a second behind Elizabeth Beisel after the breaststroke before steamrolling home.
This morning, Ye finished 27th out of 33 in the 400 IM in 4:45.86. Her freestyle split was clocked at 1:07.54.
*The medal favorites in the men's 400 IM were split between two heats, and those two swims played out far differently. Japan's Kosuke Hagino cruised home in winning heat three, touching in 4:10.00. He entered the meet ranked No. 1 in the world, but that would change just one heat later.
American Chase Kalisz battled defending World Champion Daiya Seto—also of Japan—in the next heat, and the two promptly posted their respective lifetime bests and passed Hagino as the top two swimmers in the world this year. Kalisz touched in 4:08.16 and Seto in 4:08.47, moving to sixth and seventh, respectively, on the all-time list in the event.
"I didn't expect to be anywhere near that," Kalisz said. "I thought it was going to be a 4:11.
Kalisz dropped more than a second from his finals time at Olympic Trials in June, which he attributed to the contagious energy within the American team.
"At Trials I was operating on nerves, which is never a good thing for me," he said. "Now I'm operating on excitement.
I wrote this about the 400 IM Tuesday, and it still stands. Hagino has the best backstroke and Kalisz the best breaststroke—both by far. Seto has the most balance. And Jay Litherland, if he's anywhere close, can finish better than anyone on the freestyle leg. This one should be fun.
*The men's 400 free is anyone's game, I wrote in today's Morning Splash. Also still the case. Except when I wrote out a list of seven potential medalists in the event, I didn't include Conor Dwyer. Whoops.
Dwyer popped a 3:43.41 to lead all qualifiers through prelims, dropping more than a second from his previous best, a 3:44.66 from U.S. Olympic Trials last month. Dwyer indicated afterwards that he thinks the U.S. team has some early momentum after a strong day one prelims.
Dwyer, like Kalisz, said he felt less nervous and more excited than he did at Olympic Trials, but it was what No. 2 qualifier Mack Horton (3:43.84) had to say that really turned heads.
Horton called out Sun Yang, who attempted to distract the 20-year-old Aussie in the warmup pool earlier this week. "I don't have time for drug cheats," Horton told The Australian's Nicole Jeffery.
The drama will continue in the final when the Sun will be in lane six, right next to Horton. All those things about this race being wide open? The entire field is separated by just over two seconds. It still is.
*Dana Vollmer did not top Sjostrom in the 100 fly prelims, but she blasted out a swim she will have to be pleased with, one four tenths faster than any other during her comeback from pregnancy. Vollmer qualified second in 56.56, behind just Sjostrom and fellow American Kelsi Worrell as the third-fastest swimmer in the world this year.
But compare the splits. At Trials, Vollmer went for it on the front half, splitting 26.23 at the 50, but she struggled on the way home with a 30.98, giving her a final time of 57.21. In prelims, she split 26.26 and 30.30. Vollmer looked much more comfortable on the back half, and she has as good a chance as any to join Sjostrom on the podium Sunday night.
Vollmer was originally scheduled to pull double duty in prelims after finishing sixth in the 100 free at Olympic Trials, earning her a spot on the American 400 free relay squad, but in order to maximize rest, Vollmer gave way to…
*Katie Ledecky, the seventh-place finisher at Trials. Ledecky was given the anchor role for the U.S. and promptly split a 52.64, almost guaranteeing that she will join Abbey Weitzeil and Simone Manuel in the final.
"I have no idea what the coaches are thinking, and I know they'll make the right decision," Ledecky said. "I was really honored to be put on that relay and have that experience here. It made the first event of the meet a lot more fun."
Who will join them? Tough to say. Amanda Weir led off in 53.60 this morning, her fastest flat-start time without the aid of a polyurethane bodysuit in a decade, but the coaches could also go back to Vollmer, who has a 53.59 to her credit from earlier this year.
Either way, it will still be tough to beat the Australians, who will add Emma McKeon to their squad in finals. Cate and Bronte Campbell have more in the tank, and a world record is a possibility—Australia currently owns that mark with a 3:30.98 from the Commonwealth Games two years ago.
The Dutch only managed the fifth-best qualifying time, but Femke Heemskerk cruised to a 54.00 anchor split as she was so far ahead in her heat, and they will add Ranomi Kromowidjojo to their finals team. Any scenario aside from the Netherlands joining the Australia and the U.S. on the podium still seems unlikely.