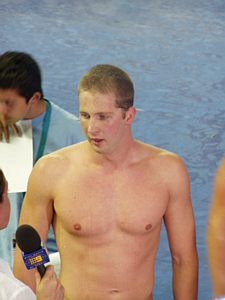 By John Lohn
ASTON, Pennsylvania, JUNE 1. WITH the Eric Namesnik Memorial Grand Prix already in the bag and the summer season in full swing, it won't be long before the clock begins to dazzle. Around the globe, we're hitting that point of the year where the digits get lower. In many ways – considering the Beijing Olympics are two years out – these next few months will be a defining stretch. Here are some storylines to keep an eye on.
**Which club can call itself the elite gathering in the United States – Longhorn Aquatics or Club Wolverine? That's a question that might be answered by the end of August, although it's likely to feature split camps. Longhorn, of course, boasts three hammers in Brendan Hansen, Aaron Peirsol and Ian Crocker, a triumvirate that owns five individual world records on the long-course scene and makes up 75 percent of the world-record holding 400 medley relay.
Club Wolverine, meanwhile, continues to strengthen its crop around Michael Phelps, Peter Vanderkaay and Klete Keller. In recent weeks, Erik Vendt and Kaitlin Sandeno have been added to a stable that also includes Davis Tarwater. Bottom line: There's no questioning that the top talent in the United States sits with these two clubs – obviously making for dynamite training sessions.
**After enduring 18 years of challenges, Janet Evans' world record in the 400 freestyle was recently erased by France's Laure Manaudou, whose 4:03.03 effort is difficult to fathom. But, what will Manaudou do at this summer's European Championships? The three-time Olympic medalist is loaded with ability and could chase multiple global standards in Budapest, Hungary. Aside from possibly lowering her 400 free mark, there's no reason to doubt Manaudou's potential to lower the world record in the 800 free, the 8:16.22 of Evans. More, Manaudou could push Franziska's Van Almsick's 1:56.64 record in the 200 free.
**What will Katie Hoff and Michael Phelps embrace as schedules for the United States Summer Nationals and the Pan Pac Champs, meets that serve as selection competitions for next March's World Champs in Melbourne. For Hoff, it's a matter of which events will complement her forays into the 200 and 400 individual medley events. As for Phelps, it will be interesting to see if the eight-time Olympic medalist puts the 200 butterfly and 400 I.M. back in his international repertoire after bypassing his world-record events at last summer's World Champs in Montreal.
**Can Otylia Jedrzejczak continue her return to the top of the sport after enduring the emotional and physical pain associated with a car accident late last year that claimed the life of her brother. At the recent Polish Championships, Jedrzejczak appeared recovered from her severe injuries as she notched impressive swims in the 200 freestyle and 200 butterfly, her world record event. Here's hoping Jedrzejczak – who auctioned her Olympic gold medal from Athens to raise money for leukemia research – is better than ever.