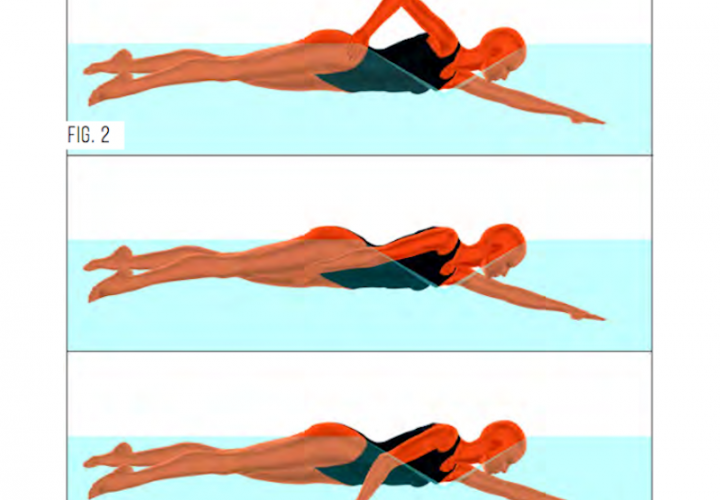 The following is an excerpt from the November 2017 issue of Swimming World Magazine. To read the full article, download the November 2017 issue by clicking here. 
Many people believe that it is worth copying the technique of the fastest swimmers. In reality, even the fastest swimmers have technique limitations, but they offset them with strength and conditioning. The purpose of this series of articles is to address scientifically the technique misconceptions that have become "conventional wisdom," and to present options that are more effective.
A common misconception is that front quadrant swimming (FQS) is an effective freestyle technique. While FQS has been used by top swimmers, that is not justification for promoting that strategy. FQS produces an arm coordination that is counterproductive to fast swimming.
FQS does not have the purported benefit of lengthening the hull because it does not change the wave pattern. In addition, there is a substantial limitation in the resulting negative arm index of coordination (IdC).
Swimmers typically practice with a negative IdC and increase to a slightly positive IdC for racing. It would be much more productive for a swimmer to practice with at least a zero IdC so that an increase in stroke rate would produce a very positive IdC at racing speeds. This focus on a positive IdC will enable more swimmers to achieve or exceed the current world records.
Dr. Rod Havriluk is a sports scientist and consultant who specializes in swimming technique instruction and analysis. His unique strategies provide rapid improvement while avoiding injury. Learn more at the STR website, or contact Rod through info@swimmingtechnology.com.

Not a subscriber?  Subscribe With This Special 3-Year Offer! Swimming World Magazine gives you access to all of the back issues of Swimming World Magazine dating back to 1960!  Visit the Swimming World Magazine Vault.
Save 25% on a 1 year subscription and download more issues from the Swimming World Vault and get the following:
Use Coupon Code: realnews and save 25%
A monthly print copy of Swimming World Magazine in the mail for 1 year!
Free download of the next 12 issues and the past 12 issues of Swimming World Magazine!
Free download of next 24 issues and the past 24 issues of Swimming World Biweekly!
Free download of next 4 issues and the past 4 issues of Swimming Technique Magazine!
Click Here For This Special Offer with coupon code "realnews" during checkout.