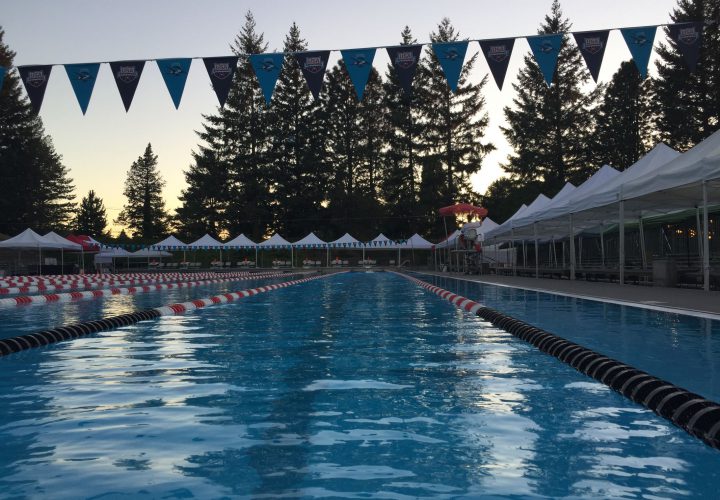 Photo Courtesy: Sue Borst
The following is an excerpt from the December 2017 issue of Swimming World Magazine. To read the full article, download the December 2017 issue by clicking here. 
Time was when holiday swim training was like a lump of coal in a Christmas stocking—decidedly unappealing. To be sure, vestiges of Holiday Hell Week still persist. That's because the weeks into January constitute an ideal time to do concentrated training. Many college teams head to warmer climes for serious bonding and increased volume. With no classes to attend, minimal homework and more relaxed daily schedules, high school and club swimmers have the opportunity to solidify their training bases for season-ending meets.
St. Xavier High School in Louisville, Ky. has captured 53 state swimming and diving crowns, the most nationally by any high school program, including the last 29 in a row. The boys team, led by 1986 graduate Todd Larkin, performs post-Christmas practices with purpose, persistence and reminders of the benefits of "hidden training," characterized by sustained sleep, intelligent diet and, hopefully, sensible behavior.
"I utilize holiday training to refocus on goals and fundamentals," he says. "I've moved away from what I call old school training or a massive amount of yardage. I want to keep my students refreshed, focused and try to head off any kind of burnout. When I was training or coaching club, we always did doubles. Now I do one three-hour workout at St. X with my team. Show up, swim fast, work on quality, and go enjoy the holiday with your family."

"I don't want a second trip back to campus hanging over an athlete's entire day. The time we do spend together is maximized to the fullest," Larkin says. "We do a lot of test sets and quality. At the end of each workout, I take nominations for "swimmer of the day"—someone who set the tone and executed both the physical and mental goals for the day. There is a lot of pride in winning the award. Anytime you can recognize achievement is important, especially when students are willing to give up a portion of the winter break to come in and train," he says.
Following is a sample St. Xavier holiday practice. Larkin also provides workouts for athletes who leave town during this period.
SAMPLE HOLIDAY SET 
"Have the heart to go after your dream. Always dream big!"
400 swim @ 8:00
4×100 reverse IM order 75 drill – 25 swim @1:45
Kick Set (2x the following):
100 build kick @ 2:10
75 sprint kick @ 1:40
50 sprint kick — hold faster! @ 1:10
25 sprint kick — hold even faster! @ :45
44 x 100s Free:
1 build @ 1:40 > 1 AFAP* @ 1:!5
1 build @ 1:40 > 2 AFAP @ 1:20
1 build @ 1:40 > 3 AFAP @ 1:25
1 build @ 1:40 > 4 AFAP @ 1:30
1 build @ 1:40 > 5 AFAP @ 1:35
1 build @ 1:40 > 6 AFAP @ 1:40
1 build @ 1:40 > 7 AFAP @ 1:45
1 build @ 1:40 > 8 AFAP @ 1:50
* AFAP = As fast as possible
Coach Larkins: "Try and hold at least 500 pace on the whole set, if not faster!"
6 x 50 EZ @ :50 
16 x 100 (Kick on 2:00):
3 free with a board w/ fins
1 AFAP free with a board w/ fins
3 fly on back w/ fins
1 AFAP fly on back w/ fins
3 specialty FR-BR-FL with board, BK streamline
3 back streamline on back
1 AFAP streamline BK
Warm-down
Total: 7, 600+

Give Swimming World Magazine as a Gift Today To Your Special Swimmer
Not a subscriber?  Subscribe With This Special 3-Year Offer! Swimming World Magazine gives you access to all of the back issues of Swimming World Magazine dating back to 1960!  Visit the Swimming World Magazine Vault.