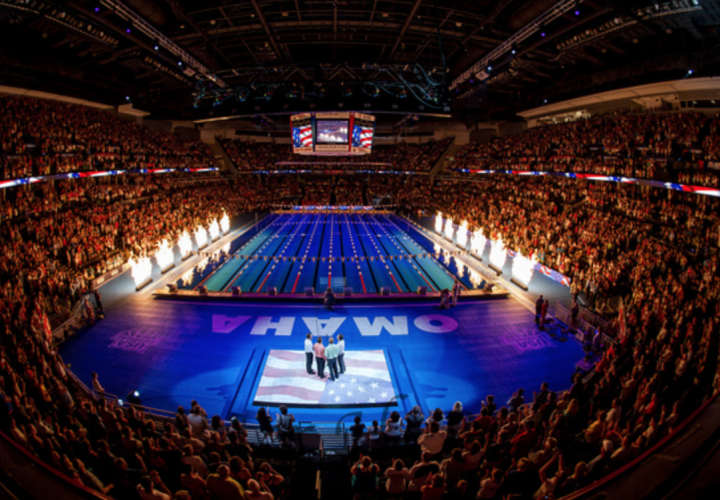 Photo Courtesy: Peter H. Bick
By Chandler Brandes, Swimming World College Intern
The swimming world (no pun intended) was buzzing the past few weekends as the top collegiate swimmers competed at the NCAA Championships.
And they swam really, really fast.
Whether you were racing, in the stands, watching the live stream, or just following results online, it's safe to say you were left speechless.
As I said, they swam really, really fast.
For many of these top swimmers, this summer is the main focus. As short course is coming to a close, swimmers and coaches are turning their attention to long course with the realization that Rio is soon and Trials are sooner.
If the performances at NCAAs are any indication of how upcoming meets will go, it's going to be one fast summer.
Here are eight reasons why NCAAs should make you very excited for Omaha and Rio:
1. Swimming keeps getting faster.
Records are meant to be broken, and the swimmers competing at NCAAs took that to heart. Seventeen pool records, six NCAA records, six Championship records, five American records, and five U.S. Open records were broken at women's NCAAs. Not to be outdone, the men set 16 pool records, ten NCAA records, ten Championship records, seven American records, and ten U.S. Open records. That's incredible, and the record books are sure to be rewritten many times this summer.
2. The sprints are getting faster.
If you don't already know of Caeleb Dressel, I suggest you learn who he is, because he is the one to watch this summer. The Florida Gator had a picturesque championship season, shattering the record book multiple times in both the 50 free and 100 free. But this is just the beginning; he's consistent, and he consistently keeps getting faster. Although she was unable to touch Abbey Weitzeil's American and U.S. Open record, Georgia's Olivia Smoliga crushed the women's 50 free en route to breaking the NCAA and Championship mark, and she was the only swimmer to dip under 47 in the 100 free. This goes without saying, but both the men's and women's sprint events this summer are going to change our definitions of fast.
3. Distance races can be exciting, too.
Yes, distance races are long (for both the swimmer and the spectator), and yes, broadcast stations often rudely cut to commercial breaks during these events. But they're exciting. Although it's amazing to see Katie Ledecky way out ahead of the rest of the field, distances races can be close, and don't underestimate their thrill. Penn's Chris Swanson won the men's 1650 at NCAAs in 14:31.54 due to his monster final lap. His final time was .12 ahead of the runner-up, breaking the record for the smallest margin of victory in the mile. Try telling me that that wasn't a close, exciting, edge-of-your-seat race.
4. Newcomers.
It's no secret that the United States is bursting with young talent. Townley Haas, Mallory Comerford, Ella Eastin, Andrew Seliskar, Lilly King, Kathleen Baker, Amy Bilquist…the list goes on and on. While some of those names already have international experience, many newcomers broke onto the scene these past few weeks and made a name for themselves within the swimming community. Freshmen dominated women's NCAAs; only the 100 fly A-Final didn't have a freshman, and only five A-Finals at men's NCAAs didn't contain a first-year. Watch out for these fierce freshmen at the collegiate level the next three years, and many of them could also prove to be game-changers this summer.
5. Heartbreak.
No one likes experiencing or witnessing someone fall short of their goal or miss the Olympic team by one place. Unfortunately, no matter how much we wish we could reverse certain situations, it's the nature of sport. It's unavoidable. Heartbreak is relatable; we've all missed a cut time by .01, had a disappointing DQ, and been out-touched. Swimmers, fans, and spectators alike can all learn lessons from both experiencing and watching heartbreaking races and how to turn disappointment into motivation. Although it's not ideal, it's just another way that connects swimmers and fans all over the world.
6. Rookies vs. veterans.
At this point, it's anyone's game. The United States has a crop of talented newcomers, as well as a slew of veterans with years of international experience. For example, look at Ella Eastin and Elizabeth Beisel, both whom are dominate in the IM. Fresh off an American, NCAA, and U.S. Open record in the 200 IM and a win in the 400, the Stanford Cardinal will look to continue her momentum in both the shorter and longer IM events, but will face tough competition from the two-time Olympian. This is just one of many examples of the battles that will ensue between rookies and veterans this summer. Although the veterans have more experience, these skilled rookies have proven that they don't crumble under pressure.
7. Filling in the gaps.
The old cliche is true: if you have a lane, you have a chance, and that will be proven true in Omaha in a few months. The United States has so much depth across the board, but we also have gaps we need to fill. However, based on NCAAs, that doesn't seem like it will be a problem. Take the women's breaststroke events, for example. With the retirement of Rebecca Soni, the field is wide open. Indiana's Lilly King, after demolishing records in both the 100 and 200, has established herself as America's new breaststroke queen, and rightfully so. Anything could happen at Trials, and there are many Olympic hopefuls ready to fill in those gaps that will take them to Rio.
8. The unknown.
Swimming is all about the unknown, unpredictable, and the impossible. That's what makes it so exciting. With so many different race plans and race techniques, you never know who will come from behind to take the win. While all eyes were on California and Stanford, Georgia snuck in and grabbed the women's team title. Countless races at NCAAs came down to the wire and there were so many finishes that were too close to call; a clear indicator on how races will go this summer. We don't know who will proudly wear the red, white and blue this summer, but NCAAs sure excited the imagination and proved that anything could happen.
We'll just have to sit back, relax, and let the swimming do the talking. And that swimming is sure to be really, really fast.