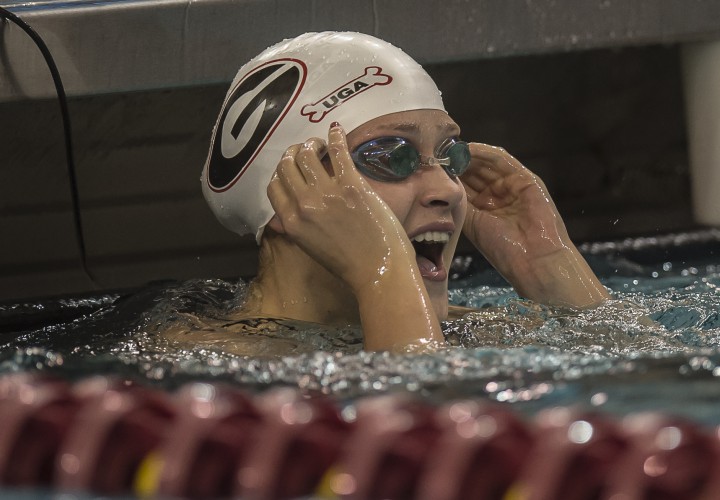 Photo Courtesy: Peter H. Bick
NCAA DI editorial coverage is proudly sponsored by Adidas. Visit All-American Swim for more information on our sponsor. For all the latest coverage, check out our event coverage page.

Georgia's Olivia Smoliga charged her way to an NCAA record in the women's 50-yard free at the 2016 NCAA Division I Women's Championships.
Smoliga, who already moved to sixth all time in the event's history with a 21.46 relay leadoff, moved all the way up to second with a 21.21 to win the sprint free and set the NCAA mark. The swim broke the 2009 record of 21.27 set by Arizona's Lara Jackson during relay duty in prelims.
Smoliga only trails Abbey Weitzeil, who set the American record with a 21.12 two weeks ago in Austin while swimming for Canyons Aquatics.
Smoliga reclaimed the title she won as a freshman in 2014, and became just the ninth person to win the event more than once.
Multiple 50 Free Winners:
4 – Kara Lynn Joyce, Georgia
4 – Leigh Ann Fetter, Texas
3 – Catherine Fox, Stanford
2 – Maritza Correia, Georgia
2 – Jenna Johnson, Stanford
2 – Jenny Thompson, Stanford
2 – Lara Jackson, Arizona
2—Liv Jensen, California
Smoliga also pushed Georgia into a tie for the NCAA record for most program wins in the 50 free, tying Stanford with a ninth victory.
Previous Georgia Wins:
2000 Courtney Shealy, Georgia, 24.80 *
2002 Maritza Correia, Georgia, 21.69
2003 Maritza Correia, Georgia, 21.83
2004 Kara Lynn Joyce, Georgia, 24.24 *
2005 Kara Lynn Joyce, Georgia, 21.97
2006 Kara Lynn Joyce, Georgia, 21.63
2007 Kara Lynn Joyce, Georgia, 21.71
2014 Olivia Smoliga, Georgia, 21.59
California's Farida Osman took second tonight in 21.46, just off her fourth-ranked personal best of 21.32, while Ohio State's Li Zhesi took third in 21.48 to move into eighth all time in the event's history.
Louisville's Kelsi Worrell (21.75), Texas A&M's Beryl Gastaldello (21.82), Stanford's Lia Neal (21.83), Michigan's Ali Deloof (21.99) and Tennessee's Maddy Banic (22.02) closed out the championship heat.
                            === A - Final ===                            
 
  1 Smoliga, Olivia  JR Georgia             21.48      21.21N        20  
    r:+0.73  10.25        21.21 (10.96)
  2 *Osman, Farida   JR California          21.77      21.46P        17  
    r:+0.71  10.51        21.46 (10.95)
  3 *Li, Liz         SO Ohio St             21.63      21.48         16  
    r:+0.73  10.34        21.48 (11.14)
  4 Worrell, Kelsi   SR Louisville          21.57      21.75         15  
    r:+0.62  10.46        21.75 (11.29)
  5 *Gastaldello, B  SO Tex AM              21.88      21.82         14  
    r:+0.65  10.59        21.82 (11.23)
  6 Neal, Lia        JR Stanford            21.78      21.83         13  
    r:+0.71  10.65        21.83 (11.18)
  7 Deloof, Ali      SR Michigan            22.04      21.99         12  
    r:+0.75  10.65        21.99 (11.34)
  8 Banic, Maddy     FR Tennessee           21.98      22.02         11  
    r:+0.72  10.60        22.02 (11.42)
 
                            === B - Final ===                            
 
  9 Apostalon, Anik  JR USC                 22.09      21.82          9  
    r:+0.66  10.67        21.82 (11.15)
 10 Kinney, Chase    JR Wisconsin           22.12      21.90          7  
    r:+0.71  10.60        21.90 (11.30)
 11 Mack, Linnea     JR UCLA                22.08      21.98          6  
    r:+0.75  10.59        21.98 (11.39)
 12 *Wilk, Kasia     FR USC                 22.07      22.15          4.5
    r:+0.73  10.72        22.15 (11.43)
 12 Hinds, Natalie   SR Florida             22.11      22.15          4.5
    r:+0.66  10.52        22.15 (11.63)
 14 Ochitwa, Annie   FR Arizona             22.13      22.18          3  
    r:+0.72  10.72        22.18 (11.46)
 15 Johnson, Faith   SR Tennessee           22.05      22.24          2  
    r:+0.65  10.69        22.24 (11.55)
 16 Bonnema, Riki    SR NC State            22.14      22.45          1  
    r:+0.70  10.97        22.45 (11.48)
                Women - Team Rankings - Through Event 5                 
 
  1. Georgia                           132   2. California                      130.5
  3. Southern Cali                    93.5   4. Texas A&M                        91.5
  5. Virginia                           86   6. Louisville                         60
  7. Stanford                           59   8. Michigan                           54
  8. NC State                           54  10. Tennessee                          51
 11. Arizona                            49  12. Indiana                            42
 13. Ohio St                            40  14. Texas                              35
 15. Wisconsin                          25  16. Missouri                           14
 17. UNC                                12  18. Florida                           6.5
 19. Penn St                             6  19. UCLA                                6
 21. Air Force (W)                       4  21. Kentucky                            4
 23. Denver                              3  23. Purdue                              3
 25. Minnesota                           2