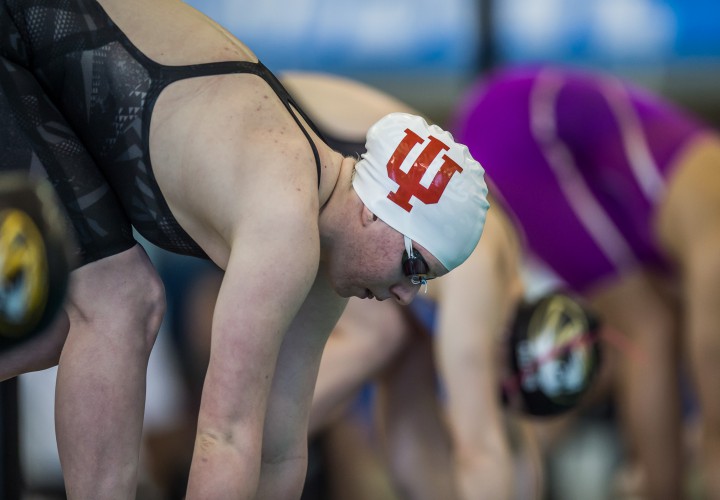 Photo Courtesy: Peter H. Bick
NCAA DI editorial coverage is proudly sponsored by Adidas. Visit All-American Swim for more information on our sponsor. For all the latest coverage, check out our event coverage page.

By Annie Grevers, Swimming World Staff Writer
"Oh, she'll do better next year, she's only a freshman," is not a valid excuse for slipping up at NCAAs anymore. 2016 is the Year of the Freshman. Four freshmen in the top 8 in the 200 IM (1st, 2nd, 3rd, and 7th), two Indiana freshmen in the 100 breast (1st and 3rd); the only final heat without a freshman in the mix thus far has been the 100 fly. And these freshman finalists aren't getting dead last. They're contending. They're winning. This is a ferocious class and I am excited to have three more years bearing witness to their excellent swimming (well, unless they play the pro card).
Cal has standout fresh faces in Kathleen Baker and Amy Bilquist. Texas A&M has IMer Sydney Pickrem (7th in 200, 4th in 400). Michigan has Siobhan Haughy (5th in 200 free) and Rose Bi (5th in 500). Tennessee's Maddy Banik sneaked into top 8 in the 50 free. USC has Kirsten Vose (3rd in 200 IM). Louisville has Mallory Comerford (2nd in 200 free by .11). The list goes on…
But two freshmen are stealing the show at their premier NCAAs: Ella Eastin of Stanford and Lilly King of Indiana. I already raved about Eastin, so let's talk about the latter fish.
Lilly King was born in Evansville, Indiana. Her training in high school was conducted in a four-lane pool. Her tightest competition was her younger brother, Alex. She did a maximum of 4,000 yards per practice. Her fastest time in the 100-yard breaststroke last season was a 59.63 at Indiana's high school state championships. That's dang fast for a high school breaststroker, but nothing to gawk at after knowing what King went onto do on night three of 2016 NCAAs.
Last night, the Hoosier went out like a wind-up toy. Methodically cranking through the race, King took a total of 10 strokes in her final length. She touched and threw her hands up victoriously after seeing the first 56 in female 100-yard breaststroke history. 56.85…that's a hard number to swallow.
I must confess, I was betting against the Indiana freshman busting into the impossible sub-57 range. Oh, she's a freshman…she'll probably tense up a bit in finals and add a tenth or two, I thought. But no, not this fierce freshman.
It does not seem long ago that 58 seconds was the elusive barrier waiting to be broken by someone other than the legendary Tara Kirk (who held the American record for seven years with a 57.77).
If you had asked King if she thought she was capable of chopping three seconds off of her best time from last season, she might have surprised you and said…"well, yes."
King's confidence is tangible as she approaches the blocks in finals or the microphone in the media room. Her self-belief was propped up by the collection of fastest swims in history already under her belt when she walked out to her 100 breaststroke final last night. Her 400 medley relay splits were 56.82 (prelims), 56.74 (finals). Her 200 medley relay splits were 26.10 (prelims), 26.05 (finals). King took the crowd's breath away with her 57.15 in the morning, edging Breeja Larson's American record from 2014 of 57.23.
"I've been thinking about it all season," King said of cracking 57 seconds. "I've always been a better long course swimmer, I've just been waiting for it to translate over into short course." 
Indiana seems to be like MiracleGro for seeds of breaststroke talent. Fellow IU freshman (and King's roommate) Miranda Tucker snagged third last night in a swift 58.10. Post-grad Hoosier Cody Miller is thriving at IU– setting American records at December's Duel In the Pool and seemingly playing big brother to the IU collegiate breaststroke girls. Last night Miller tweeted: IU BREAST! FRESHMAN 1 – 3 in the 100 !! @_king_lil Fastest ever 56.85 @miiirandatucker 58.10 #Rio2016 Proud mentor moment.
Miller and King will be favorites to represent the USA in Rio this summer in both the 100 and 200 breaststrokes. King just went four tenths of a second faster than anyone ever in short course yards and she considers herself a long course swimmer.
"I'm a swim geek," King said. "I'm always checking results. We'll see when trials comes…it's going to take 1:05 (to make the Olympic team)." King's best last summer was a 1:06.69. With the collegiate confidence she's gained from high yardage training and a serious strength program, this summer could be scary fast.
King's high turnover is reminiscent of the fastest man in the world's stroke– that muscly, perpetual-motion stroke belonging to Great Britain's Adam Peaty. The difference being that King also has stamina. She will go into tonight's 200 breaststroke final as the top seed with a 2:06.43. Not far behind is teammate/roommate Tucker with a 2:06.82.
"Hopefully we can go 1-2 in the 200," King said last night. Things seem to be panning out for the Hoosier gals. I've learned one thing– don't bet against the freshmen.