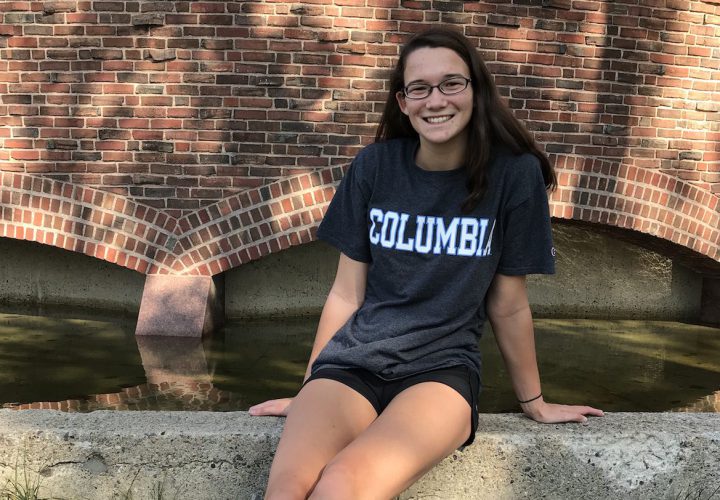 Photo Courtesy: Cathleen Pruden
Agon is the proud sponsor of all high school coverage (recruiting, results, state championships, etc.) on SwimmingWorld.com. For more information about Agon, visit their website AgonSwim.com.
To report a college commitment, email HS@swimmingworld.com. Join Swimming World's Watch List
NEW COMMIT: Mary Pruden has verbally committed to swim for Columbia University beginning with the 2018-2019 season. Pruden is from Raleigh, North Carolina where she is a senior at Ravenscroft School. She swims year-round for New Wave Swim Team, where she is coached by Ed Lower.
Her freshman and sophomore years Pruden was a key piece of the Ravens' third and fourth straight NCISAA 3A state titles. As a junior in 2017 the team finished runner up. Last year Pruden swam the breaststroke leg (31.33) as the team defended its 200 medley relay title. She also anchored (51.43) the team's 400 freestyle relay that took down a 13 year old state record. After winning the 200 IM as a freshman and sophomore Pruden recorded a second place finish (2:03.05) in the event in 2017. She was also runner-up in the 500 free (4:57.93), improving from a fourth place finish in 2016.
A two time USA Swimming Scholastic All-American, Pruden is a versatile swimmer. She holds Ravenscroft High School records in the 200 and 500 freestyle, 200 IM, and 200 medley and 400 freestyle relays. She has Winter Juniors qualifying times in the 1000 free, 100/200 back, and 200/400 IM. Her top times include:
200 Back 1:59.02
100 Back 56.06
400 IM 4:18.73
200 IM 2:03.05
1000 Free 10:02.21
500 Free 4:57.93
200 Free 1:50.72
At the 2017 Ivy League Championships Pruden's best time in the 400 IM would have put her in the A final, behind sophomore Jessica Antiles who finished sixth (4:18.11). Pruden would have been a 200 IM B finalist; only Jessica Antiles (2:00.71) was faster. Antilles will be a senior Pruden's first year in New York. Pruden's best time in the 200 backstroke also would have earned her a second swim in the B final, behind current sophomore Julia Samson, with whom Pruden will overlap with for two years.
Pruden is joining a Lion Class of 2022 that includes verbal commitments from Cleopatra Lim, Yanran Le and Madison Leblanc.
She told Swimming World,
"I chose Columbia because everyone I met was incredibly supportive and positive, and all the girls on the team were excited to be there and training with each other. I'm so excited to be able to explore New York City while furthering my education and swimming! I wouldn't be here without Coach Diana's and Coach Demerae's support throughout the process and the support of family, friends, and my club coach Ed Lower! Go Lions!"