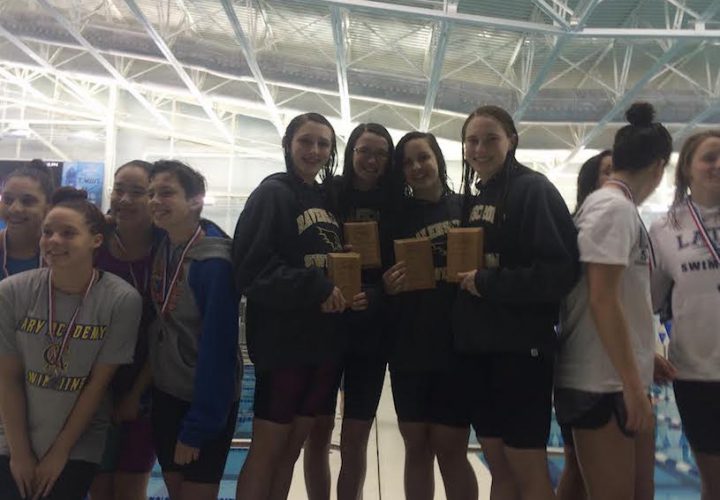 Photo Courtesy: Mary Pruden
Agon is the proud sponsor of all high school coverage (recruiting, results, state championships, etc.) on SwimmingWorld.com. For more information about Agon, visit their website?AgonSwim.com.?National Records for High School Are Pending Application Verification.? Click Here to Learn More
Agon is the proud sponsor of all high school coverage (recruiting, results, state championships, etc.) on SwimmingWorld.com. For more information about Agon, visit their website AgonSwim.com.
After four years at the top of the North Carolina Independent School 3A state swimming podium, the Ravenscroft School girls saw their run come to an end at the hands of conference rivals Cary Academy. The Chargers scored 260.5 points to the Ravens' 246.5. Asheville School finished third with 230.5 points. The Cary Academy boys were runner ups with 328 points while Charlotte Latin School won the state crown with 359 points. Asheville was again third, this time with 262.5 points.
Ravenscroft's team of Kaitlin Ramsden, Mary Pruden, Madeline High, and Grace Bergstrom opened the meet with a 200 medley relay victory in 1:49.28, just faster than Charlotte Country Day's Stephanie Nelson, Sophie Francis, Lucy Elliott, and Anna Hawkins Dulaney (1:49.56).
Ravenscroft also captured the last relay of the day as the team of Bergstrom, High, Nora Bergstrom, and Pruden posted a state record time of 3:32.29 in the 400 freestyle relay. That time took down a 13 year old state mark. St. Mary's School's Abby Arens also set a state record on Monday night. The freshman posted a winning time of 1:02.19 in the 100 breaststroke, six tenths faster than the mark set in 2012. Arens also won the 200 IM with a 2:02.98. Just .07 behind her was Pruden with a 2:03.05.
Pruden also finished runner up by a small margin in the 500 freestyle, registering a 4:57.93. Asheville's Abby Kriegler won the event in 4:57.22. Nora Bergstrom finished third (5:07.59).
Arens' freshman teammate Caroline Crouse claimed a state title of her own with a 1:52.15 200 freestyle. Charlotte Latin's Amy Dragelin was on her heels in 1:52.49.
Charlotte Country Day's Sophie Francis posted a 24.27 to win the 50 freestyle ahead of Asheville junior Alexa Phillips (24.45). Francis took the sprint double with a 52.15 in the 100 freestyle. Dragelin was again runner up (52.73). Cary Academy freshman Isabella Barnette finished third in 53.04.
Covenant Day School's Sophie Linder edged Ravenscroft senior High 55.30 to 55.41 for the 100 butterfly state title. Crouse touched third (57.49). Nelson led the way in the 100 backstroke with a dominating 54.68. Linder (57.10) and High, a William and Mary Commit, (57.48) followed as the top seven swimmers all finished under a minute.
In a close race, Charlotte Latin's Dragelin, Matigan Simpson, Jessica Flynn, and Elizabeth Lancaster claimed the 200 freestyle relay title (1:40.05). Asheville's Alexa Phillips, Bella Ostlund, Kriegler, and Rylynn Pierson (1:40.39) were second and Charlotte Country Day's Nelson, Dulaney, Ashley Townsend, and Francis (1:40.46) were third.
The Charlotte Latin boys dominated the opening 200 medley relay. Tyler D'Allaird, Will Egan, Ikenna Eruchalu, and Sam Mahoney posted a 1:37.04.
Dylan Boyd set a state meet record in the boys 500 freestyle in 4:34.61. The Ravenscroft senior and Wisconsin commit also won the 200 freestyle with a 1:40.83.
North Raleigh Christian Academy's Jonah Holt was the only swimmer under two minutes in the 200 IM with his 1:59.94.
Charlotte Christian School's Cole Von Cannon beat Asheville's Nathan Alleyne 22.06 to 22.26 for the 50 freestyle crown. Alleyne then topped the 100 freestyle with a 48.58.
Eruchalu won the 100 butterfly in 51.34 while his teammate D'Allaird was second with a 52.02. The duo also went 1-2 in the 100 backstroke posting times of 52.45 and 53.60. Holt finished third (54.87).
Asheville's Joshua Wong was the only swimmer under a minute in the 100 breaststroke with his 58.57.
In the 200 freestyle relay Cary Academy's Will Newman, Josh Pullen, Ben Humphries, and Ari Kaufman (1:31.36) were just faster than Charlotte Latin's Egan, Evan Dorsel, Kieran Ragoowansi, and Jackson Davis (1:31.94).
D'Allaird, Davis, Mahoney, and Eruchalu teamed up to win the 400 freestyle relay in 3:15.27 while Asheville claimed second in 3:15.38 with Alleyne, Tristan Thompson, Joshua Wong, and Alec Sands.
All results available on Meet Mobile.