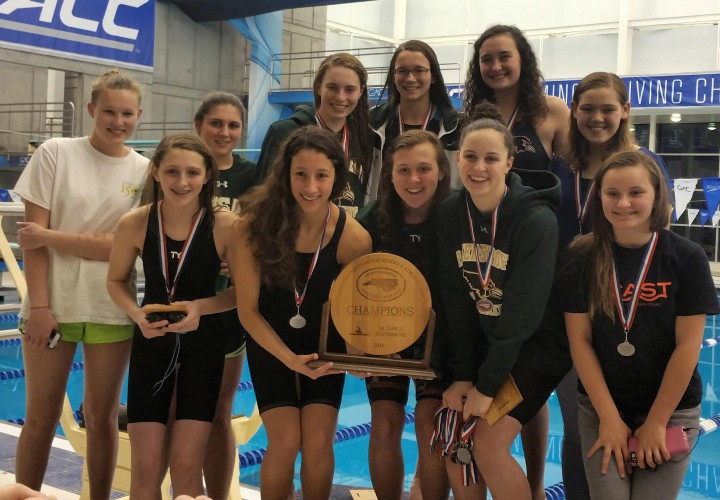 Photo Courtesy: Jason Ramsden
Agon is the proud sponsor of all high school coverage (recruiting, results, state championships, etc.) on SwimmingWorld.com. For more information about Agon, visit their website?AgonSwim.com.?National Records for High School Are Pending Application Verification.? Click Here to Learn More
Agon is the proud sponsor of all high school coverage (recruiting, results, state championships, etc.) on SwimmingWorld.com. For more information about Agon, visit their website AgonSwim.com.
By Cathleen Pruden, Swimming World College Intern
Monday afternoon, the Ravenscroft School girls and the Charlotte Latin School boys were crowned the 2016 North Carolina Independent School 3A State Champions.
Girls' Meet
Ravenscroft led the team scoring from start to finish to claim their fourth straight state title. Chloe Mikles led the effort, finishing her high school career undefeated in individual events and relays. The senior, who also made an impact as a middle schooler, captured the 50 (23.92) and 100 (51.57) freestyles for the fourth straight year.
Mikles combined with teammates Kaitlin Ramsden, Mary Pruden, and Madeline High to touch first in the 200 medley relay (1:48.19), just ahead of Charlotte Country Day's Stephanie Nelson, Sally Dowd, Lucy Elliot, and Sophie Francis (1:48.52). The finish was even closer in the 200 freestyle relay, where Grace Bergstrom, Ramsden, Nora Bergstrom, and Mikles posted a 1:40.16 to the Asheville School's 1:40.24, swum by Rylynn Pierson, Abby Kriegler, Bella Ostlund, and Alexa Phillips.
The Ravens earned two other first place finishes in the timed finals session. Pruden earned her second straight state title in the 200 IM, touching in 2:04.95, just ahead of Nelson (2:05.22). Pruden's sophomore teammate, Grace Bergstrom earned third in 2:13.84. High won a close one in the 100 butterfly, stopping the clock at 55.26, ahead of Country Day's Sophie Linder (55.54). High's time was good for the 3A state record.
Charlotte Latin put together a one, two finish in the 200 freestyle. Elizabeth Lancaster touched first in 1:52.71, followed by teammate Amy Dragelin (1:53.04).
Asheville's Kriegler led an intense race in the 500 freestyle. The freshman was the only one to crack five minutes, touching at 4:58.16. Three swimmers- Rachel Lee, Lancaster, and Pruden finished just behind in 5:02.76, 5:02.89, and 5:02.95 respectively.
Nelson dominated the 100 backstroke, finishing in 54.61, under Kathleen Baker's state record. High was second (57.38), while Dragelin rounded out the podium (57.43). Providence Day's Abigail Cochell earned a decisive victory in the 100 breaststroke in a 1:06.42. Ostlund and Cary Academy's Melissa Hamrick were in a battle for second, touching in 1:08.34 and 1:08.52.
The final relay of the day was again down to the wire. This time, it was Charlotte Latin's Dragelin, Gretchen Grams, Jessica Flynn, and Lancaster earning the state title in a 3:35.32, just ahead of Ravenscroft's Bergstrom, Bergstrom, High, and Pruden in 3:35.43.
Ravenscroft finished with 306 points. Cary Academy was runner up with 275. Asheville School earned third with 231 points.
Boys' Meet
The Charlotte Latin School boys earned 366 points Monday afternoon to claim the team title. Asheville School was runner up with 278. The 2015 champions, Cary Academy earned third with 225.
The Hawks jumped out to a quick start, dominating the 200 medley relay. Tyler D'Allaird, Will Egan, James Hardy, and Ikenna Eruchalu touched in 1:37.53, over three seconds ahead of second place, and good for the 3A state record. D'Allaird went on to win the 200 freestyle in 1:45.68, ahead of a pair of Providence Day teammates, Thomas Groenhout (1:47.34) and Tyler Sherrill (1:47.94).
Latin swimmers finished one, two in the 100 butterfly. Eruchalu and Hardy touched in 49.58 and 51.95, with Eruchalu's swim setting a new state record. The junior claimed another title in the 100 backstroke with a 51.61. That was a second ahead of teammate D'Allaird (52.77).
Cannon's Kyle Barone was first to the wall in the 200 IM (1:56.55), not far ahead of Hardy (1:57.12). North Raleigh Christian's Jaden Kring also snuck under two minutes (1:59.52) to round out the top three. Barone combined with Austin Coale, Preston Miller, and Andrew Vanwingerden to take the 200 freestyle relay (1:30.88) for the Cougars.
In the 50 freestyle, it was Cary Academy's Sebastian Kettner in a 21.92. The senior also won the 100 in 48.09, over a second ahead of his closest competitor.
Asheville's Alec Sands ran away with the 500 freestyle, touching in 4:42.18, 16 seconds ahead of second place. Providence Day's Groenhout and Asheville's Joshua Wong both slid under a minute in the 100 breaststroke, touching in 59.26 and 59.42.
Latin closed out the afternoon also dominating the last relay. D'Allaird, Sam Mahoney, Eruchalu, and James Hardy won the 400 freestyle with a 3:14.07.
Full results available on Meet Mobile.