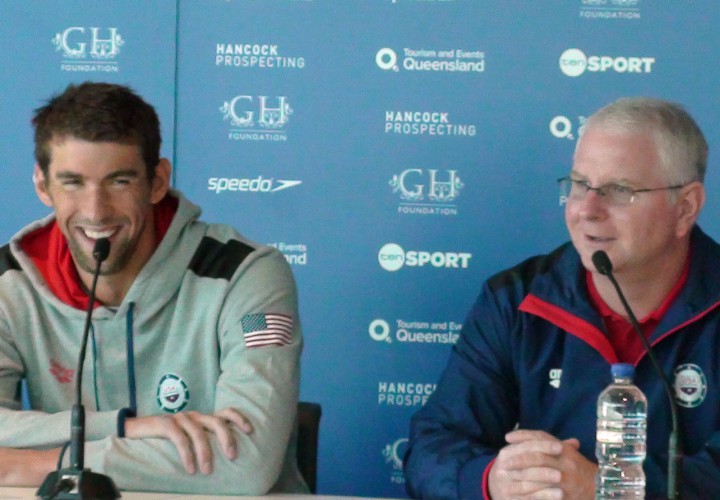 Photo Courtesy: SwimmingWorld.TV

Editorial Coverage Sponsored By FINIS
This commentary by Steven V. Selthoffer, was originally published over 2 years ago. Swimming World thought it was worth republishing in light of Michael Phelps and Anthony Ervin making the 2016 USA Swimming Olympic Team
——-
Michael Phelps stepped up on the blocks with a smile on his face during the first comeback swim of his return to the sport. It was good to see. He qualified for finals and finished with a top eight time in the world in the 100 fly, second to friend and teammate Ryan Lochte.
It marked Phelps' return to the sport. However, it's one thing to enter some races to "just have fun," and it's another thing to make a full-blown "commitment" to go all-out for Rio 2016. The second aspect is a long and difficult process that is personal and different in many ways for every human being on the planet.
It takes a lot of soul searching and personal adjusting, to make a new commitment back under Bob Bowman, when you know what it will take, when you have grown accustomed to freedom, life, rejuvenation and new relationships.
But, if Michael Phelps does decide to go "all out," he will be better and faster than he ever was. His best sprinting days are ahead of him.
Why?
1) Taper versus Recovery
Because Phelps has recovered. He's put on some weight and feels good. He's enjoying the freedom.
There is a major difference between a "taper" and "recovery," and there are very few scientific studies done on it. While the research is weak, we do have some good examples.
As we all know, a taper is what occurs for a time period (a few weeks) prior to a major targeted meet, such as Nationals, Euros, Worlds or Olympics. It is when the quality and quantity of workouts decrease so the body begins to rest, and rejuvenate so that the athlete can reach peak human performance (PHP) at the targeted time/meet.
Recovery on the other hand, is when an athlete "quits" swimming, or when after Nationals, a swimmer takes "time off" usually three-six weeks or the summer, or even years before returning to workouts or a meet. The body has had time to "recover," all of the biological systems are no longer under the stress loads/factors and athletes usually put on some extra weight, they feel better, are happier, and are a lot more light-hearted towards any training or meets.
I learned this years ago after taking some "time off" after Nationals. My coaches had entered me in another meet for "fun," and it resulted in some personal records making qualifying times very early for the next season. I learned something that day and stored it away.
Then, there was a second instance after my swimming career was over at Indiana. I entered a meet in Colorado, two years after my swim career had ended, and only after working out for a few months, more off than on, I swam some personal record splits in a few 50's. The light clicked on a second time.
I knew I was on to something. It was at this point that I learned there was a major difference between tapering and recovery, and it affected sprinting, raw speed the most.
However, making a scientific premise on Peak Human Performance (PHP) based on yourself is rarely a good idea.
But, there is another case that can stand the close scientific scrutiny- Anthony Ervin.
The Anthony Ervin comeback
How and why Anthony Ervin came back to swimming is a combination of factors and a textbook case of peak human performance and personal excellence.
Anthony Ervin walked away from the sport at the (first) peak of his career at California. Listening to his own comments, he said he had nothing more to prove to himself and wanted to move on. He needed the freedom to grow. Then, later he also had years to recover before entering the water again.
The second part of his recovery was just as important- personal excellence. It was all about a relationship between Anthony Ervin and Mike Bottom. Notice I didn't say "between a swimmer and a coach." Mike doesn't coach "swimmers," he coaches people. Individuals. It is always about what is best for the individual with Mike.
When Anthony came back to the sport, he attributed his comeback success to Mike Bottom, who 12 years earlier said, "Hey, buddy. I support you 100%. I'm behind you. If there is anything I can do for you, just let me know…" Anthony said, Mike gave him the freedom to go, to grow, the freedom to move on, to discover new things, to swim in difference places with different coaches. That unconditional support was what it was all about with Mike in the relationship. Not athletic performance.
And that is what brought the peak human performance and new best times out of Anthony Ervin 12 years later swimming for Dave Durden, when swimming became "fun again" in front of a delirious and screaming crowd watching him make the U.S. Olympic team again this time for London 2012. He's given credit multiple times to Mike for his second career.
2) Bowman is better
Michael Phelps will be faster because Bob Bowman is a better coach. Everyone closely studies the athletes. I like to study the coaches. Bob Bowman has an insatiable appetite to learn new things, not just learning for the sake of learning, but, what is directly applicable new "truth" for the welfare of the people around him and for the athletes in the pool.
Famous UCLA basketball coach, John Wooden, after retiring for many years was asked how he would do, comparing his string of undefeated seasons and 12 NCAA championships against today's top coaches and teams. Wooden replied that he'd do even better. Because he was a better person and a coach, because he had time to learn more things and how to apply that to training his players.
The same is true with Bowman. He knows when to rest/recover and when to walk away. When it comes to coaching, Bowman will always do the right thing. He might make some minor errors in his own estimation and self-evaluation. He explores many different things on many different levels. Sometimes experimenting here and sometimes there with that, as all great coaches do.
BUT, in the really big picture when you look at all the pieces over time, Bowman does the right things right, when it really matters – all the time. And that includes making radical changes, and taking large but, calculated risks.
Phelps will be faster because he has the freedom he needs to grow, and because Bowman does not idolize the past. He knows that he has a different set of emotional, personal and physical parameters and protocols to deal with in Michael and the team, and now he is carefully analyzing and assembling the pieces and the unknowns of the way forward. Also, his personal radar is looking for new answers and new ways of doing things. Like Bottom, with Bowman, it's all about the relationships. It's always about what is best for Michael or Yannick Agnel, or Tom Luchsinger or Allison Schmitt.
Many organizations and teams have "Most Improved" awards they give out at banquets. Why not award it to a coach? Like Bowman? I think he deserves it more than Agnel, Schmitt or Phelps at this point in time.
3) Phelps' sprinting will be much better
Yes. It's true. Welcome to our world. Despite what Michael might feel now, as time goes on, he'll be pleasantly surprised. But, he'll have to learn a few new things to get the raw speed that is in there.
Suddenly, swimmers like Therese Alshammar have new meaning. There is a new appreciation for her. How could she be at the top of her game, always threatening a world record in any race for the past 12? 16 years? Whoa!!! In 50s and 100s free/fly? How does she do that? Suddenly, sprinters have a new respect. That's spelled R.E.S.P.E.C.T. Many thought we weren't serious. We didn't work out as hard as the 400 and distance guys.
Learning to sprint is a whole new world. To really "go," you have to learn that the 100 free or 100 fly is not a "100." It's two "50's" back to back. There is a major difference there and how you train. The Dutch understand that. How Michael will train now will be different than training for 17 races each in Beijing and London.
Michael Phelps will be faster because he is going to learn how to really sprint. He will train in a new way for the 100s and there will be a lot of people now willing and wanting to help.
4) Better internal emotional control
Phelps will be faster because he has had time to mature and adjust, resulting in better internal emotional control. I'm talking internally. He is already a fine young man (and you can give a lot of credit to Bob for that).
Phelps is a great person to be around. He knows his stuff. You can't intimidate him. He doesn't play games. But, with everyone there are personal emotional areas that sap your strength and where your internal emotions sometimes spike up and down more frequently, or "turn on" too early. That won't happen as much anymore. Phelps will be freer emotionally, more "whole" and as a result, much more in control and therefore, much faster. Phelps' will be aware of, and more in control of his "on/off" switch.
Taking and making small steps to a goal is cerebral. It's worked before. But, as you get older, and focus on the 50s and 100s in sprinting, emotions play a much greater role, maintaining and getting those right takes new analysis and more effort.
When does a race begin? There is little scientific work done in this area, but, it deserves some serious scientific thought. If we placed heart monitors on swimmers/athletes for months at a time we might find out that for some athletes, their heart rate begins to fluctuate and change higher a week or days out from the actual race. Internally, they are already spending energy "racing." They are nervous the week before a big race, burning ATP. To others, they don't start to "focus" until maybe a short time before the race. And, they are the ones who blast out.
Case in point. Usain Bolt. When I first saw Usain Bolt run a 100m, it was for his school boy championships when he was still very young. He was having fun. Totally loose. Carefree and just smiling and joking around.
To some people, that would be considered "not serious." But, I saw someone who had the ability to "conserve it all" and then "focus" everything mentally, emotionally, and physically bringing it together to a head, so quickly… He focused. Bang! Race over. He won. But, at that second, when he was behind the blocks compared to the others, I knew he would be a world record holder and Olympic champion someday. The smile gave it away. The looseness. Great sprinters have a lot of confidence. They're loose. They know they can blow it out in the 100s when they have too. The same will be true for Michael, he'll be a lot looser. He already is.
5) "I'm doing it for myself. It's fun."
Phelps' best days sprinting the 100s (and maybe 200s if he goes there) are still ahead of him. This time he's doing it for himself. He knows what he needs to do to work out, and where to get it. Also, the fun, the joy of competing is back. Joy is inseparable from Peak Human Performance.
Everyone has an internal clock that is ticking. It tells us personally when it is time to hang it up for competitive swimming. Michael's clock is still ticking. That's good for him and everyone else.
As he returns to the pool and working out more, Phelps will learn how to sprint better. How to really become the sprinter that he can be. And, when he has learned a few new things, he will do some amazing performances the world has never seen before. Guaranteed. How fast? If he makes the all-out commitment to Rio…
The best is yet to come.