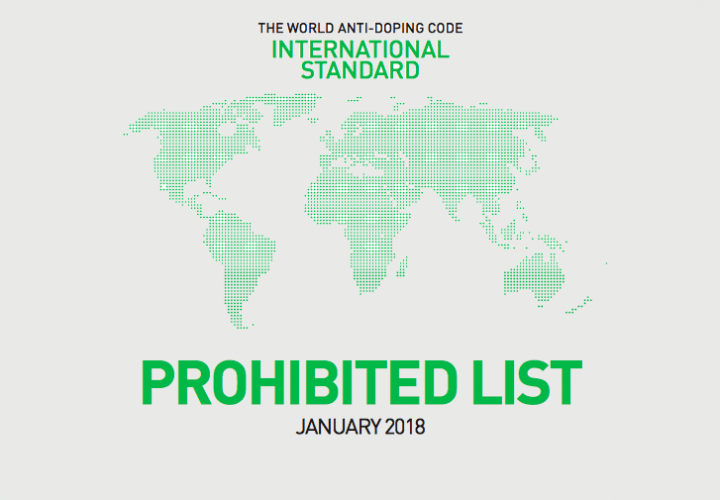 The World Anti-Doping Agency (WADA) recently published their 2018 List of Prohibited Substances and Methods, and also their 2018 Summary of Major Modifications and Explanatory Notes, which explains the changes from the 2017 list to the 2018 list. The list of prohibited substances was voted on and approved by the organization's Executive Committee on September 24, 2017 and will go into effect on the first of January 2018.
Sir Craig Reedie, President of WADA, announced,
"WADA is pleased to publish the 2018 Prohibited List. Updated annually, the List is released three months ahead of taking effect so that all stakeholders — in particular athletes and their entourage — have sufficient time to familiarize themselves with the document and its modifications. It is vital that all athletes and entourage take the necessary time to consult the List; and that, they contact their respective anti-doping organizations (ADOs) if they have any doubts as to the status of a substance or method."
Olivier Niggli, the Director General of WADA, added,
"Annually, the Prohibited List review involves a very extensive stakeholder consultation process over the course of nine months. In reviewing the List, experts examine such sources as: scientific and medical research; trends; and, intelligence gathered from law enforcement and pharmaceutical companies in order to stay ahead of those that endeavor to cheat the system." 
The annual revision process to the prohibited substances list is an extensive process that lasts approximately nine months. In order for a substance or a method to be added to the prohibited list, it needs to meet two of three criteria:
The substance or method has the potential to enhance or enhances sport performances;
The substance or method represents an actual or potential health risk to the athletes; or
The substance or method violates the spirit of sport.
According to WADA, athletes "who have a legitimate medical reason for using a prohibited substance or method that is on the List," can qualify for accommodations if they meet criteria outlined in the International Standard for Therapeutic Use Exemptions (ISTUE).
For more information on the 2018 List and the annual review process, click here.