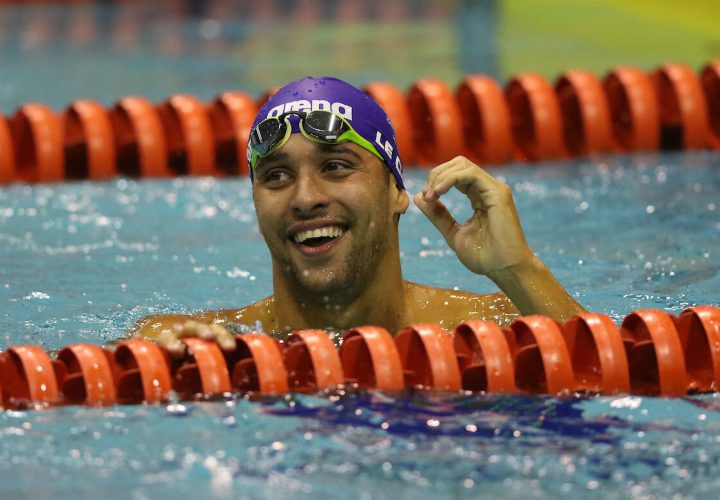 Photo Courtesy: Anesh Debiky
Editorial content for the 2017 FINA World Cup is sponsored by TritonWear. Visit TritonWear.com for more information on our sponsor. For full Swimming World coverage, check event coverage page.
During the second of two days of competition at the 2017 FINA World Cup stop in Doha, South Africa's Chad Le Clos, Sweden's Sarah Sjostrom, Hungary's Katinka Hosszu and Germany's Christian Diener all recorded multiple wins.
No world records fell at the stop, but there were plenty of impressive efforts nonetheless, with Le Clos taking down American Tom Shields twice in quick succession and Sjostrom grabbing three wins and one runner-up finish on day two.
Read below for event-by-event full coverage of the session.
Event schedule:
Women's 100 free
Men's 200 free
Women's 50 breast
Men's 100 breast
Men's 100 fly
Women's 100 back
Men's 50 back
Women's 200 fly
Men's 200 IM
Women's 400 free
Men's 50 free
Women's 200 breast
Women's 100 IM
Men's 200 back
Women's 50 fly
Men's 1500 free
Women's 400 IM
Mixed 200 medley relay
Women's 100 Free
Sweden's Sarah Sjostrom picked up her first win of the day and fourth of the meet in the 100 free, comfortably holding 2012 Olympic gold medalist Ranomi Kromowidjojo of the Netherlands at bay.
Sjostrom finished in 51.62, about a second off her world record of 50.58 set at an earlier World Cup stop in Eindhoven, while Kromowidjojo edged out countrywoman Femke Heemskerk for second, 52.19 to 52.29.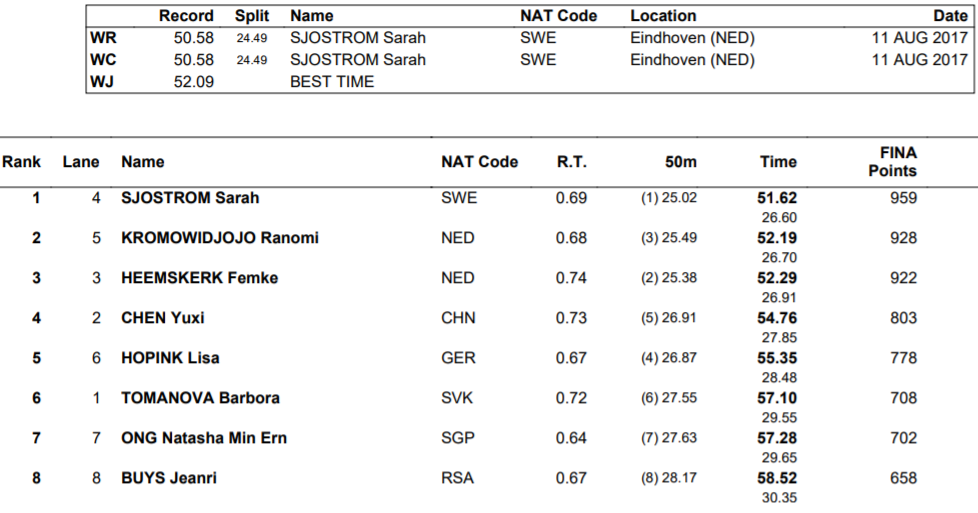 Men's 200 Free
As he did Wednesday in the 200 fly and then repeatedly at the last World Cup stop in Hong Kong, South Africa's Chad Le Clos got the better of the USA's Tom Shields in the 200 free.
Le Clos finished in 1:44.40, and Shields took second in 1:45.02 after leading through the first half of the race. The Netherlands' Kyle Stolk, never far behind the top two during the race, took third in 1:45.77.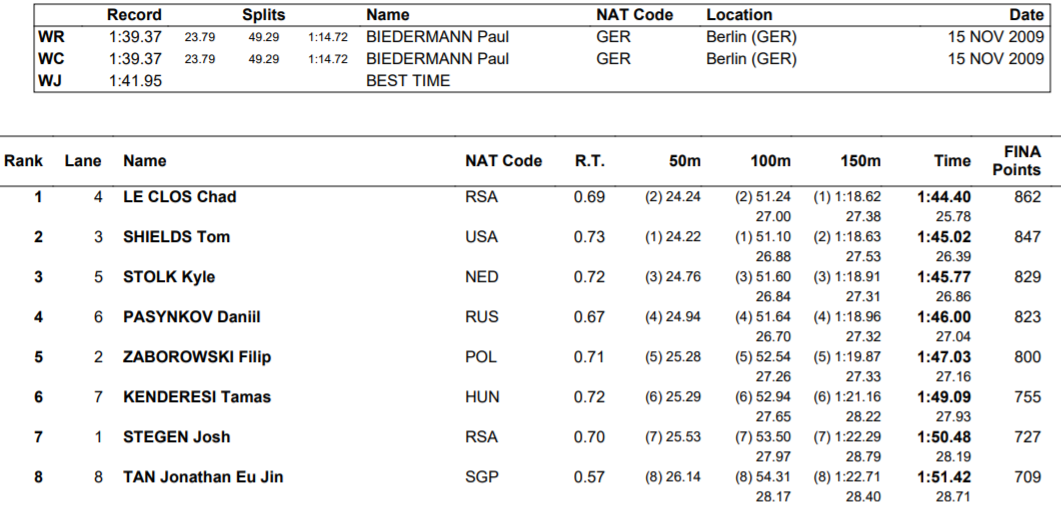 Women's 50 Breast
Jamaica's Alia Atkinson dominated the shortest breaststroke race on the program for her second win of the meet. After winning the 100 breast Wednesday, she touched in 29.42 in the 200 to out-pace runner-up Rikke Pedersen by nine tenths of a second.
Denmark's Pedersen came in at 30.32, and Austria's Lena Kreundl took third in 31.24.

Men's 100 Breast
In a repeat of the finish from Wednesday's 50 breast, Cameron van der Burgh edged out Russia's Kirill Prigoda in the 100, 56.11 to 56.31. Neither was all that far off van der Burgh's suit-aided world record time of 55.61 from back in 2009.
Belarus' Ilya Shymanovich grabbed third in 56.76.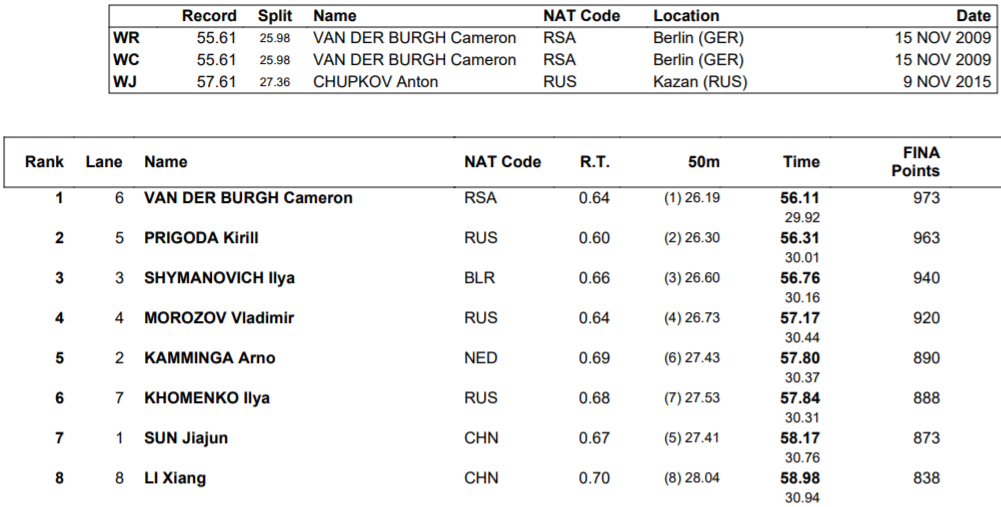 Men's 100 Fly
South Africa's Chad Le Clos took down the USA's Tom Shields for the second race in the span of 30 minutes when he won the 100 fly, 50.17 to 50.30. Shields closed on Le Clos on the back half but did not have enough to get into the wall ahead.
Belarus' Pavel Sankovich took third in 50.79.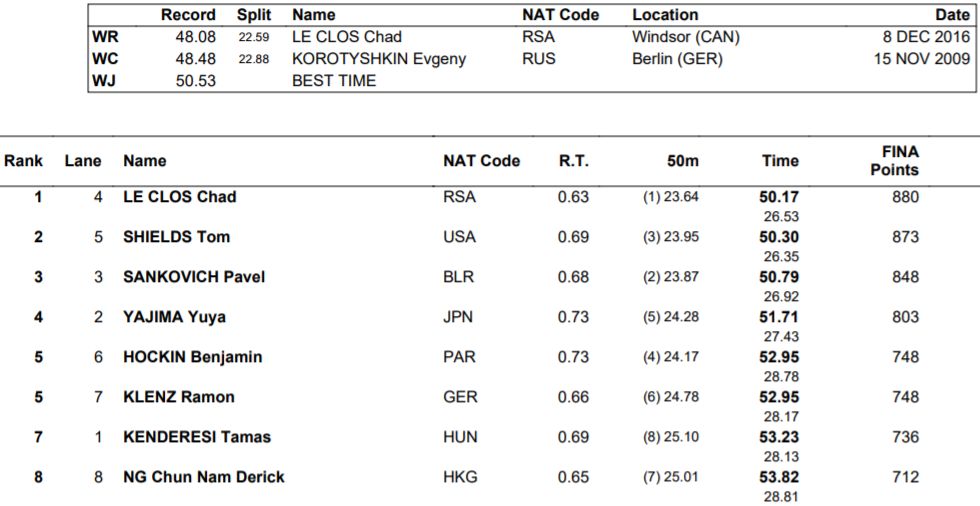 Women's 100 Back
In the fourth head-to-head showdown of the meet between Hungary's Katinka Hosszu and Australia's Emily Seebohm, the Hungarian came out ahead in the 100 back, holding off her Aussie rival and getting to the wall in 56.27, to Seebohm's 56.40.
The Netherlands' Maaike De Waard grabbed third place, but she was well back of the top two with her time of 58.63.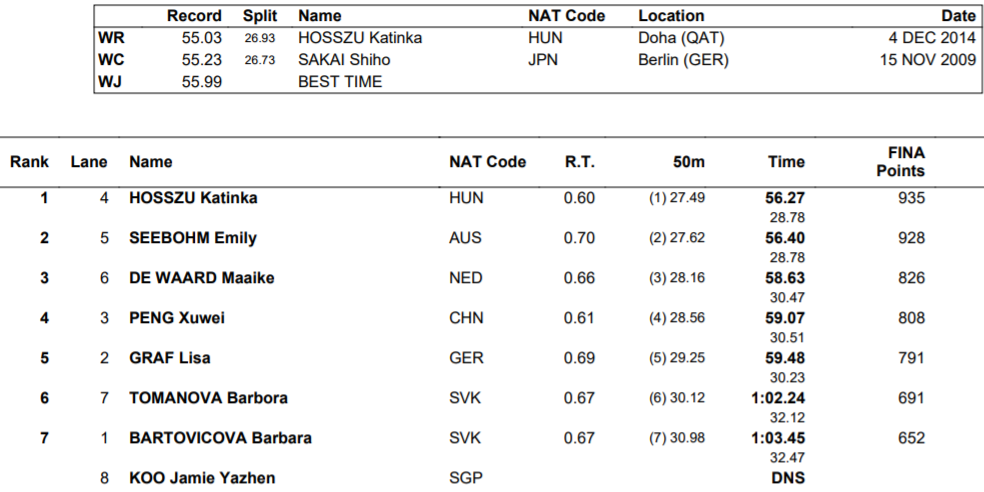 Men's 50 Back
Germany's Christian Diener came out ahead of a tightly-bunched pack at the front of the men's 50 back. He hit the wall in 23.58.
Russia's Vladimir Morozov finished 0.13 behind in second place, touching out Brazil's Nelson Silva (23.72), the USA's Tom Shields (23.73) and Belarus' Pavel Sankovich (23.74).

Women's 200 Fly
China's Zhang Yufei held off Germany's Alexandra Wenk to come out on top of a small field in the women's 200 fly. Zhang finished in 2:07.43, and Wenk was second in 2:08.17.
Hong Kong's Chan Kin-Lok touched third in 2:08.72.

Men's 200 IM
Russia's Kirill Prigoda improved from his second-place finish in the 100 breast to the top spot in the 200 IM. The win marked his second in two days after winning the 200 breast earlier in the meet.
Prigoda finished in 1:55.57, while countryman Danill Pasynkov took second in 1:56.56. Third went to Hungary's David Foldhazi in 1:57.41.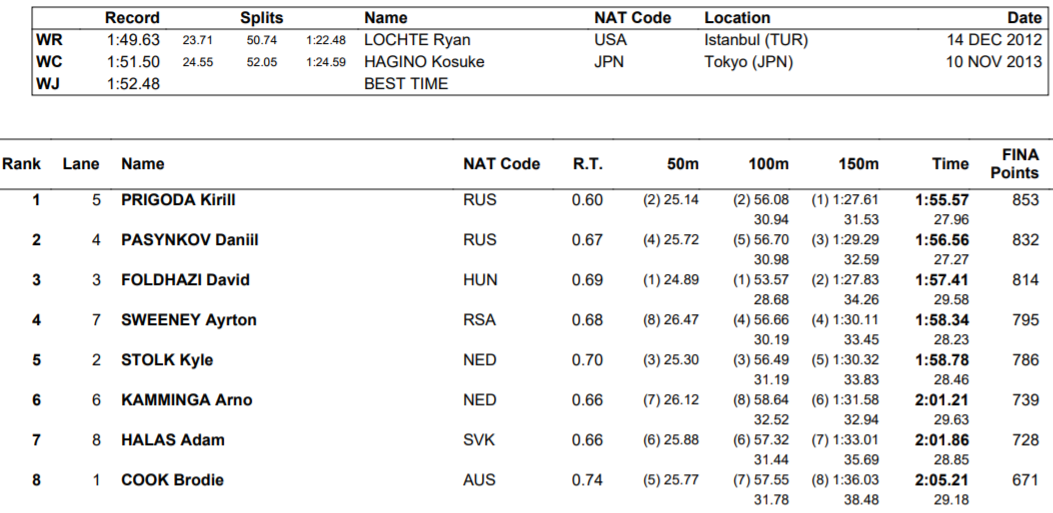 Women's 400 Free
China's Wang Jianjiahe, who set the first-ever world junior record in the women's 800 free one day earlier, edged out countrywomen Li Bingjie and Shen Duo to win the 400 free as well.
Wang touched in 4:04.42, just ahead of Li in 4:02.58. Shen was third in 4:02.94, and from there it was a big jump back to the fourth-place finisher, which happened to be sprinter Femke Heemskerk making a 400-meter cameo.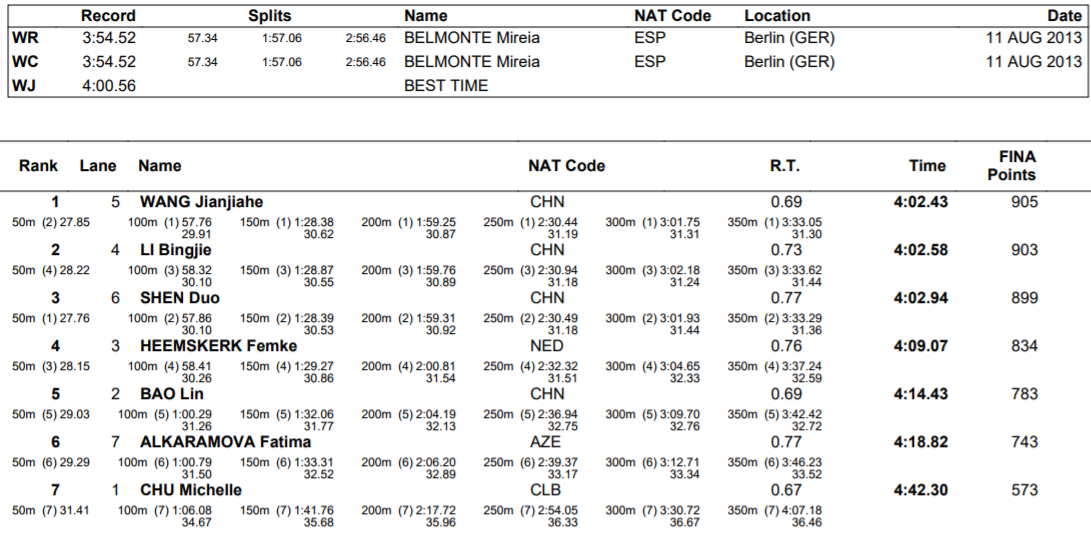 Men's 50 Free
Russia's Vladimir Morozov picked up his first win of the day in the 50 free, blasting to the wall in a top time of 20.98 to win the race by more than a half second.
South Africa's Chad Le Clos, making a very rare 50 free appearance, was second in 21.50, and Germany's Damian Wierling was third in 21.61.

Women's 200 Breast
Denmark's Rikke Pedersen turned the tables on Jamaica's Alia Atkinson when the duo met in the 200 breast. After Atkinson won the 50, Pedersen won the 200 by some seven seconds, touching in a time of 2:18.86.
Atkinson finished second in 2:26.10, and Austria's Lisa Zaiser took third in 2:28.57.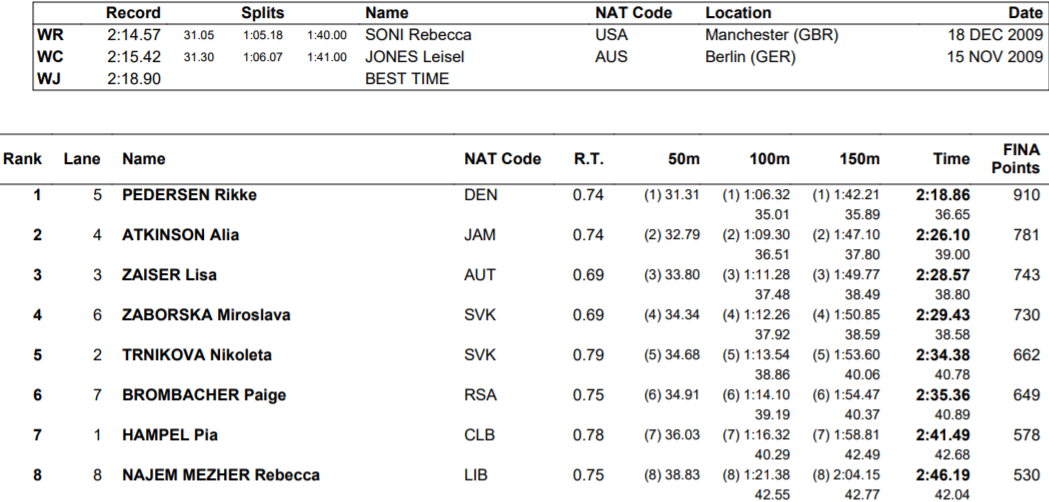 Women's 100 IM
In yet another Katinka Hosszu–Emily Seebohm showdown, Hosszu came out on top for the fourth time in five tries over the course of a two-day meet. She won the event in 57.26, while Seebohm fell all the way back to third in 58.59.
Sarah Sjostrom, who has shown that she can swim a little bit of back and breast as well as her signature free and fly, ended up posting a quick back-half and taking second in 57.60.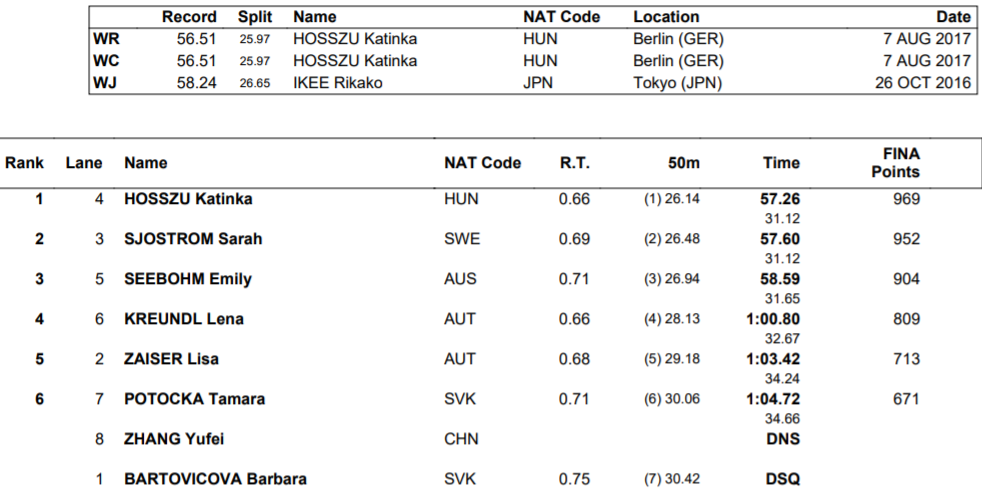 Men's 200 Back
Germany's Christian Diener won his second backstroke race of the day as he held off Poland's Radoslaw Kawecki and South Africa's Chad Le Clos — barely. Diener finished in 1:50.96, but both Kawecki and Le Clos out-split him badly on the last 50.
Kawecki, the Short Course World Champion in the event, tied with Le Clos for second in 1:51.02. The result was Le Clos' fourth top-two finish of the day and his second in what is considered an "off-event" for the South African.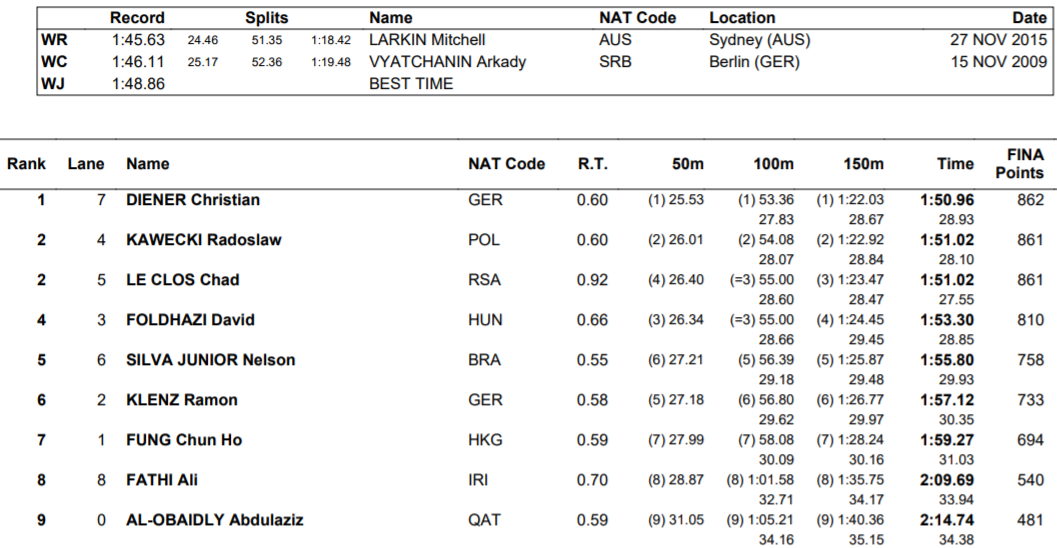 Women's 50 Fly
Sweden's Sarah Sjostrom won her third race of the day (in four tries), and the final triumph came just minutes after a second-place finish in the 100 IM. She won the 50 fly in 24.76 to defeat Ranomi Kromowidjojo by almost a half-second.
Kromowidjojo was second in 25.25, and her Dutch countrywoman Maaike De Waard took third in 25.87.
Men's 1500 Free
Hungary's Gergely Gyurta held off a strong late charge from Azerbaijan's Maksym Shemberev to win the men's 1500 free, coming in with a time of 14:41.84. Shemberev ended up settling for second in 14:43.79, while Olympic bronze medalist Gabriele Detti of Italy took third in 14:46.75.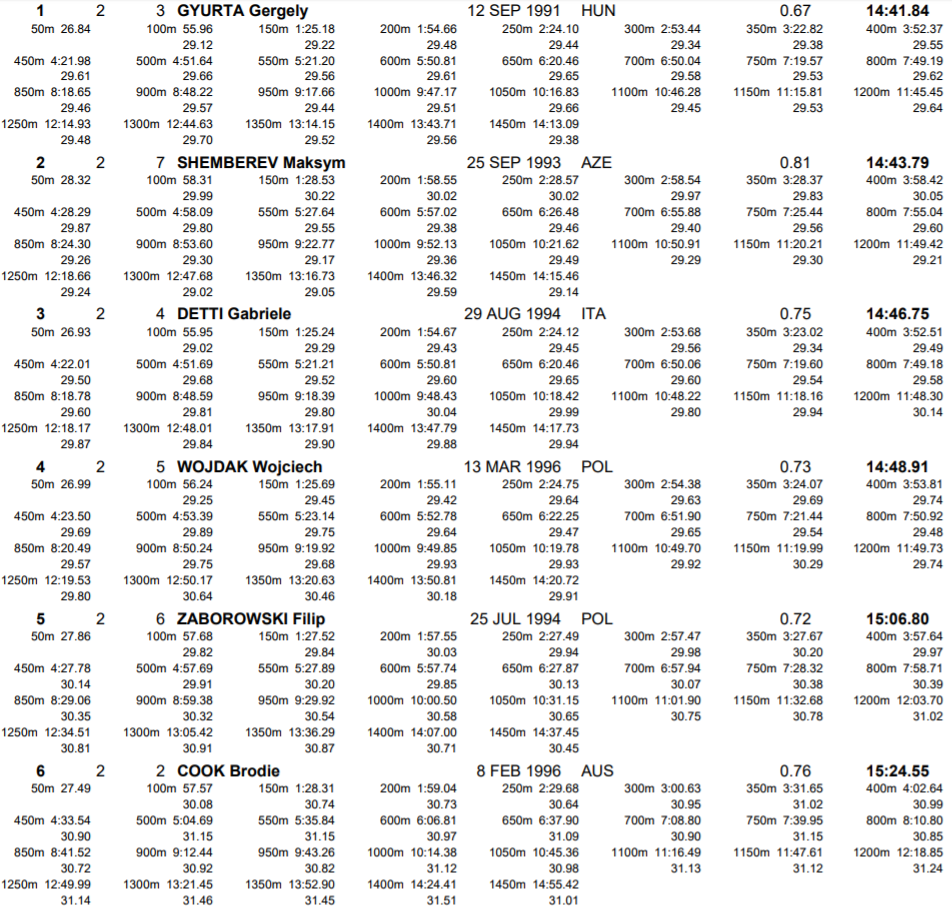 Women's 400 IM
Katinka Hosszu wrapped up her two-day stint in Doha with another win in the 400 IM. The Hungarian cruised to first place and touched in 4:27.94.
Australia's Emily Seebohm, making a very rare appearance in the long IM, took second behind Hosszu for the fifth time all weekend. Seebohm came in at 4:32.57, and Germany's Alexandra Wenk took third in 4:38.83.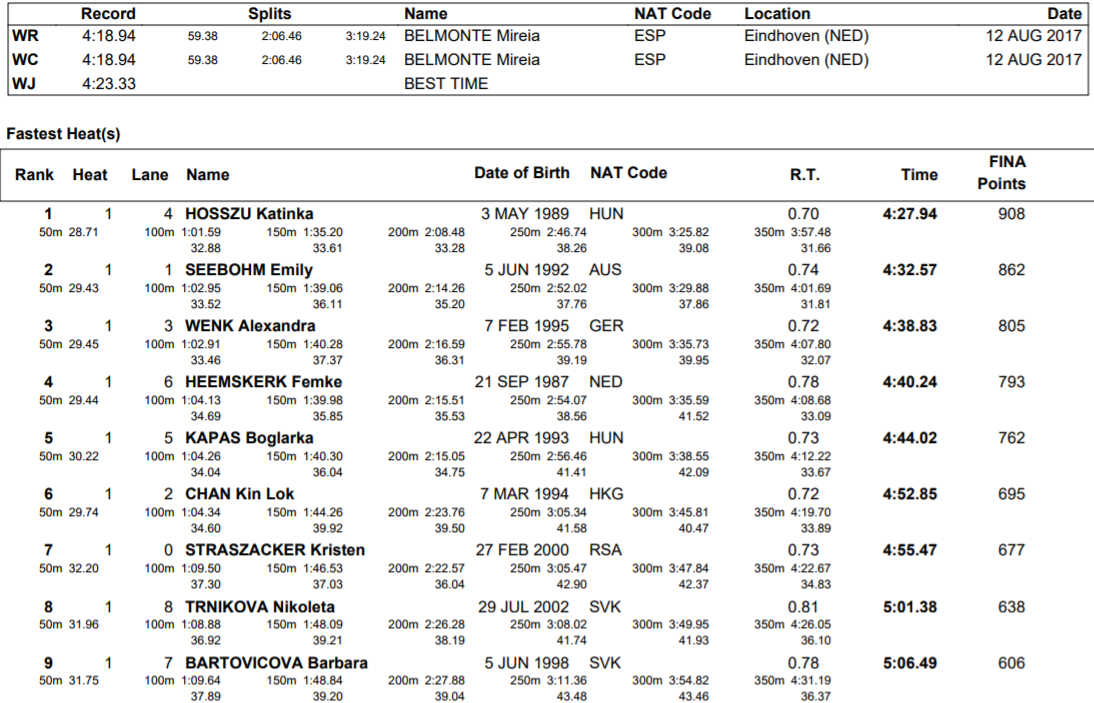 Mixed 200 Free Relay
The Netherlands picked up an easy win in the meet's final event, the mixed 200 free relay. Tom De Boer, Kyle Stalk and Maaike De Waard set up anchor Ranomi Kromowidjojo, who came home in 23.94.
Germany's Damian Wierling, Christian Diener, Alexandra Wenk and Lisa Hopink finished second in 1:34.04, and China's Qibin Zhang, Sun Jiajun, Zhang Yufei and Shen Duo took third in 1:34.44.