Editorial Coverage provided by

During the final day's prelims at the FINA World Championships in Budapest, only four events were contested, and swimmers from the United States claimed first place in three of them. Chase Kalisz took first in the men's 400 IM, while both medley relays qualified tops for the finals with so-called "B" teams.
In the other race of the morning, Hungary's Katinka Hosszu was first in the women's 400 IM.
Read below for event-by-event full coverage of the morning session.
Women's 400 IM
Katinka Hosszu powered to a top qualifying time of 4:33.90 in prelims of the women's 400 IM, but not without some challengers pushing her forward. Throughout the third heat the USA's Elizabeth Beisel, Japan's Sakiko Shimizu and Spain's Mireia Belmonte all made advances on Hosszu's lead, with Shimizu blitzing past her on the breaststroke leg.
A strong final 100 meters would push Hosszu to the wall first, followed by a strong finish from Belmonte at 4:35.29.
Beisel, who continually worked her way up throughout the heat, turned in a final time of 4:36.18 to claim the third place seed for tonight's final.
Sydney Pickrem of Canada picked up the fourth place seed after finishing first in heat two with a 4:36.25, while Shimizu qualified fifth overall with a 4:36.43.
The USA's Leah Smith (4:36.94), Japan's Yui Ohashi (4:36.97), and Great Britain's Hannah Miley (4:37.14) qualified sixth through eighth respectively.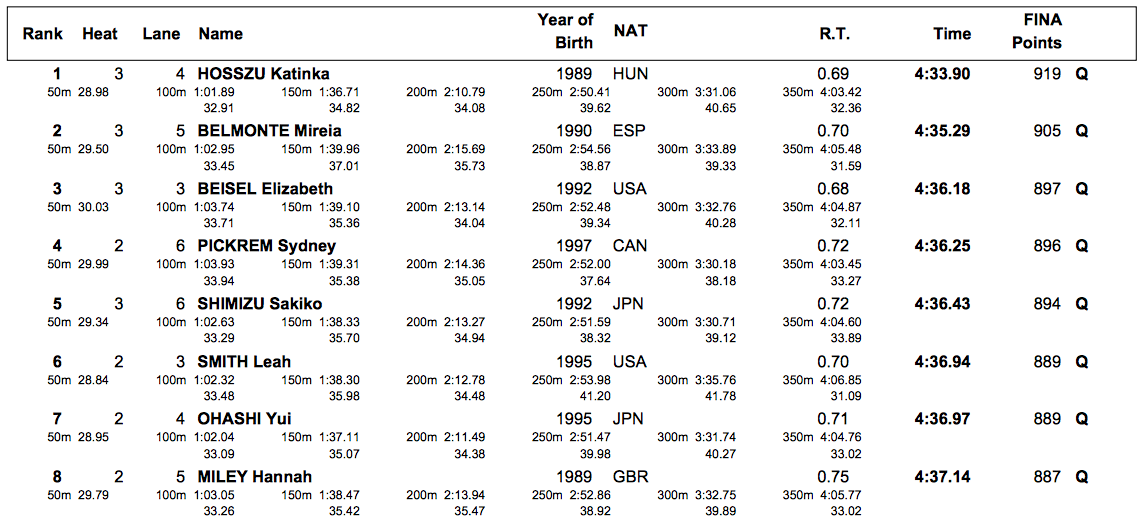 Men's 400 IM
Chase Kalisz of the United States has already captured gold in the men's 200 IM in Budapest, and he will go for the IM sweep in the 400-meter distance after qualifying first out of prelims with the only time under 4:10.
Kalisz checked in at 4:09.79, about three seconds off his season-best time of 4:06.99. He was followed closely by Great Britain's Max Litchfield, looking for his first major international medal after finishing fourth in the 200 IM. Litchfield touched in 4:10.57.
Hungary's David Verraszto rode a partisan crowd to the third seed, as he touched in 4:11.89, and two-time defending champion Daiya Seto of Japan finished exactly one second back in 4:12.89, good for the fourth overall seed.
Brazil's Brandon Almeida took sixth in 4:13.13, while American Jay Litherland out-dueled Japan's Kosuke Hagino for second place behind Verraszto in their heat, 4:13.95 to 4:14.15. Hagino, the defending Olympic gold medalist in the event, qualified seventh for the final.
Slovakia's Richard Nagy qualified eighth in 4:!5.69.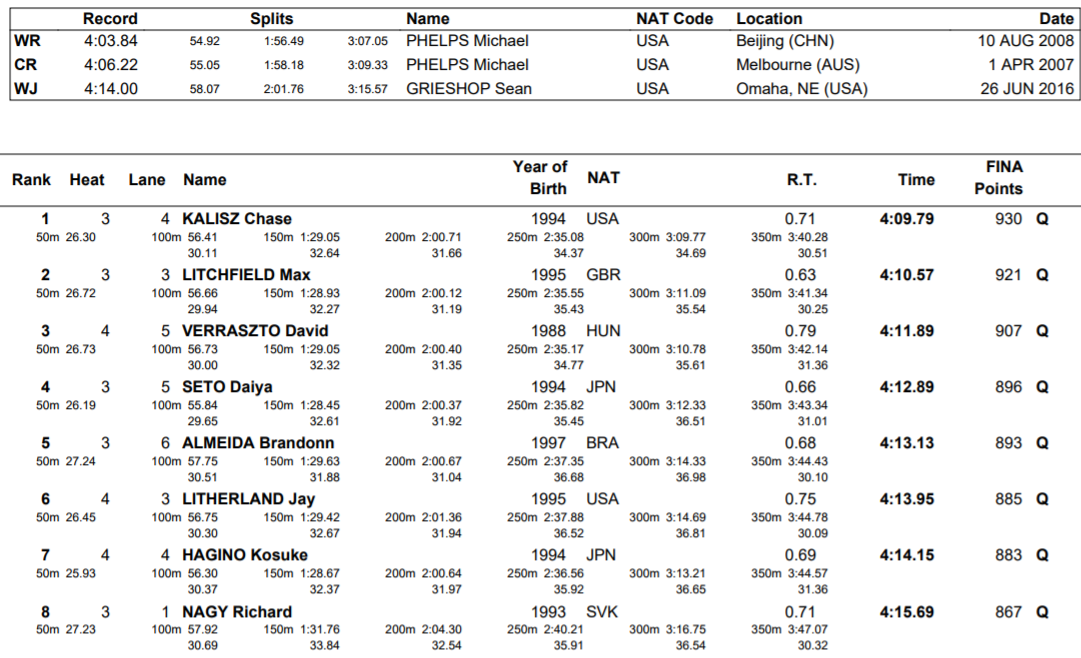 Women's 400 Medley Relay
The American women did not throw out their top team in the prelims of the women's 400 medley relay at the FINA World Championships, but they still did plenty to claim the top seed for the final by more than a second. The team of Olivia Smoliga (59.52), Katie Meili (1:05.17), Sarah Gibson (58.36) and Mallory Comerford (52.90) combined to swim a 3:55.95.
China qualified second in 3:57.12, using Fu Yuanhui (1:00.04), Shi Jinglin (1:06.55), Zhang Yufei (57.50) and Zhu Menghui (53.03). Canada's Kylie Masse (58.86), Kierra Smith (1:07.20), Rebecca Smith (57.75) and Sandrine Mainville (53.36) qualified third in 3:57.17.
The Americans should replace their entire team in the finals, with Kathleen Baker, Lilly King, Kelsi Worrell and Simone Manuel poised to come on. Canada will insert Penny Oleksiak to swim fly and Chantal Van Landeghem to anchor.
Russia, swimming without Yulia Efimova, qualified fourth in 3:57.53, and Australia, sans Emily Seebohm, Emma McKeon or Bronte Campbell, was fifth in 3:58.74.
Italy (4:00.03), Sweden (4:01.44) and Great Britain (4:01.78) also made finals. Sweden figures to deploy Sarah Sjostrom on their night relay.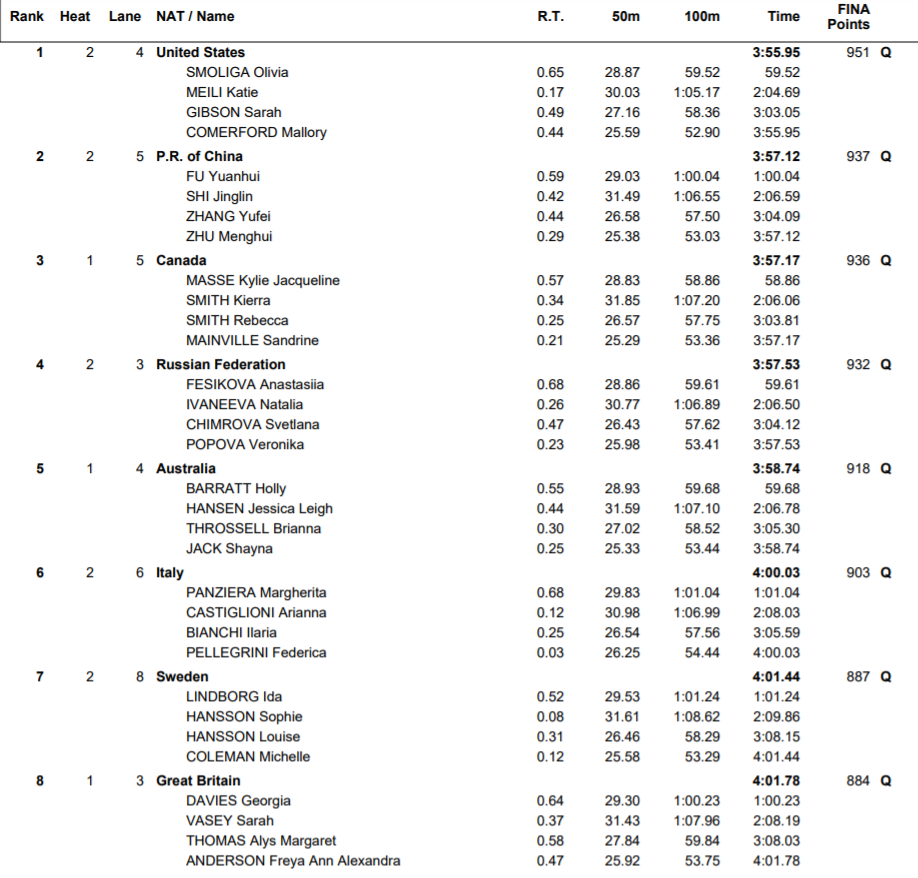 Men's 400 Medley Relay
The American men will enter the final race of the FINA World Championships, the 400 medley relay, as gold-medal favorites after the so-called "B" team qualified first in prelims. Ryan Murphy (52.69), Cody Miller (58.99), Tim Phillips (50.74) and Townley Haas (47.24) qualified in 3:29.66, which was faster than the time an American squad swam to win gold in the event at the last World Championships in Kazan.
Matt Grevers, Kevin Cordes, Caeleb Dressel and Nathan Adrian figure to comprise the finals quartet, and all four won medalsin their individual 100-meter events.
Japan qualified second but almost two seconds back in 3:31.63. Ryosuke Irie (52.86), Yasuhiro Koseki (59.11), Yuki Kobori (51.27) and Shinri Shioura (48.39) made up that team. Russia's Grigory Tarasevich (53.71), Anton Chupkov (59.06), Daniil Pakhomov (51.55) and Danila Izotov (47.80) took third in 3:32.12.
Great Britain qualified fourth in 3:32.35, but Adam Peaty did not compete in prelims and is bound to make a big impact in the finals. Brazil took fourth in 3:32.38, followed by Hungary (3:33.35), China (3:33.50) and Belarus (3:33.83).
Other notable names figuring to come in for the finals in the evening include Russia's Kirill Prigoda, the bronze medalist in the 100 breast, and China's Xu Jiayu, the World Champion in the 100 back.
In a stunner, Australia missed the final in ninth place. Mitch Larkin posted a very disappointing 54.21 leadoff split, and the team could never recover.