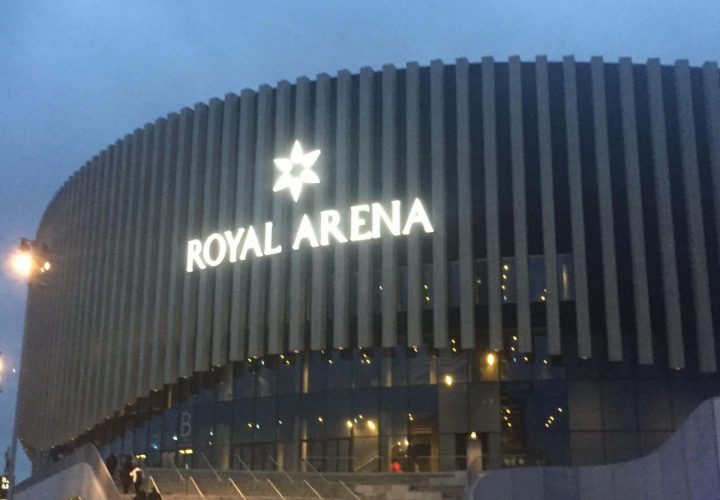 Photo Courtesy: Brent Rutemiller
During the second night of finals at the European Short Course Championships in Copenhagen, Russia's Kliment Kolesnikov set his third world junior record of the week and his first European record in the 100 back semi-finals.
Elsewhere, stars like Ranomi Kromowidjojo and Katinka Hosszu each won a gold medal, while Danas Rapsys put up a stellar effort in the men's 200 free, while it was an uneven night for Sarah Sjostrom, who qualified for two finals but missed out on the top eight in one of her signature events.
Kromowidjojo actually raced four times, twice in semi-finals before winning gold in back-to-back races to end the session.
Read below for event-by-event full coverage of the session.
Women's 50 Fly Semi-Finals
The Netherlands' Ranomi Kromowidjojo posted the top time in the semi-finals of the women's 50 fly at 25.28, but the biggest surprise came with Sweden's Sarah Sjostrom finishing tied for ninth in 25.80.
Sjostrom was scheduled for a busy night that also included the women's 100 free semi-finals, women's 100 IM semi-finals and potentially the 50 fly final, but she is now out of an event in which she has won the last two long course World titles.
Joining Kromowidjojo in the center lanes for the final, scheduled for later in the evening, were Denmark's Emilie Beckmann (25.33), Poland's Aleksandra Urbanczyk (25.51) and Kromowidjojo's countrywoman Maaike De Waard (25.60).
Other finalists included Germany's Aliena Schmidtke (25.62), France's Melanie Henique (25.66), Belarus' Anastasiya Shkurdai (25.74) and Belgium's Kimberly Buys (25.78). Sjostrom, who tied with Finland's Mimosa Jallow, missed the final by two hundredths of a second.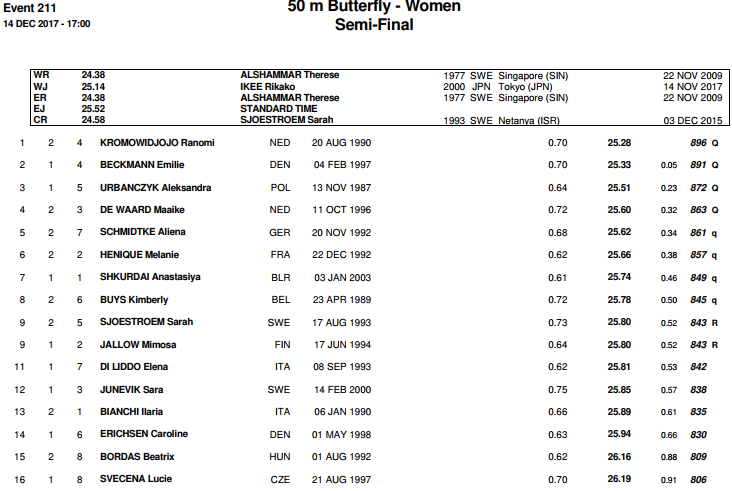 Men's 200 Free FINAL
Lithuania's Danas Rapsys dominated the field in the men's 200 free at the European Short Course Championships, finishing in a quick 1:40.85. He never trailed, and Russia's Aleksandr Krasnykh, who won the 400 free on day one, had no chance of catching up.
Krasnykh finished second in 1:42.22, coming on strong over the back half after sitting in sixth at the halfway point, while Great Britain's Duncan Scott took the bronze in 1:43.07.
Estonia's Kregor Zirk was fourth in 1:43.84, followed by the Netherlands' Kyle Stolk (1:44.03) and Ireland's Jordan Sloan (1:44.12). Sloan was in third place with 50 meters to go before fading badly.
Russia's Mikhail Dovgalyuk (1:44.41) and Italy's Fabio Lombini (1:45.05) rounded out the final.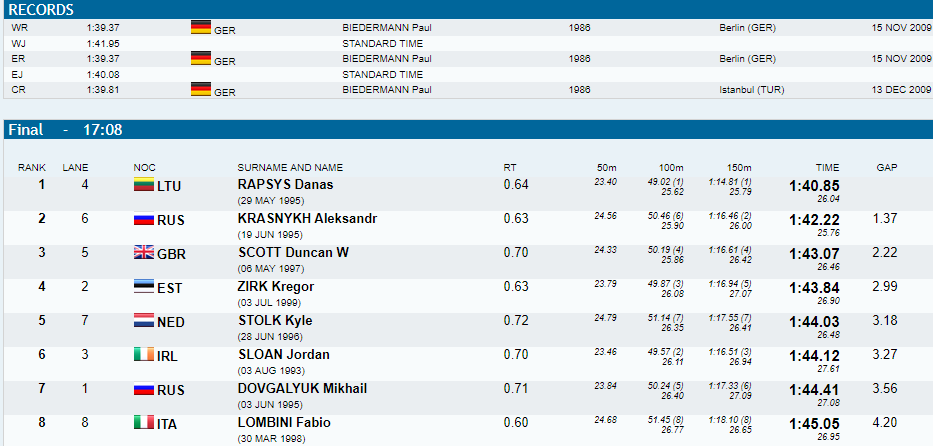 Men's 200 Breast FINAL
Russia's Kirill Prigoda fended off a late push from Germany's Marco Koch to secure the European short course title in the men's 200 breast. Prigoda finished in 2:01.11, and Koch, despite a 31.55 final 50, took second in 2:01.52.
Another Russian, Mikhail Dorinov, took the bronze medal in 2:01.85.
The Netherlands' Arno Kamminga was the closest to the medalists, finishing in 2:02.46, and he was followed by Sweden's Erik Persson (2:03.86), Germany's Fabien Schwingenschlogl (2:04.67), Hungary's David Horvath (2:05.16) and Estonia's Martin Allikvee (2:05.95).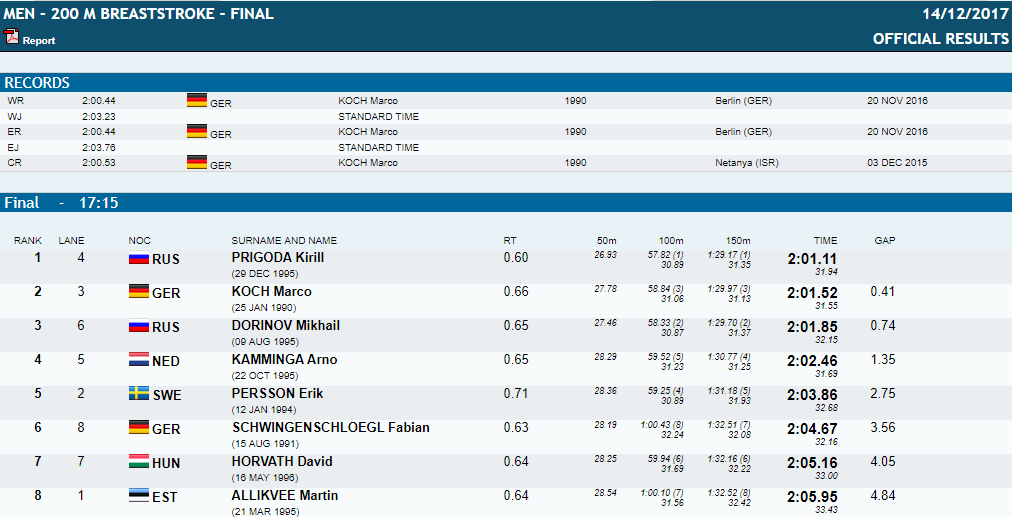 Women's 100 Free Semi-Finals
France's Charlotte Bonnet led the way into a star-studded final of the women's 100 free at the European Champs, touching in 51.71 for the top seed in Frdiay's final.
Denmark's Pernille Blume, the Olympic gold medalist in the 50 free, claimed the second seed in 52.09, one hundredth ahead of the Netherlands' Femke Heemskerk (52.10).
France's Marie Wattel finished fourth in 52.35, ahead of the Netherlands' Ranomi Kromowidjojo (52.49) and Sweden's Sarah Sjostrom (52.65). Kromowidjojo had already qualified first in the 50 fly semis, while Sjostrom missed that final.
Italy's Federica Pellegrini took seventh in 52.85, and Russia's Rozaliya Nasretdinova edged out Sweden's Louise Hansson for the eighth spot, 53.02 to 53.19.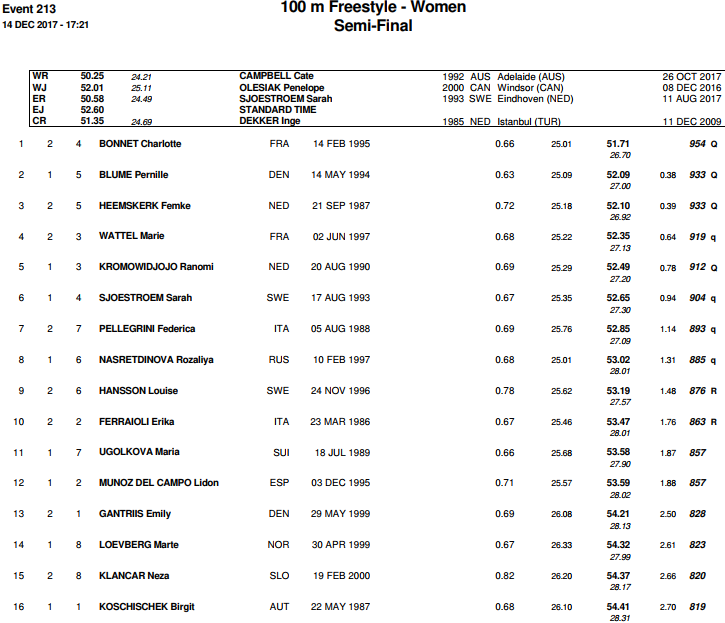 Men's 400 IM FINAL
Hungary's Peter Bernek pulled ahead from the first 50 meters in the men's 400 IM final at the European Championships, and no one else could ever come close. He finished in 3:59.47 to secure the gold medal by more than 3.5 second.
Germany's Phillip Heintz finished second in 4:03.16, and Hungary's Gergely Gyurta took third in 4:06.33. Gyurta faded badly down the stretch but had enough of an advantage to hold off Spain's Marc Sanchez Torrens, who ended up fourth in 4:06.73.
Spain's Joan Lluis Pons Ramon (4:07.99), Germany's Jacob Heidtmann (4:08.56), Italy's Federico Turrini (4:09.11) and Portugal's Joao Alexandre Vital (4:09.19) also swam in the final.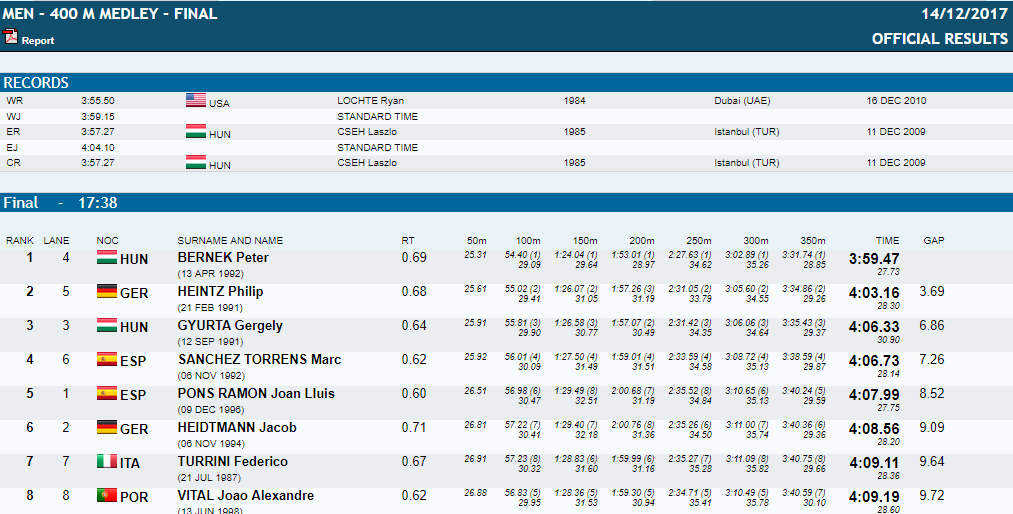 Women's 100 Back FINAL
For the second day in a row, Hungary's Katinka Hosszu did not come close to her world record in one of her signature events, and once again, that did not matter. The Hungarian used a 28.52 back-half split, by far the quickest in the field, to take gold in the women's 100 back.
Hosszu's time was 55.66, about a half-second off her three-year-old world record of 55.03. But the Netherlands' Kira Toussaint, who had been the top seed coming into the final, could not keep pace with that and had to settle for ailver in 56.21.
Russia's Maria Kameneva finished with the bronze medal in 57.01, just ahead of Ukraine's Daryna Zevina (57.08).
The Czech Republic's Simona Baumrtova took fifth in 57.27, followed by Denmark's Mie Nielsen (57.39) and Poland's Alicja Tchorz (57.55). France's Mathilde Cini was disqualified.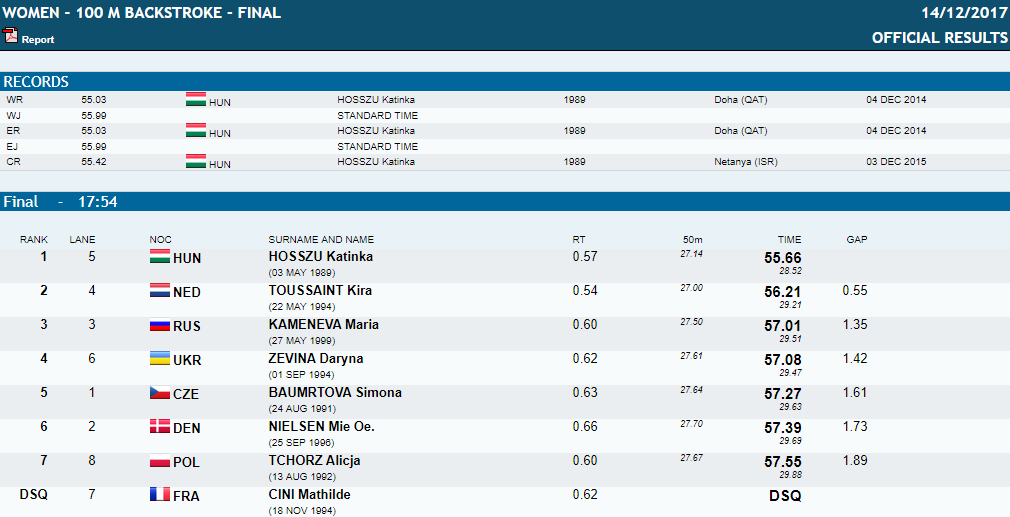 Men's 100 Back Semi-Finals
Russia's Kliment Kolesnikov broke his third world junior record in two days at the European Short Course Championships, taking down his own mark in the men's 100 back semi-finals.
Kolesnikov touched in 49.25, a full second ahead of No. 2 seed Simone Sabbioni of Italy (50.26) and more than a half-second under his previous WJR of 49.84 set last month. Kolesnikov could take aim at the European record (Stanislav Donets, 48.95) or even the world record (Matt Grevers, 48.92) in the final.
After Kolesnikov and Sabbioni, Romania's Robert Glinta qualified third in 50.30, ahead of Germany's Christian Diener (50.41) and Poland's Radoslaw Kawecki (50.60). Greece's Apostolos Christou and Poland's Kacper Stokowski tied for sixth in 50.67, and Russia's Andrei Shabaov was eighth in 50.76.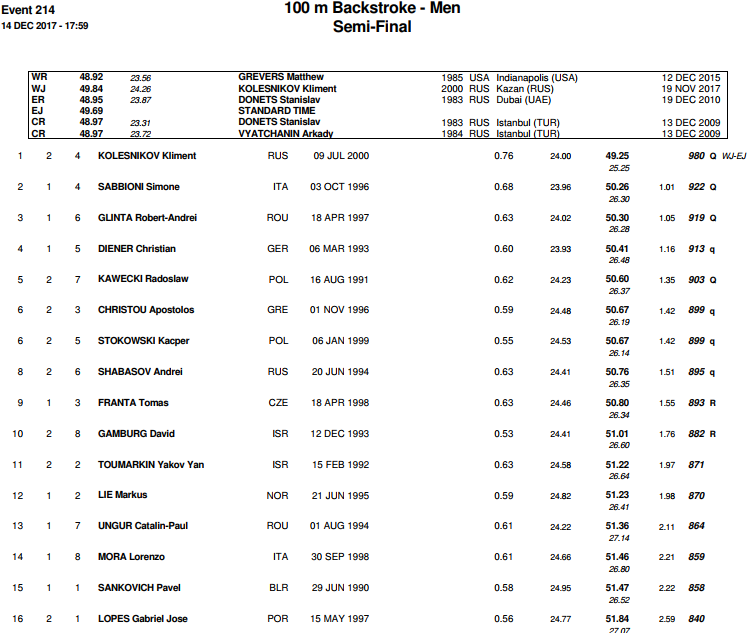 Women's 100 IM Semi-Finals
Just 20 minutes after winning gold in the women's 100 back, Katinka Hosszu was back in the pool for the 100 IM semis, and she easily finished first in a time of 57.64. That was almost a full second slower than her prelims time of 56.75, but she is still comfortably seeded first for the final.
Sweden's Sarah Sjostrom continued her busy evening, touching second in 59.40. Sjostrom missed the 50 fly final but did qualify for the next round in both the 100 free and now the 100 IM. Finland's Jenna Laukkanen was just behind Sjostrom with a time of 59.43.
Norway's Susann Bjornsen took fourth in 59.65, while Hungary's Evelyn Verraszto (59.85), Israel's Amit Ivri (59.98) and the Netherlands' Marrit Steenbergen (59.98) also broke 1:00.
Austria's Lena Kreundl was the last woman into the final at 1:00.14.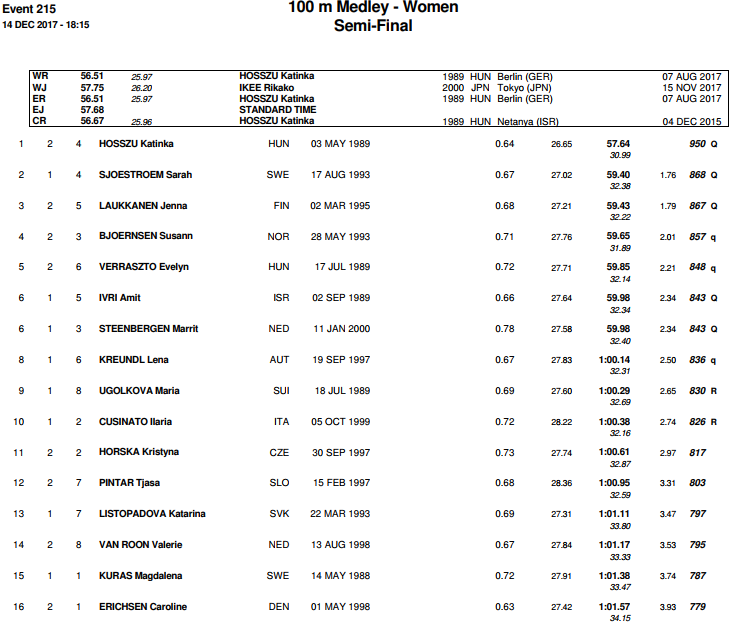 Men's 100 Fly FINAL
Italy's Matteo Rivolta touched out countryman Piero Codia for the win in the men's 100 fly at the European Championships for Italy's first gold of the meet and an impressive 1-2 finish.
Rivolta finished in 49.93, just three hundredths ahead of Codia. Close behind was Marius Kusch, and his time of 50.01 was good enough for bronze.
Russia's Aleksandr Sadovnikov just missed the medals with his time of 50.19. Places five through eight were occupied by the Netherlands' Joeri Verlinden (50.25), Russia's Aleksandr Kharlanov (50.29), Poland's Konrad Czerniak (50.31) and Belarus' Yauhen Tsurkin (50.77), respectively.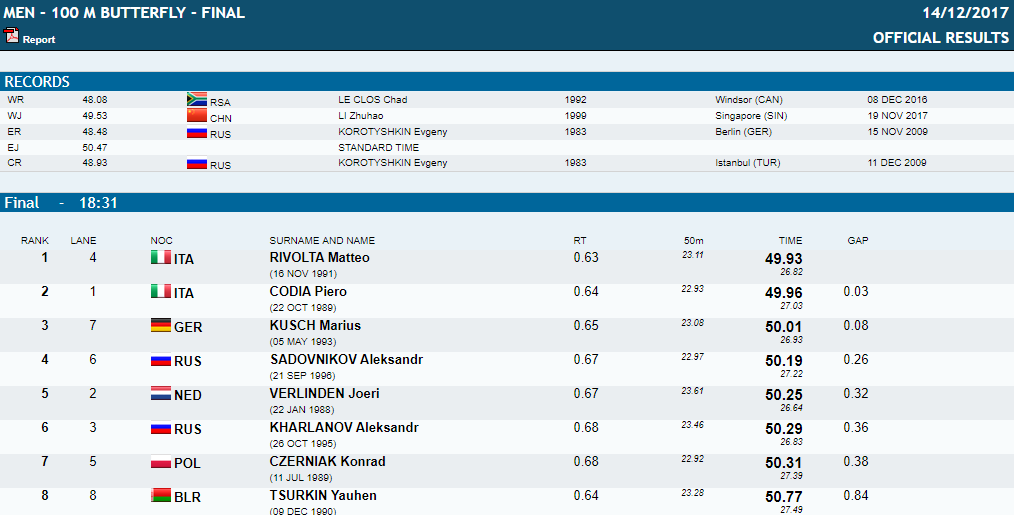 Women's 800 Free FINAL
Germany's Sarah Koehler led for most of the race in the women's 800 free final at the European Short Course Championships, but she could never quite escape Hungary's Boglarka Kapas. Still, Koehler had enough down the stretch to secure the win.
Koehler touched in 8:10.65, about a half second ahead of Kapas (8:11.13). Italy's Simona Quadarella took third in 8:16.53.
Liechtenstein's Julia Hassler finished fourth in 8:18.28, just ahead of Russia's Anastasia Kiprichnikova (8:18.44). Other competing in the final included Slovenia's Tjasa Oder (8:20.70), Portugal's Diana Margarida Duares (8:26.35) and Slovenia's Katja Fain (8:27.39).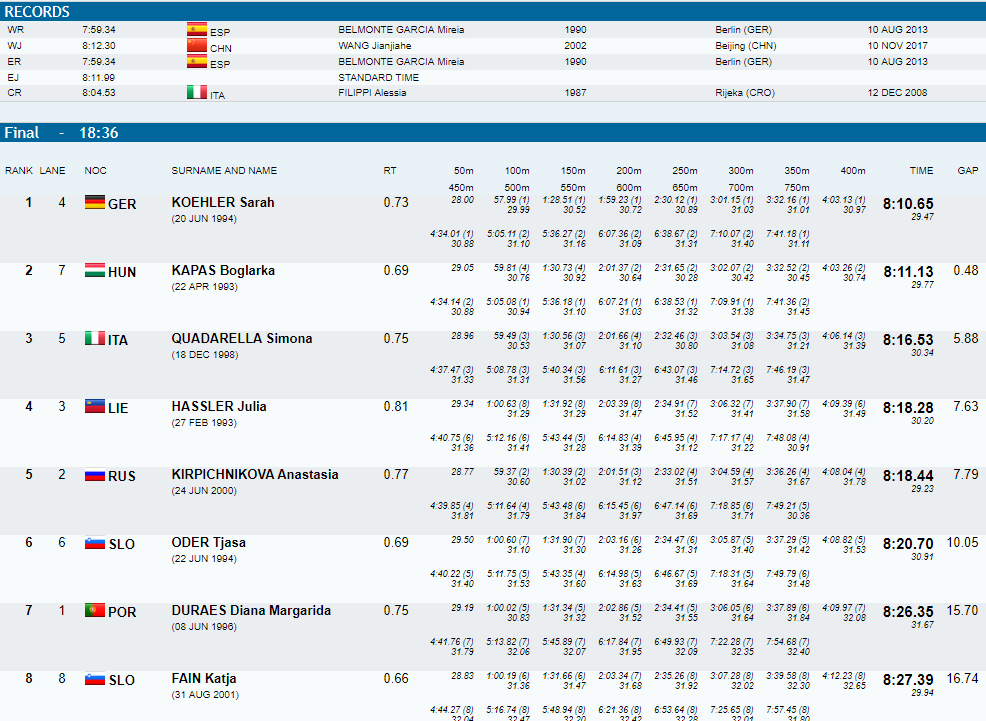 Women's 50 fly FINAL
Competing in a field without Sarah Sjostrom, who missed out on the final, the Netherlands' Ranomi Kromowidjojo dominated the final of the women's 50 fly, touching in 24.78 for a gold medal.
Denmark's Emilie Beckmann took second in 25.16, and the Netherlands' Maaike De Waard also got on the podium to make it a 1-3 finish for her country.
Germany's Aleina Schmidtke (25.49), France's Melanie Henique (25.59), Belgium's Kimberly Buys (25.59), Belarus' Anastasiya Shkurdai (25.69) and Poland's Aleksandra Urbanczyk (25.72) also swam in the championship heat.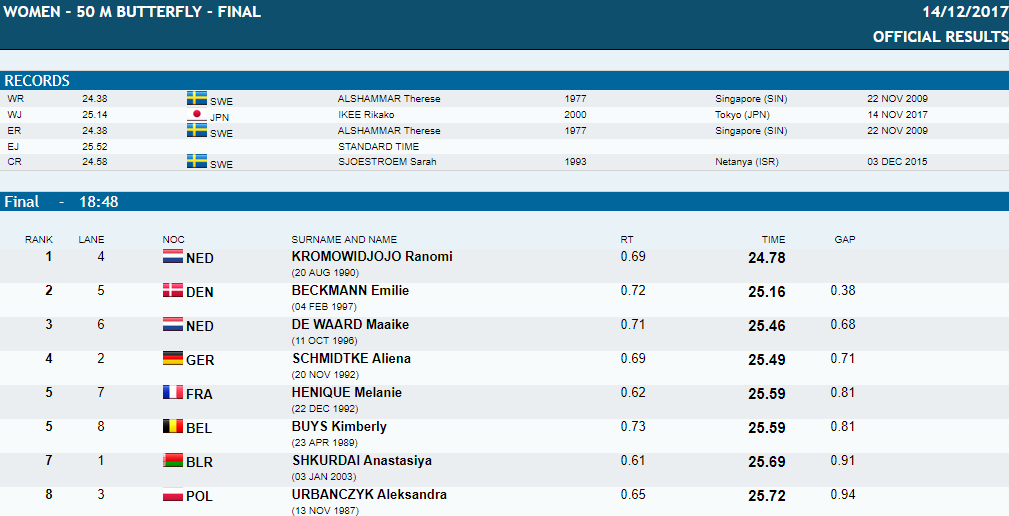 Mixed 4×50 Medley Relay FINAL
Mere minutes after winning gold in the 50 fly, the Netherlands' Ranomi Kromowidjojo was back in the water to anchor the Netherlands to a stunning win in the mixed 4×50 medley relay. Going off less than 15 minutes rest, Kromowidjojo split 23.09 — more than a second quicker than Belarus anchor Yuliya Khitraya — to give the Dutch the touch-out win, 1:37.71 to 1:37.74. France was just one hundredth behind the Dutch in 1:37.75
The Netherlands squad also consisted of Kira Toussaint (26.13), Arno Kamminga (26.03) and Joeri Verlinden (22.26). Along with Kromowidjojo, the team broke Italy's championship record of 1:38.33 set back in 2015.
Belarus' Pavel Sankovich (22.89), Ilya Shymanovich (25.32), Anastasiya Shkurdai (25.28) and Khitraya (24.25) settled for silver. France's team consisted of Jeremy Stravius (22.94), Theo Bussiere (49.19), Melanie Henique (25.39) and Charlotte Bonnet (23.17).
Germany's team of Christian Diener, Fabien Schwingenschlogl, Aliena Schmidtke and Jessica Steiger just missed the medals by eight hundredths, touching in 1:37.83. Denmark was not far away either, finishing in 1:38.03, while Poland (1:38.22), Finland (1:38.80) and Italy (1:39.43) rounded out the final.