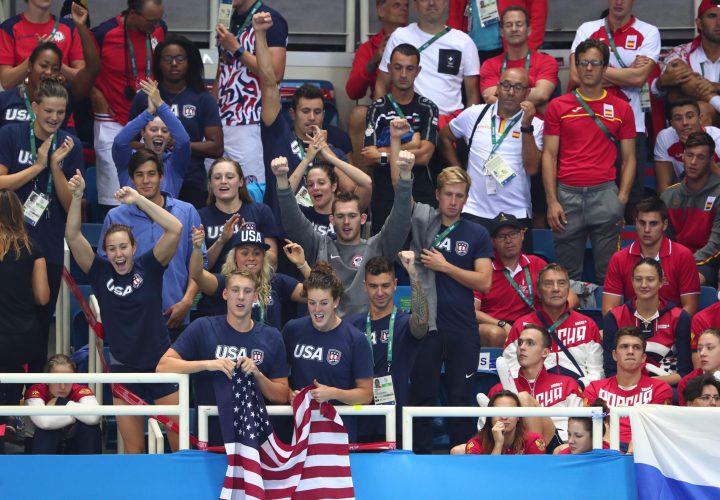 Photo Courtesy: Rob Schumacher-USA TODAY Sports

Editorial Coverage Sponsored By FINIS
Everything you need to follow along live with day three finals of the 2016 Rio Olympic Games. Competition begins at 10 p.m. local time (9 p.m. EST/6 p.m. PST) Hit refresh for all the latest coverage.
View the full heat sheets here. Check out Swimming World's predictions for tonight's action here.
Scheduled Events: 
Women's 200 Free Semi-Finals
Men's 200 Free FINAL
Women's 100 Back FINAL
Men's 100 Back FINAL
Women's 100 Breast FINAL
Men's 200 Fly Semi-Finals
Women's 200 IM Semi-Finals
Women's 200 Free Semi-Finals:
Both semi-final heats of the women's 200 free were highlighted by close finishes as swimmers battled for the top finish. Sarah Sjostrom went head-to-head with the USA's Katie Ledecky and World Record holder Federica Pellegrini in heat two of the semis. Sjostrom and Ledecky exchanged the lead throughout but a strong underwater off the final turn gave Sjostrom a slight edge over Ledecky.
Sjostrom stopped the clock at a 1:54.65 to pick up the first place seed going into tomorrow's final, while Ledecky settled for second and a 1:54.81.
Pellegrini led through the first turn before fading slightly to third and a time of 1:55.42.
China's Shen Duo charged ahead of a crowded heat one to finish with a 1:56.03, good for fourth in tomorrow night's final.
Michelle Coleman of Sweden, who held her own with the likes of Sjostrom and Ledecky, will return tomorrow night as the fifth place seed with a time of 1:56.05.
Australia's Emma McKeon (1:56.29) and France's Charlotte Bonnet (1:56.38) return as seventh and eighth respectively.
Men's 200 Free FINAL:
South Africa's Chad le Clos jumped to an immediate lead in finals of the men's 200 free, taking full advantage of his underwaters to separate himself from the competition. Despite his early jump to the lead it was not enough to hold off China's Sun Yang who made his move at the 150-meter mark. Yang charged to the wall to earn the gold medal with a time of 1:44.65.
Le Clos settled for second and the silver medal with a 1:45.20, just barely out-touching Conor Dwyer of the USA. Dwyer took bronze with a 1:45.23.
Swimming in the outside lane James Guy of Great Britain improved upon his position to finish the dreaded fourth with a 1:45.49.
NCAA and American SCY Record holder in this event, Townley Haas, picked up fifth with a final time of 1:45.58, while the World Record holder, Paul Biedermann, took sixth with a 1:45.84.
Japan's Kosuke Hagino slid to seventh with a 1:45.90, just ahead of Russia's Aleksandr Krasnykh's 1:45.91.
Women's 100 Back FINAL:
It was a tight battle from the very start of the women's 100 back with Canada's Kylie Masse posting the fastest reaction time of the bunch. Just like last night, the biggest rivalry in the pool existed between Hungary's Katinka Hosszu and the USA's Kathleen Baker. 
Baker led the competition throughout the first 75 meters, but a strong final 25 meters propelled Hosszu to the wall. Hosszu claimed her second gold of the meet with a final time of 58.45 over Baker's 58.75.
Masse and China's Fu Yuanhui battled to the finish posting matching times of 58.76 to tie for the bronze medal.
Denmark's Mie Nielsen took fifth overall with a time of 58.80, while the USA's Olivia Smoliga moved up to sixth with a 58.95.
The Australian duo of Emily Seebohm (59.19) and Madison Wilson (59.23) were seventh and eighth rsspectively.
Men's 100 Back FINAL:
In tonight's 100 backstroke final Ryan Murphy pulled away from the field in the final 50 meters to continue the United State's tradition of elite American backstrokers. He took down American Matt Grevers' Olympic record of 52.16 on his way to gold. Murphy touched in 51.97. That time was only .03 shy of Aaron Peirsol's world record of 51.94 swum in 2009.
His teammate David Plummer will also be on the Olympic podium in his Olympic debut. Plummer stopped the clock in 52.40 for the bronze. China's Jiayu Xu secured silver, finishing in 52.31.
Australia's Mitchell Larkin finished just .03 out of a medal. He touched fourth in 52.43.
France's Camille Lacourt finished fifth with 52.70. In sixth place was Evgeny Rylov of Russia with a 52.74.
Japan's Ryosuke Irie placed seventh with a final time of 53.42. Robert Glinta of Romania was eighth in 53.50.
Women's 100 Breast FINAL:
Lilly King of the USA continues her dominance over the 100 breaststroke with a final showdown against Russia's Yulia Efimova. Efimova entered the pool among clear booing but did not let it shake her performance, plowing through a tight field to gain on the USA's King and Katie Meili, who led off the turn.
King refused to let Efimova by her as they charged to the wall, stopping the clock at a sizzling 1:04.93. King's time is a new Olympic Record crushing the former Olympic Record of 1:05.17, set in 2008 by Leisel Jones.
Efimova settled for second and a time of 1:05.50, touching just ahead of Meili's 1:05.69.
Shi Jinglin of China delivered a time of 1:06.37 to pick up fourth place overall, just ahead of Canada's Rachel Nicol's 1:06.68.
Israel's Hrafnhildur Luthersdottir finished sixth with a time of 1:07.18, while reigning Olympic champion Ruta Meilutyte of Lithuania was seventh.
Jamaica's Alia Atkinson rounded out the top eight with a 1:08.10.
Men's 200 Fly Semi-Finals:
Hungary's Tamas Kenderesi and the USA's Michael Phelps went head-to-head in the second heat of the 200 fly semi-finals, finishing a slim .16 seconds apart. Kenderesi snuck ahead of Phelps in the last 25-meters to claim the top seed going into tomorrow night's final with a time of 1:53.96. Phelps returns as second with a 1:54.12.
Fellow Hungarian, and this morning's leader, Laszlo Cseh slipped to third in semi-finals with a 1:55.18 finish in heat one.
Reigning Olympic champion Chad le Clos earned fourth in the final with a 1:55.19 finish, not long after earning a silver medal in the men's 200 free final.
Japanese teammates Daiya Seto and Sakai Masato picked up the fifth and sixth place seeds with times of 1:55.28 and 1:55.32 respectively.
Denmark's Viktor Bromer (1:55.59) and Belgium's Louis Croenen (1:56.03) return as seventh and eighth.
Women's 200 IM Semi-Final:
Great Britain's Siobhan-Marie O'Connor remained smooth throughout the entire first heat of the women's 200 IM semi-finals, leading wall-to-wall. O'Connor topped Australia's Alicia Coutts and the USA's Maya DiRado to finish first in heat one in with a 2:07.57 for a new British Record.
Hungary's "Iron Lady" Katinka Hosszu recovered quickly from her gold medal performance in the women's 100 back to claim the second place seed with a 2:08.13.
DiRado's swim of 2:08.91 earned her the third place seed, while fellow American Melanie Margalis returns as fifth with a 2:10.10.
China's Ye Shiwen looked substantially stronger in the semi-finals of the 200 IM than she did in day one's 400 IM, qualifying fourth overall with a 2:09.33.
Courts picked up the sixth place seed with a 2:10.35, while Canada's Sydney Pickrem grabbed seventh with a 2:10.57.
Russia's Viktoriia Andreeva was eighth in semi-finals with a 2:10.87.