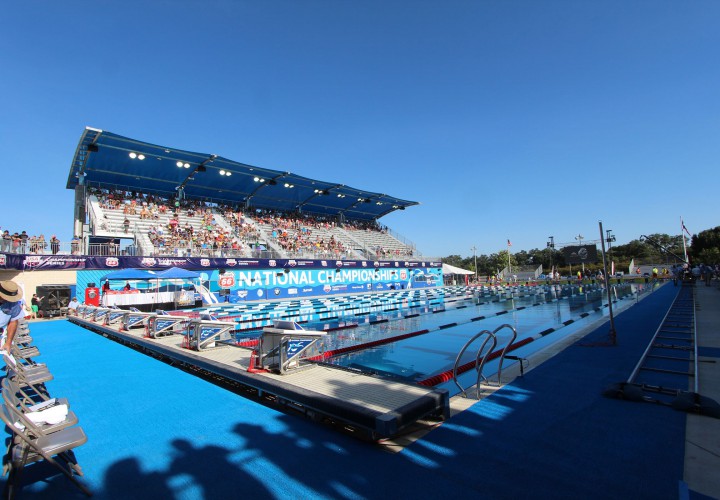 Photo Courtesy: Sue Borst
Everything you need to follow along with finals live during the 2015 USA Swimming Summer Nationals. Hit refresh for the latest updates and swims.
Women's 800-meter Free
Sometimes the longest events can be decided by some of the closest of margins. Lindsay Vrooman's 800-meter free victory tonight was decided by a mere 0.12 seconds. Vrooman clocked an 8:28.13, just ahead Stephanie Peacock at 8:28.25. The two battled closely throughout the entire race and finished first and second despite trailing at the 200-meter mark.
Vrooman: 1:01.82/1:03.68/1:03.79/1:04.33/1:04.21/1:04.02/1:04.15/1:02.13
Peacock: 1:01.26/1:03.83/1:04.45/1:04.41/1:04.25/1:04.25/1:04.13/1:01.67
Sarah Henry (8:29.45) and Sierra Schmidt (8:33.16) tied for the lead after four laps at 2:04.53, but fell to third and fourth, respecti
vely.
Gabrielle Kopenski earned fifth with an 8:35.33, while Maddy Tenger took sixth in 8:40.34. Sarah Gibson (8:43.12) and Joy Field (8:45.90) closed out the championship final.
Women's 100-meter Free
Amanda Weir came away with gold in tonight's 100-meter free final in a close race against Allison Schmitt at USA Nationals. Weir registered a 54.24 to take the crown, just 0.10 ahead of Schmitt's 54.34. Weir jumped to an early lead against Schmitt and did just enough to hold on for the win.
Weir: 26.41/27.83
Schmitt: 26.65/27.69
The 50-meter free champion Madison Kennedy led the race at the halfway point with a 26.25 out, but faltered to third in 55.02 with a 28.77 second 50. Katie Drabot wound up fourth in 55.19, while Mallory Comerford clocked a 55.26 to take fifth. Felicia Lee put forth a 55.45 for sixth.
Faith Johnson (55.55) and Amanda Kendall (55.63) filled out the final two spots in the championship final.
Men's 200-meter Back
Jacob Pebley blasted a 1:56.66 to take the men's 200-meter back in convincing fashion at USA Nationals. Pebley was just off his best time of 1:56.29, which ranks eighth in the world. Nonetheless, Pebley was dominant tonight finishing 1.44 seconds ahead of second-place finisher Michael Taylor.
Pebley: 27.51/29.07/29.72/30.36
Taylor, 16, earned the top seed this morning with a 1:58.41. He dropped again tonight to post a 1:58.10 en route to a silver medal. Carter Griffin also made the podium with a 1:58.38.
Jack Conger landed fourth in 1:58.84 ahead of Robert Owen's 1:59.55. Austin Surhoff swam a 1:59.63 to claim third, one-tenth of a second faster than seventh-place finisher Austin Katz (1:59.73). Travis Mahoney fell to eighth in 2:01.86.
Women's 200-meter Breast
Laura Sogar blazed a 2:23.54 in a dominant win in tonight's 200-meter breast final at USA Nationals. Sogar destroyed the field, winning by 2.03 seconds ahead of silver-medalist Molly Hannis. Her time now ranks 14th in the world this year. Sogar busted out a 1:08.61 on the first 100 and returned with a 1:14.93.
Sogar: 32.55/36.06/37.22/37.71
Hannis jumped two spots and dropped 2.37 seconds on her way to second place. Emma Schoettmer nabbed the bronze medal with her 2:26.41. Emily Escobdeo wound up fourth in 2:26.94.
Andrea Cottrell trailed to fifth in 2:28.12 after a rough first 100-meters (1:12.42). Annie Zhu clocked a 2:28.26, while Esther Gonzalez Medina (2:28.43) and Annie Lazor (2:28.46) rounded out the championship final.
Men's 200-meter Breast
Craig Benson won tonight's 200-meter breast with a stellar 2:09.68 at USA Nationals. The Scottish swimmer added 0.58 from his 2:09.10, which stands 11th in the world, but had enough juice to top Will Licon. Licon silvered with a 2:10.02, and was followed closely by Andrew Wilson. Wilson's fall to third comes as a bit of a surprise after his sub-minute victory in the 100-meter breast and his 2:09.84 swim this morning. The three remained close throughout the race, as the splits indicate.
Benson: 30.50/32.80/34.05/32.33
Licon: 29.44/33.32/32.85/34.31
Wilson: 29.46/32.97/34.18/33.74
Benson's country-mate Michael Jamieson finished just outside the top three in 2:10.91.
Michael Phelps jumped one spot and dropped over a second to take fifth in 2:11.30. BJ Johnson finished sixth in 2:11.90, ahead of Samuel Tierney (2:13.27) and Chuck Katis (2:13.33).
Men's 1500-meter Free
Jordan Wilimovsky crushed the men's 1500-meter free at USA Nationals with a dominant 14:57.05. Early in the race, Wilimovsky began to pull away from the field and never looked back. Wilimovsky posted some remarkable splits as well.
Wilimovsky: 57.67/59.53/1:00.29/1:00.49/1:00.54/1:00.33/1:00.22/1:00.12/1:00.12/1:00.24/1:00.05/59.93/1:00.22/1:00.33/56.97
The Northwestern Wildcat vaulted to ninth in the world with his incredible performance.
Nicholas Sweetser was a distant second with a 15:10.73. PJ Ransford earned bronze in 15:14.04, while Logan Houck finished outside the top three with a 15:16.80. Christopher Yeager notched fifth with a 15:17.99, and Jacob Ores paced to a 15:28.73 to take sixth.
The 400-meter free champion Zane Grothe claimed seventh with a 15:34.95, and Taylor Abbott ended up eighth in 15:40.61.
Women's 4 x 100-meter Medley Relay
The Tennessee Aquatics women won tonight's 4 x 100-meter medley at USA Nationals with a 4:04.56, in a close battle with Aggie Swim Club and Australia. Tennessee was propelled by strong splits from Molly Hannis and Faith Johnson on the breast and free legs.
Micah Bohon – 1:03.31
Molly Hannis – 1:05.64
Harper Bruens – 1:00.31
Faith Johnson – 55.20
Aggie Swim Club silvered with a 4:05.15, narrowly defeating Australia (4:05.54). The University of Louisville missed the top three with a 4:07.33, just ahead of the University of Missouri's 4:07.97. Aggie Swim Club's B relay placed sixth with a 4:08.98. The University of Kentucky (4:09.28) and Club Wolverine (4:09.38) took the seventh and eighth spots.
Men's 4 x 100-meter Medley Relay
The men of Tuscon Ford Dealers Aquatics took the men's 4 x 100-meter medley relay at USA Nationals tonight with a 3:35.69. They finished comfortably ahead of California Aquatics by 1.55 seconds. Nick Thoman and Marcus Titus provided an early spark for Tuscon Ford, helping them seize the National Championship.
Nick Thoman – 53.61
Marcus Titus – 1:00.28
Masa Kishida – 51.73
Renny Richmond – 50.07
Cal silvered in 3:37.24. Scottish Swimming made the podium with a 3:38.88, ahead of Nation's Capital (3:39.55). The University of Alabama wound up fifth in 3:39.89 to narrowly defeat Club Wolverine's 3:39.92. Santa Clara Swim Club (3:40.78) and Auburn University Swim Club (3:41.49) rounded out the top eight to put an end to this year's USA Nationals.
2015 USA Swimming Long Course Summer Nationals: Live Results – Results