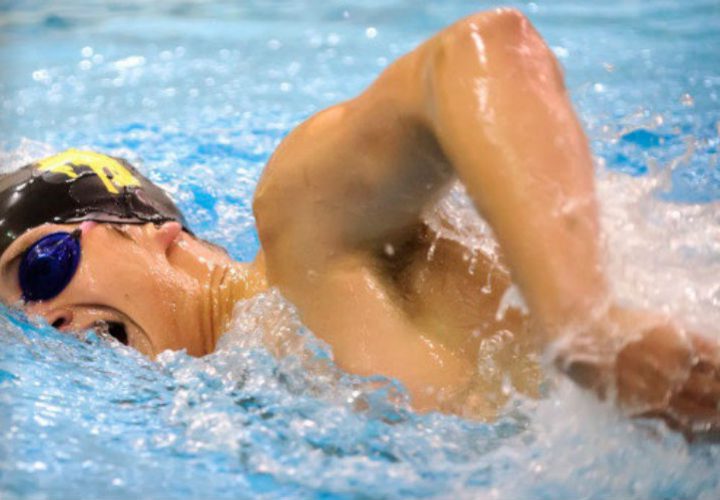 Photo Courtesy: University of Wyoming Athletics
Night three of the 2018 men's and women's Western Athletic Conference championships got underway this evening with the conference's fastest athletes competing for points towards the 2018 WAC conference team title.
Overall scores after tonight's finals are:
Men:
1. University of Wyoming             568   2. University of Nevada Las Vegas    524
3. Grand Canyon University           419   4. U S Air Force Academy             293
5. California State University Ba    254   6. Seattle University                157
Women:
1. Northern Arizona University       545   2. Idaho, University of              415
3. New Mexico State University       400   4. Grand Canyon University           368
5. Northern Colorado, University     239   6. California State University Ba    230
7. Seattle University                159
Wyoming's Wade Nelson kicked things off in the men's 400 IM with a 3:45.92 while Air Force's Peter Lochmaier took second in a 3:52.21 while, in the women's 400 IM, we saw Northern Colorado's Petra Kis take the win in a time of 4:16.02.
Daniil Antipov out of GCU nabbed the win in the 100 fly with his 46.08, which earned him a new conference record. Taking second was UNLV's Dylan Tarazona in 46.91 while Wyoming's Kyle White touched third in 47.36. The women's race saw Northern Arizona's Alina Staffeldt (54.14) just out-touch New Mexico State's Reagan Nentwich (54.59).
In a five-deep UNLV A final, Rebel freshman Grant Norgan notched a win onto his belt with his 1:35.77 in the men's 200 free. In the same race Wyoming's Jack Herron touched second in 1:36.34 while UNLV freshman Mark Theall nabbed third in a time of 1:36.47.
Taking the women's 200 free was UI's Leah Fisk in a time of 1:48.44 with New Mexico State's Picabo Bender following behind in time of 1:48.78.
GCU's Yousef El Kamash overcame a tight battle in the men's 100 breast by throwing down a 53.05 with Wyoming duo of Kyle White (53.43) and David Murphy (53.78) following behind.
New Mexico State's Hannah McGowan earned an NCAA B cut with her 1:01.99 in the women's 100 breast while GCU's Mark Nikolaev earned an NCAA A cut and broke his own meet record in a 44.88.
GCU's senior crew of Estela Davis Ortiz (54.32) and Iryna Glavnyk (54.46) completed a 1-2 punch in the women's 100 backstroke while Northern Colorado's Ioanna Sacha touched third in 55.04.
For complete results, click here.