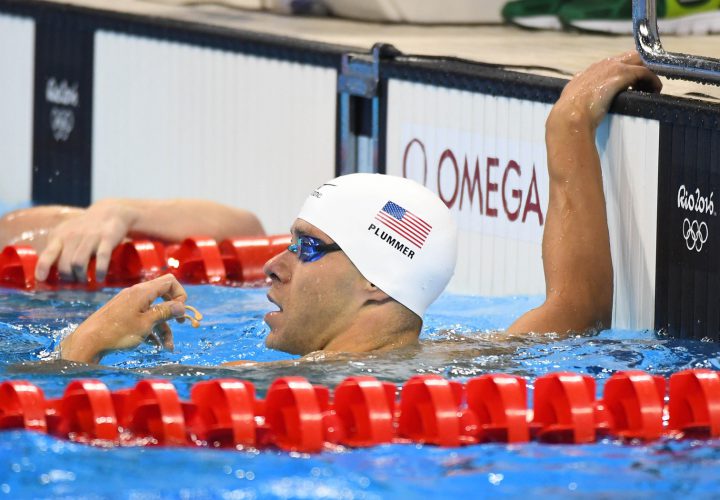 Photo Courtesy: Christopher Hanewinckel-USA TODAY Sports

Editorial Coverage Sponsored By FINIS
The lineups for the women's and men's 400 medley relays in this afternoon's prelims session at the Rio Olympics have been released, and the American squads feature two athletes who have already won individual medals in the 100 meters of their respective stroke at this meet.
Lilly King won gold in the women's 100 breast, but she will be saved for the final, so bronze medalist Katie Meili will handle that leg this afternoon. She will be joined by Olivia Smoliga (sixth in the 100 back), Kelsi Worrell (ninth in the 100 fly) and Abbey Weitzeil (seventh in the 100 free). King figures to be joined by Kathleen Baker (back), Dana Vollmer (fly) and Simone Manuel (free) in the final.
Australia will swim Madison Wilson, Taylor McKeown, Madison Groves and Brittany Elmslie.
China's Yuanhui Fu, Xinyu Zhang, Ying Lu, and Duo Shen will race in lane four, between the Australians and Americans. The relay leaves off Chen Xinyi who finished fourth in the 100 butterfly, but has now been revealed to have produced a positive doping test.
Representing the Canadians will be Kylie Massee, Rachel Nicol, Noemie Thomas, and Taylor Ruck.
View the full start list for the women's race here.
David Plummer, the bronze medalist in the men's 100 back, will lead off the men's squad and be followed by Kevin Cordes, Tom Shields and Caeleb Dressel. Cordes finished fourth in the 100 breast, Dressel was sixth in the 100 free, and Shields qualified sixth for tonight's 100 fly final.
The Americans are expected to replace their entire squad for finals, with 100 back gold medalist Ryan Murphy, 100 breast bronze medalist Cody Miller and 100 free bronze medalist Nathan Adrian coming in, along with Michael Phelps.
Great Britain figures to throw down a big time in the prelims with their A-team in the water. That squad includes Chris Walker-Hebborn, Adam Peaty, James Guy and Duncan Scott. Peaty won gold last weekend in the 100 breast, demolishing the world record twice and ending up at 57.13. He will give the Brits a massive advantage on the fly leg in the final.
Australia will go with Mitch Larkin, Jake Packard, David Morgan and Cameron McEvoy. McEvoy figures to come off the relay tomorrow night and be replaced with 100 free gold medalist Kyle Chalmers.
Ryosuke Irie and Yasuhiro Koseki will swim the first two legs for Japan, while Cammile Lacourt (back), Florent Manaudou (fly) and Jeremy Stravius (free) highlight France's team.
The full start list for the men's event can be found here.