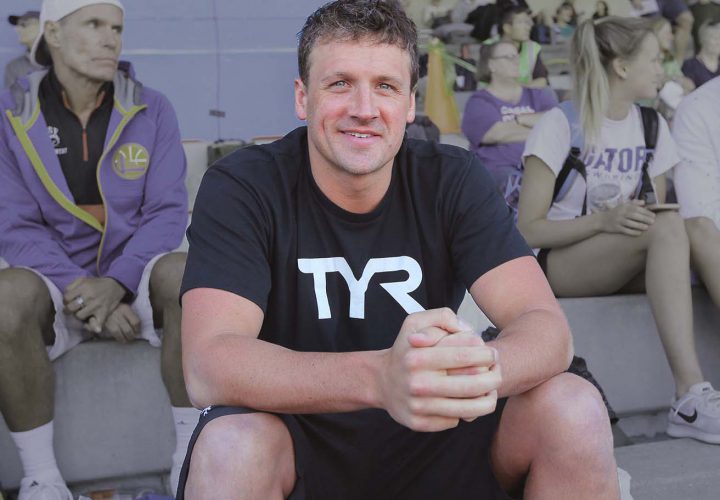 Photo Courtesy: JD Lasica
Editorial content for the 2018 TYR Pro Swim Series Santa Clara is sponsored by SwimOutlet.com. Visit SwimOutlet.com for more information on our sponsor. For full Swimming World coverage, check out our event coverage page.
Morning Splash by David Rieder.
There was a time when Ryan Lochte was the undisputed No. 1 swimmer in the world—in 2011, for instance, when the then-26-year-old won four individual golds at the Shanghai World Championships. One year later, he stormed to Olympic gold in the 400 IM in London, arguably the signature race of his career.
Now, Lochte is 33, and he hasn't been anything close to a dominant swimmer in almost five years.
His low point undoubtedly certainly in Rio, when his fourth Olympics culminated with the infamous gas station fiasco now simply known as "Lochtegate." Before that, Lochte had not been swimming particularly fast in Rio—he won gold as part of the U.S. men's 4×200 free relay but finished fifth in his only individual event, the 200 IM.
Never before had Lochte failed to win an individual medal at an international meet, but there had been a pattern of slippage in his swimming dating back to well before 2016. One year earlier, at the 2015 World Championships in Kazan, Lochte won just a single individual medal. It was gold in the 200 IM, his record-tying fourth straight in the event, but it came with an asterisk—his two biggest competitors, Kosuke Hagino and Michael Phelps, were absent.
Ah, yes, Phelps. He's a primary character in this or any story about Lochte—the main antagonist, perhaps. Lochte spent six years chasing Phelps before he finally began scoring victories over the greatest-of-all-time in 2010, turning their previously one-sided competition into something of a rivalry. But only one of those two—Phelps, not Lochte—consistently put up his best swims when it counted most at the Olympics.
The hyped-up final 200 IM showdown between Phelps and Lochte in Rio turned into a complete washout, with gold medalist Phelps finishing almost three seconds ahead of his compatriot. In the pool, Lochte was a 32-year-old all-time great fading into obscurity. Out of it, he soon became a pariah, banished from the pool deck for 10 months by USA Swimming.
In the following year, Lochte made just two cameo appearances in a competitive event, at U.S. Masters Nationals in late April (before his USA Swimming suspension had expired) and at the U.S. Open in New York in early August. On both occasions, his performances were mediocre, at best.
After that, Lochte announced he was returning to Gainesville, Fla., to resume training under the man who coached him for the majority of his career, Gregg Troy. Lochte left the University of Florida in 2013 after 11 years, looking for a change of pace from Troy's high-volume training. But after his career downturn, he wanted to return to the program that produced his most successful years.
"I talked to Troy, and I said, 'If I want to do this, if I want to do everything right, I have to go back,'" Lochte said. "I have to go back to where it started. I have to go back to doing those 8000, 9000-meter practices on a daily basis. I need that. I need to go back to how I used to train."
Sounds like a man looking at his last hope for recapturing his glory years. Very few 33-year-old swimmers seek out training programs like that. Typically, when a swimmer is still active at that age, they opt for less yardage and fewer practices. Not Lochte.
Indeed, after Lochte's first practice of more than 8000 meters with Troy, "I almost had to go to the hospital. I was crawling out of the pool."
Speaking of swimmers in their 30s, most don't swim the events Lochte does. Only two men older than 32 have qualified for a senior U.S. national team in recent memory: Jason Lezak and Anthony Ervin. Those two exclusively raced the 50 and 100 free, while Lochte is still aiming for the 200 free, 200 back, 200 IM and, yes, even the 400 IM.
Unlike Phelps, who was a three-time Olympic gold medalist in the 100 fly and a very capable 100 freestyler, Lochte never mastered the 100-meter distance. So that meant that if a post-2016 comeback was in the works, he would have go back to the same events he's been cutting his teeth in for the past decade.
===
Lochte kept a low profile during his initial months at Florida, racing only at a Sectionals meet in Florida in March. But in May, he jumped into a three-meets-in-four-weeks stretch that included the Atlanta Classic, the Mel Zajac International and now the TYR Pro Swim Series in Santa Clara.
Before that stretch began, Lochte told NBC Sports that after slacking through his training during the spring and summer of 2017, his motivation for swimming reappeared when he first held his newborn son, Caiden, last June. "I have a different purpose for swimming. I'm hungry again," Lochte said.
Lochte has made such proclamations about being back before—at Masters Nationals last April, for instance, Lochte said that he had returned to full-time training "a month, a month-and-a-half ago," which would have meant sometime in March. "I guess you could say the old Ryan Lochte is back," he said. He later admitted that he was training sparingly at that point.
Maybe this time when he says he's back, he means it? The evidence for that: The clock does not lie.
When Lochte put on a racing suit for finals at the Mel Zajac meet in Vancouver, he put up respectable times—a first for him post-Rio. Among them, a 4:15.80 in the 400 IM and 1:58.90 in the 200 IM, both placing him among the top-20 performers in the world this year and in the No. 2 spot among Americans behind reigning World champion Chase Kalisz. He also managed to win the 100 back in 54.75.
The following week in Santa Clara, Lochte "got my butt kicked" in the 200 back when he finished more than four seconds behind winner and Olympic gold medalist Ryan Murphy in the 200 back in 2:00.82. A day later, Lochte finished second behind Kalisz in the 200 IM in 1:59.42.
Some fine performances mixed in there, but Lochte didn't decide to come back, to invest three years of his life in training to throw down some solid times in early June. He stated the Olympics as a primary goal and before that, qualifying to represent the U.S. at the Pan Pacific Championships this year and the World Championships next year.
But why? Why, at 33 years old, do this? Because he loves swimming? Because he wants to add more medals to his résumé? Because he feels like he has unfinished business after the Rio debacles in the pool and at the gas station? Because he has nothing better to do?
Because, Lochte reiterated, of Caiden.
"There's goals I wanted to accomplish in the sport of swimming. I knew if I stopped, I would never accomplish those goals, and I didn't want to show that to my son," Lochte said. "I want to teach him that if you do have a dream and a goal and you work at it on a daily basis, you could achieve it."
===
If Lochte had retired after Rio, he would have been considered one of the top ten male swimmers in history. The gas station incident would have faded from memory over time. Heck, even if he stopped after 2012, he still would have still easily qualified for the all-time top ten.
So what is there to be gained from a legacy perspective as Lochte continues to swim? Catching up to the likes of Phelps or Mark Spitz? Not terribly likely.
What would Lochte have to do to positively supplement his legacy? Winning individual gold in Tokyo would certainly suffice. How about winning a World title in 2019 or simply making the Olympic team? Maybe, but Lochte already has qualified for four Olympic teams and wracked up nine individual World titles.
How about if the comeback flops and Lochte never gets back on the U.S. team or perhaps only gets to Tokyo as a relay alternate? Perhaps his legacy would suffer if our final memory of Lochte is of a diminished swimmer lagging behind men a decade his junior, just fighting to keep his seat at the table.
But Lochte insists that he will accept the results of his comeback, whatever they may be.
"I'm having way more fun than I ever have, even though I'm getting my butt kicked by a bunch of little kids," Lochte said. "100 percent I'll be okay with it as long as I know that I gave it everything I had, and that's all I can ask for."