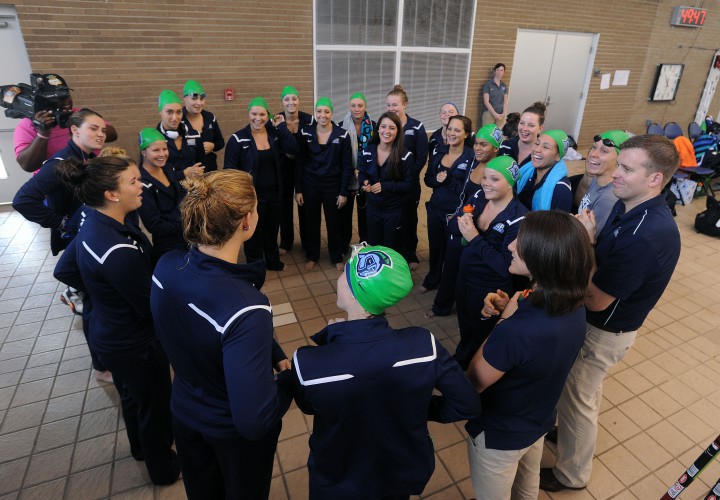 MELBOURNE – The West Florida women's swimming and diving team picked up a 132-72 win at Florida Tech in a dual meet on Tuesday. The Argonauts claimed wins in eight of 11 events to cruise to victory against their first Division II opponent of the season.
"We came to Florida Tech after they had an outstanding weekend of racing, and we knew it would be a challenge," said UWF head coach Andrew Hancock. "We responded very well and had a lot of season bests. Our girls really stuck to the details. We put a lot of pieces in place as we head into our last meet of the fall next week in Charlotte."
There were many highlights for UWF, including a school record time in the 1,650 Freestyle by Madeline Pitt (Trussville, Ala.). The freshman won the race with a time of 17:39.53, which was just 0.12 seconds away from NCAA B-cut qualification. Nicole Machado (Belo Horizonte, Brazil) also came 0.16 seconds away from a B-cut time with a 100 Backstroke split of 57.59 in the during the 400 Medley Relay.
Peggy de Villiers (Somerset West, South Africa) claimed the most wins for UWF with first place finishes in the 50 Free (24.19) and 100 Butterfly (58.94). She was also on UWF's winning team in the 400 Free Relay that included Sophia Oliva (Plantation, Fla.), Mariana de Paula (Santos, Brazil) and Anna-Marie Macht (Markkleeberg, Germany).
UWF also had individual wins from Oliva in the 200 Free (1:57.47), Macht in the 400 IM (4:38.50), de Paula in the 100 Free (54.04) and Angelina Gallastegui (Brandon, Fla.) in the 500 Free (5:18.38).
Pitt's winning time in the 1,650 Free marked a new UWF freshman record in the event, and Gabrielle Spangenberg (Chuluota, Fla.) also set a school freshman record in the 100 Breaststroke (1:07.77).
The Argonauts will close out their fall semester on the weekend of Nov. 21-23, as the swimmers head to the Wingate Fall Frenzy in Charlotte, N.C. and the divers compete at the Emory Diving Invitational in Atlanta, Ga.
The above article is a press release submitted to Swimming World. To reach our audience, contact us at newsmaster@swimmingworldmagazine.com.