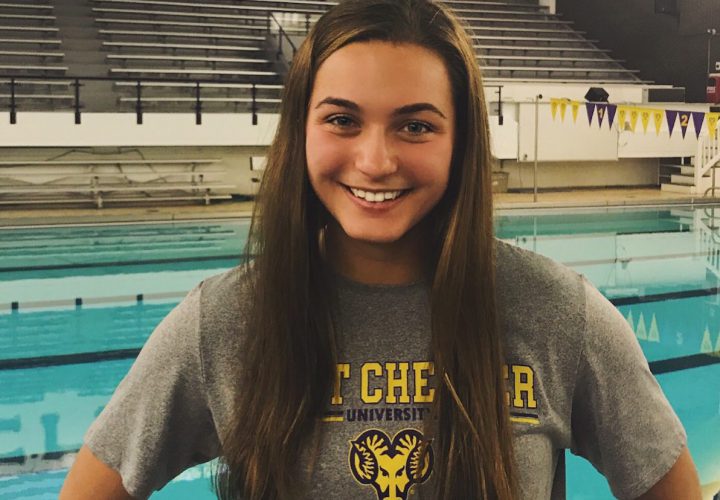 Photo Courtesy: Ann Carozza
Agon is the proud sponsor of all high school coverage (recruiting, results, state championships, etc.) on SwimmingWorld.com. For more information about Agon, visit their website AgonSwim.com.
To report a college commitment, email HS@swimmingworld.com. Join Swimming World's Watch List
NEW COMMIT: Ann Carozza has announced her verbal commitment to swim for West Chester University beginning next fall. Carozza is no stranger to West Chester, Pennsylvania. She's a senior at West Chester East High School and swims for Golden Ram Aquatics.
She told Swimming World,
"I am very excited to announce my verbal commitment to swim at West Chester University the next four years! Thank you to all my coaches, teammates, friends and family for all the support! Can't wait to be a golden ram! #RamTough"
Carozza's top times include:
100 Butterfly 54.46
200 Butterfly 2:03.20
100 Freestyle 50.53
50 Freestyle 23.29
200 Freestyle 1:52.26
A NISCA All-American, Carozza is a three time high school record holder. At last season's Pennsylvania AAA High School state championships, Carozza took second in the 100 butterfly (54.46). She was also fourth in the 100 free (50.53).
She'll be a huge addition to the Golden Rams. At the 2017 NCAA Division II Championships the team team took eighth. Carozza's best 100 butterfly time would have finished sixth. West Chester freshman Meghan Keithly (55.45) was 15th. Keithly split a 55.49 on the team's 13th place 400 medley relay. A 50.53 would have put Carozza in a tie for eighth in the 100 free after prelims at Nationals. West Chester did not have any finalists in that event.