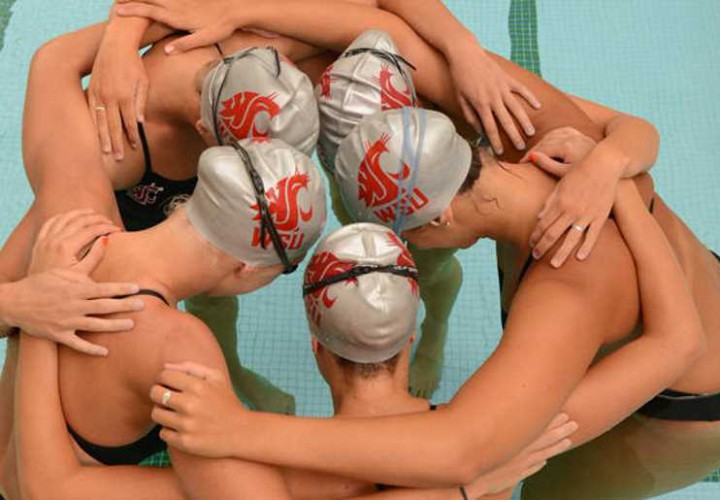 Agon is the proud sponsor of all high school coverage (recruiting, results, state championships, etc.) on SwimmingWorld.com. For more information about Agon, visit their website Agonswim.com.
PULLMAN – Ciera Kelly, Linnea Lindberg, Penny Nichols, Jessica Margetts and Taylor Shewchuk have each signed a National Letter of Intent to swim for Washington State swimming, beginning next fall, Cougar Head Coach Tom Jager announced, Thursday.
"All of these kids love to swim," Jager said. "They have a great work ethic and are excited to be Cougars. There isn't anything more that we could ask for."
Ciera Kelly
A two-year captain for the Juneau-Douglas High School swim team, Kelly is a three-time Alaska State Champion. The Junea, Alaska native won two state titles during her senior campaign, finishing first in the 100 fly. In the leadoff leg of the 200 medley relay, Kelly swam the 50-yard backstroke in 26.51, leading the team to a state record time of 1:46.75. As a junior for the Crimson Bears, Kelly won the state championship in the 100 back and finished third in the 100 fly. In her time under coach John Wray she set five school records, repeatedly breaking her 100 fly personal best. Kelly enters Washington State as a 2013 USA Swimming Scholastic All-American with a 4.0 high-school GPA.
"Ciera is a great fit for our team," Jager said. "She wants to be at practice every day and is excited to get in the pool. She's the type of kid that we want at WSU."
Linnea Lindberg
Lindberg is a native of Lidingö, Sweden and member of the SK Neptun swimming club in Stockholm. In 2013, Lindberg finished in fourth place in the 50 breast at the Junior's Swedish Championships. Lindberg followed with a fifth-place finish in the event at the senior level. Lindberg came in second in the 400 medley relay at the 2012 Swedish Championships before setting the national record in the 200 medley relay at the 2012 Portugal Open, swimming the breaststroke leg in both events.
"I fell in love with the campus when I visited," Lindberg said. "The whole team is great and I can't wait to join them next year. I'm very excited to be a Cougar and swim in the Pac-12."
"Linnea is a positive influence around her teammates and on the pool deck," Jager said. "She loves to compete and swim. Linnea is an unselfish kid and will be a great teammate."
Penny Nichols
Hailing from Phoenix, Nichols is a two-time Academic All-American and four-year letter winner at Desert Vista High School. As a sophomore for the Thunder, Nichols finished third in the state championships in the 100 back and was the leadoff leg in the 200 medley relay team that captured the state title. As a junior, Nichols led the team to an undefeated season and a state championship, finishing fourth in the 100 back and 100 fly. She set school records in the 50 back, 100 back, 200 free relay and competed as part of the Junior National Team. During her senior campaign, Nichols continued as a member of the Junior National Team, while also leading Desert Vista to a third-place finish in the state championships.
"I fell in love with the WSU team and everything the program has to offer," Nichols said. "Washington State offers the support I'm looking for as a student-athlete. I can't wait to be a Cougar and represent such an amazing school."
"Penny brings a great energy and enthusiasm to our team," Jager said. "The enter Cougar team will benefit from the energy that she brings to campus. We are excited for her to join the Cougar family."
Taylor Shewchuk
A high-school state champion in both Arizona and Washington, Shewchuk enters WSU as a two-time USA Swimming Scholastic All-American. As a freshman at Sehome High School in Bellingham, Wash., Shewchuk helped the Mariners win the 2011 Washington 2A State Championship. During her sophomore year in 2012, Shewchuk competed for Pacific Northwest Swimming at the North American Challenge Cup before moving to Scottsdale, Ariz., to compete for the Chaparral High School Firebirds. As a junior under coach Nate Moore, Shewchuk helped set the Arizona Division I 200 short-course medley relay record. As a senior, she led the team to a repeat championship in the event, breaking the record set a year before. Shewchuk also competed at the USA Swimming Junior National Championships.
"Coach Jager, Coach Quirke, and the whole Cougar swim team made me feel welcome on my visit to WSU," Shewchuk said. "WSU offers the competitive swimming experience I want, as well as an excellent academic program for me to earn a degree. Academically, athletically, and socially I know WSU is the right fit for me. I'm excited to be a Cougar and swim in the Pac-12."
"Taylor has excellent skills and loves to swim," Jager said. "She's a directed individual that comes from a great program. She wants to get faster in college and we are looking forward to her joining us in Pullman."
Jasmine Margetts
A native of Torrance, Calif., Margetts finished runner-up in the 100 back and 200 IM at the 2013-14 California Southern Division 2 Section Championships while competing at North High School.
Margetts competed in the 200 and 400 IM, 100 and 200 back and 100 and 200 fly for Beach Cities Swimming (Redondo Beach, Calif.) at the 2014 Speedo Junior National Championships. She swam the 400 IM, 200 back and 200 fly at the Phillips 66 National Championships.
"I chose WSU because it has a variety of majors, great academics, and a good group of coaches and swimmers," Margetts said.
"Jasmine is a versatile swimmer with a good work ethic," Jager said. "She is fun individual to be around and will bring great energy to our program."
The above article is a press release submitted to Swimming World. To reach our audience, contact us at newsmaster@swimmingworldmagazine.com.