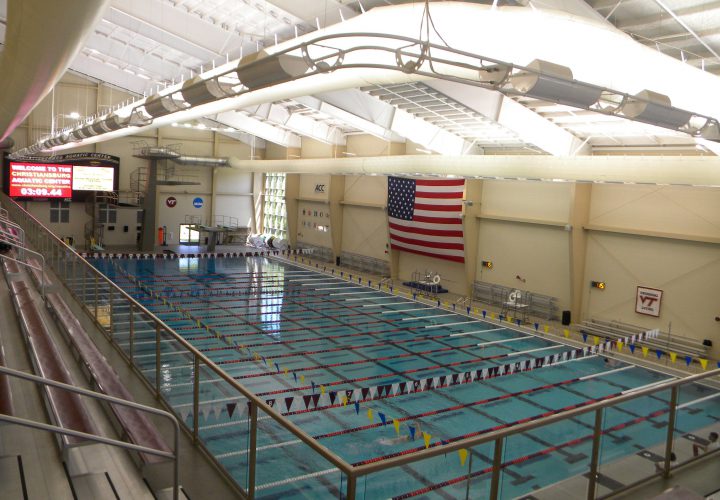 Speedo Sectional Series is proudly sponsored by Speedo. Visit SpeedoUsa.com for more information on our sponsor.
Maggie Wallace and Zachary Smith each won the opening distance events on night one of the 2018 Speedo Sectionals Championship Series in Christiansburg, Va.
Full results can be found on Meet Mobile – 2018 EZ Southern Region Speedo Champ Series.
Egg Harbor's Wallace, a future Indiana Hoosier, began the meet with a win in the women's 1000 free after stopping the clock in 9:50.90.
Radnor's Anna Kalandadze finished second in 9:56.61 as the only other swimmer under the ten-minute mark. Henson Family YMCA's Cameron Horner dropped six seconds to finish third in 10:21.15.
Dig Swimming's Abby Reardon (10:22.88), Mariner's Ellen Brooks (10:22.91), Arlington's Natalie Martin (10:24.90), Retriever's Sarah Daly (10:35.87) and Rockville Montgomery's Jenna Kim (10:37.76) rounded out the top eight.
Eagle's Smith had a dominating performance in the men's 1650 free, finishing first by nearly ten seconds with a time of 15:46.67. That time was a new personal best by just under two seconds.
Radnor's Collin Pettit dropped about ten seconds to take the silver in 15:55.01 and Lancaster's Joseph Moll knocked off 27 seconds to finish third in 16:00.44.
Monocacy's Matthew Bennici (16:16.81), Loyola Blakefield's Zachariah Reid (16:19.06), Nation's Capital's Shane Hunter (16:21.44), Rockville Montgomery's Jonik Surprenant (16:24.86) and Lancaster's Luke Emmerling (16:28.85) completed the top eight.
Prelims for the first full day of competition will begin tomorrow at 9:00 a.m. EST.