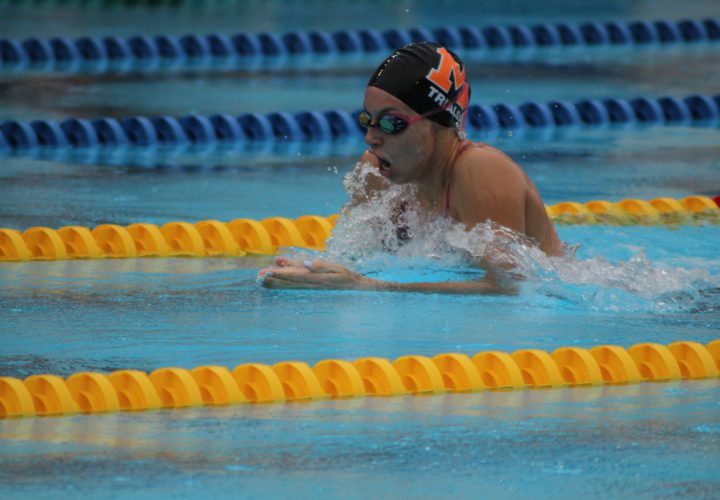 Photo Courtesy: Andy Ringgold/Aringo Photos
Speedo Sectional Series is proudly sponsored by Speedo. Visit SpeedoUsa.com for more information on our sponsor.
Vanessa Pearl won two events on the final day of the 2018 College Station Speedo Sectionals hosted by Texas A&M.
Palo Alto Stanford won the combined team title with 760.5 points, followed by Lakeside (555), Katy Aquatics (443), Metroplex (434.5) and DART Swimming (407).
Full results can be found on Meet Mobile – 2018 Speedo Sectionals Championship Series.
Texas Ford Aquatics' Ashlyn Fiorilli began the final night of competition by dropping forty seconds in the women's 1650, winning in a time of 16:23.48. Club Wolverine's Georgia Mosher took second in 16:45.70 and Lost Creek's Morgan Johnson was third in 17:02.44.
Alamo Area's Michael Calvillo was victorious in the men's 1650 with a final time of 15:05.65. Rockwall's Ford Blaylock (15:06.14) came in second and Lakeside's Alexander Zettle (15:24.41) was third.
Future Texas Longhorn Julia Cook of the Aggie Swim Club won her fourth individual title this weekend, this time taking the crown in the women's 100 back in 51.64. Dads Club Swim's Aria Bernal took second in 52.54 and Katy Aquatics' Emma Sticklen finished third in 53.36.
Tigershark's Noah Henry, who is headed to Arizona State this fall, won the men's 100 back in 46.82 for his third victory of the weekend. Metroplex's Jason Park (47.29) was second and DART Swimming's Gianluca Urlando (47.38) was third.
Soon-to-be Florida Gator Vanessa Pearl of Metroplex completed her breaststroke sweep, winning the women's 100 breast in 1:00.91. Lakeside's Jadyn Jannasch touched the wall in 1:02.31 for second and her teammate Emma Garfield was third in 1:02.51.
Another future Longhorn, Braden Vines of the City of Midland Swim Team, won the men's 100 breast in 54.01 to also complete a breaststroke sweep. His future teammate Joseph Daniels was second in 54.31 and Katy Aquatics' Kaloyan Bratanov finished third in 54.49.
Texas A&M senior Beryl Gastaldello earned the gold in the women's 50 free, stopping the clock in a quick 22.03. Cook grabbed the silver in 22.19 while Golden Rebel's Liliana Ibanez Lopez took the bronze in 22.38.
Westminster's Daniel Ramirez was the only swimmer who cracked the 20-second barrier in the men's 50 free, sprinting his way to first in 19.82. Bratanov touched second in 20.01 and Palo Alto Stanford's Nathan Yates took third in 20.35.
Pearl won her second event of the night—and fourth of the meet—after breaking the two-minute mark in the women's 200 IM with a final time of 1:58.29. Her teammate Lindsay Looney swam a 2:01.08 for second and Palo Alto Stanford's Zoe Lusk was third in 2:01.45.
Urlando, who won the men's 400 IM last night, found himself on top of the podium again after winning the 200 IM in 1:46.69. Rockwall's Jace Brown (1:48.35) and Nitro Swimming's Vincent Ribeiro (1:49.04) finished second and third, respectively.