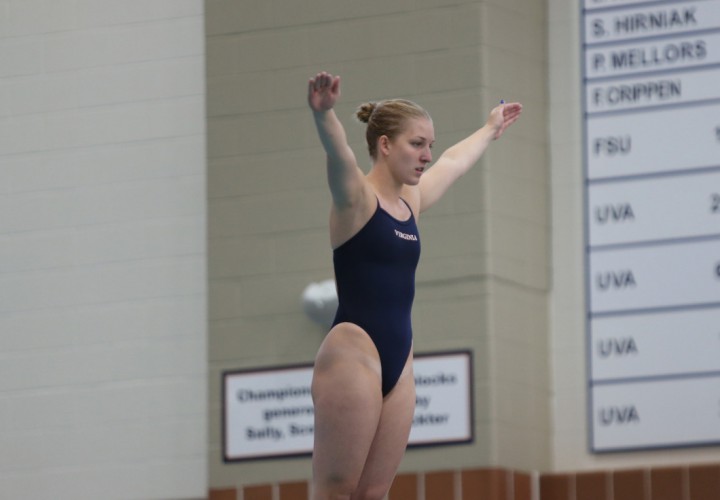 Photo Courtesy: Virginia Athletics
By Chandler Brandes, ACC Beat Writer
While the Virginia swimmers did not compete this weekend, the Cavalier divers were busy, participating in two meets on Friday and Saturday.
Day One
The Cavalier women competed at Richmond on Friday, which was rescheduled from Jan. 29 due to inclement weather. Becca Corbet won the women's 1m (282.75) with teammate Corey Johnson placing second (275.46). Corbet dove to second on the 3m (291.83), while teammate Katie Warburg took third (287.10). The Cavaliers beat the Spiders 25-14.
Full results: 2016 Virginia vs Richmond Diving (women) – Results
Day Two
Both the Virginia men and women diving teams competed at the James Madison diving invitational on Saturday. Corbett won the women's 1m (300.45) for the second day in a row, and placed second in the 3m (292.55). Clemson's Sarah Blank won the 3m (300.05), becoming the first Clemson diver to ever win an event at an invitational. On the men's side, Colby Shinholser won the 1m (322.55), while teammate Carl Buergler won the 3m (324.10). The invitational was not scored.
Full results: 2016 JMU Diving Invitational – Results