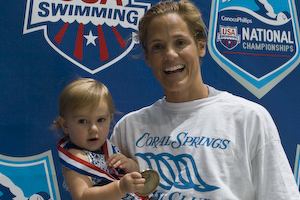 By John Lohn and Dana Lawrence Lohn
INDIANAPOLIS, Indiana, August 4. THE amazing Dara Torres was at it again Saturday night. The 40-year-old youngster, proving that age is simply a number, broke her American record in the 50-meter freestyle with a time of 24.53. The effort broke her 2000 standard of 24.63, set at the Sydney Olympics. Earlier this week, Torres won the national title in the 100 freestyle with the second-fastest effort of her career. Torres was the top seed in the final after blazing a 24.91 during the morning prelims.
When Torres started this comeback, the second of her career, she wasn't exactly thinking about qualifying for a fifth Olympics. But, now that she's once again tearing up the competition, Torres seems to be a good bet to grab a berth to Beijing. If she accomplishes the feat, Torres will have been an Olympian in 1984, 1988, 1992, 2000 and 2008.
The oldest woman to set an American record, Torres certainly had a chance at lowering her American record. Once she surfaced and quickly took a dominant lead, that possibility became more legitimate. Really, it's time to not consider Torres for a chance at reaching another Olympics. It's worth mentioning the woman as a contender for the gold medal. Torres' clocking of 24.53 is the second-fastest time in the world this year and equaled the time Libby Lenton produced for the world championship in Melbourne.
Torres was significantly ahead of the rest of the field, but Lara Jackson (Tucson Ford Dealers) picked up the silver medal in 25.27, just ahead of her teammate Lacey Nymeyer (25.28). Carrie Ellis of Area of Tallahassee was fourth in 25.54 and Jackie Vavrek, the second seed in the final, was fifth in a time of 25.55.
Other top performers overflowed with accolades for Torres, who's viewed with awe and wonder even among her closest competition. From fellow 50 freestyler Amanda Weir, the 12th fastest American in history in this event: "She's incredible – she's had so many more experiences than we've had. I mean, she's had a child, and she's got a stronger gut and heart than all of us." From Rebecca Soni, who has asserted breaststroke dominance this week: "She's unbelievable, crazy, I mean, I don't know how she does it." From Ben Wildman-Tobriner, winner of tonight's men's 50 free: "When I'm 40, I don't think I'm going to be as fast as her, or as fast as I am now!"
A quick personal note: Torres was joined on the medal podium by her toddler daughter, Tessa, and in a touching image that will surely endure in film and photography in the coming year, Torres took off her medal and placed it around her daughter's neck.