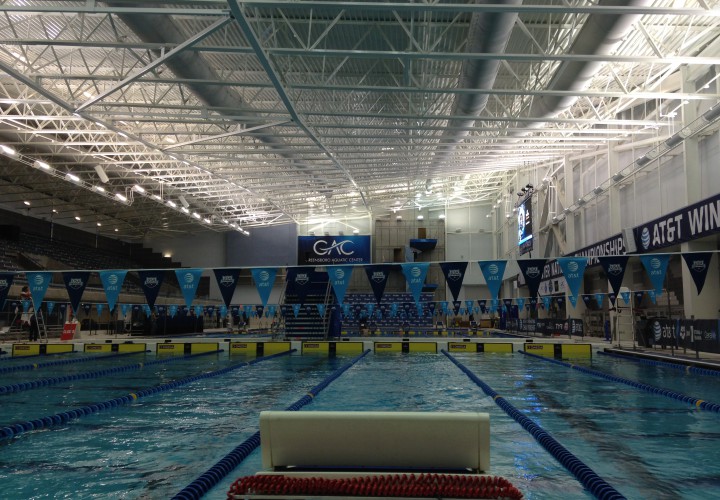 GREENSBORO – The third day of competition at the USA Swimming nationals is bound to be as exciting as the first two, with NCAA automatic qualifying times on the minds of college athletes. Postgrad swimmers and high school athletes could collect some wins in tonight's finals, depending on their performances in this morning's preliminaries.
Women's 400 individual medley
Three swimmers cracked 4:13 to set up what could be a close battle in the women's 400 IM final, though it's difficult to know just how much energy each of the ladies put forth in the heats. Leah Stevens of Lakeside topped the field with a 4:12.72, which is a lifetime best for the 18-year-old by two tenths of a second. Courtney Harnish was a second off her lifetime best by qualifying second with a 4:12.92, and will be looking to add a USA Swimming national title to her list of accomplishments for York YMCA. Placing third was Chelsie Miller of the University of Kansas with a 4:12.97. She was well off her lifetime best of 4:07.97.
Rounding out the top eight will be: Sonia Perez-Arau (4:13.75), Sarasota's Sophie Cattermole (4:14.14) and York's Meghan Small (4:14.20). Michigan's Hannah Moore and Ohio State's Lindsey Clary tied with times of 4:14.43, and get into the championship final as well.
Swimming in the B final will be: Abby Chin (4:14.67), Caroline Arakelian (4:15.10), Arlyn Upshaw (4:15.87), Danielle Valley (4:15.98), Marie Georger (4:16.32), Allie Duff (4:16.40), Ellen Stello (4:16.58) and Devon Bibault (4:16.85).
Hannah Kastigar takes the top spot in the C final, and will be joined by Bailey Nero (4:17.49), Madison Homovich (4:17.52), Lauren Abruzzo (4:17.76), Bailey Pressey (4:17.82), Brooke Forde (4:18.18), Christin Rockaway (4:18.69) and Marni Oldershaw (4:18.89)
Men's 400 individual medley
Tonight's final of the men's 400 IM could be a mirror of what we saw last night in the 200 IM final, with Club Wolverine's Kyle Whitaker leading the qualifiers with a 3:44.05. Whitaker capped off his collegiate career for the University of Michigan with a sixth-place finish in the 400 IM at the NCAA championships. Connor Jaeger and Dylan Bosch gave the Wolverines the top three qualifying spots, with Jaeger second at 3:46.61 and Bosch third with a 3:47.56. Bosch qualified just ahead of the 3:47.61 by Louisville's Nolan Tesone. Bosch and Tesone had a great battle in the 200 IM final last night, with Bosch taking the silver medal by seven tenths of a second over Tesone. The two battled in the eighth heat of prelims today, with Bosch storming home in freestyle to overtake Tesone. Bosch scratched from the 100 butterfly prelims, so will be putting a full concentration on the 400 IM tonight.
Also making the A final were: Oakland's Jorden Merrilees (3:49.48), Pittsburgh's Zachary Lierley (3:49.65), Nation's Capital's Andrew Gemmell (3:50.62) and Ohio State's Tamas Gercsak (3:50.63).
Louisville's Carlos Claverie leads qualifiers in the B final with a 3:51.78. Rounding out that heat will be: Ian Rainey (3:51.89), Trevor Hoyt (3:53.36), True Sweetser (3:53.43), Jeremiah O'Donnell (3:53.57), Charlie Swanson (3:53.59), Nick Arakelian (3:53.69) and Conrad Zamparello (3:53.72).
In the C final are Thomas Dillinger (3:53.77), Grant House (3:54.08), Ryan Sebastian (3:54.38), Keltan Lawler (3:54.45), Justin Ress (3:54.54), Sam Smiddy (3:54.83), Duncan Scott (3:55.03) and Ted Schubert (3:55.08).
Women's 100 butterfly
Louisville's Kelsi Worrell, believed to be a top contender for the NCAA title next March, led qualifiers with a 51.54. It's not too far off her best time of 50.95 from last March's NCAA championships, and it beats the NCAA automatic qualifying time of 51.70. After finishing third in last night's 50 freestyle, Worrell appeared to have something to prove this morning.
She qualified for tonight's final almost a full second ahead of UCLA's Linnea Mack, last night's 50 free runner-up. Mack posted a 52.48 to get under 53 seconds for the first time. Katelyn Herrington, now a postgrad at the University of Nevada-Las Vegas, was third with a 53.11.
UCLA will have three swimmers in the championship final, as Katie Grover (53.18) and Noelle Tarazona (53.26) will join Mack in the heat. Lauren Case of Chattahoochee Gold (53.32), Caitlin Casazza of SwimMAC Carolina (53.46) and Hannah Saiz of Schroeder YMCA (53.51) also made it into the championship final.
Veronica Burchill (53.56), Miranda Tucker (53.68), Katie Kinnear (53.72), Elsa Welshofer (53.83), Anna Quinn (53.95), Bailey Nero (53.97), Devon Bibault (53.97) and Claire Maiocco (53.98) will make up the B final field.
In the C final will be: Leah Goldman (54.09), Grace Vertigans (54.17), Kaitlyn Johnson (54.20), Gia Dalesandro (54.22), Asia Seidt (54.24), Yurie Nakano (54.26), Rhi Jeffrey (54.34) and Megan Moroney (54.40).
Men's 100 butterfly
Giles Smith posted the only swim under 46 seconds to lead qualifiers in what will be a close championship final field in the men's 100 fly. Smith, one of the fastest swimmers in the event during his time at the University of Arizona now representing Phoenix Swim Club, posted a 45.87. He's about a second off his lifetime best of 44.73 from this time last year, but will have plenty of competition to push him to go under 45 seconds.
Geoffrey Cheah, a former Stanford University standout now representing Club Wolverine, led three more swimmers under 47 seconds. Cheah's 46.09 got him just ahead of teammate Sean Fletcher's 46.33. The top college swimmer in the heats was Louisville's Josh Quallen, who qualified fourth with a 46.78. Two of his teammates also made it into the final, with Aaron Young fifth in 46.84 and Pedro Coutinho sixth in 47.07. Pete Brumm of Michigan took seventh place with a 47.11 while Queens University of Charlotte's Matthew Josa got into the eighth spot with a 47.17.
West Virginia's Andrew Marsh will take lane four in the B final with a qualifying time of 47.49. Next to him will be SwimMAC Carolina's Tim Phillips, who is on the long course world championship team in this event for Team USA. Phillips is 10th with a 47.61. Joining them in the B final will be: Jeremy Raisky (47.78), Vinny Tafuto (47.98), Marcus Schlesinger (48.01), Evan White (48.12), Phillip Sikatzki (48.13) and Mark Weber (48.15).
Kourosh Ahani (48.21), Kyle Robrock (48.38), Kyle Lukens (48.38), Max Irwin (48.44), Bruno Ortiz (48.52), David Boland (48.52), Cullen Jones (48.53) and Ian Finnerty (48.55) will swim in the C final.
Women's 200 freestyle
Nation's Capital's Katie Ledecky is only swimming one event in tonight's finals, which means she'll put a lot of heat into the 200 freestyle to see how close she can get to Missy Franklin's incredible 1:40.31 American record. Ledecky's 1:43.66 is 1.6 seconds off her lifetime best and puts her well ahead of the field that, even before the heats started, was going to be a race for second.
Haley Lips of Indiana put up a 1:45.69 to dip under her lifetime best by three tenths and qualify second for the final. The rest of the championship final all posted times in the 1:46 range, setting up a great battle across the board. Gillian Ryan led those swimmers with a 1:46.09.
Paige Madden from City of Mobile Swimming Association (1:46.37), Indiana's Kennedy Goss (1:46.46), Courtney Harnish (1:46.62), St. Andrew's Megan Moroney (1:46.65) and Carmel's Claire Adams (1:46.96) will also race for medals.
Claudia Goswell of Michigan just missed the championship final by four hundredths of a second, but will have lane four in the B final with her prelim time of 1:47.00. Patricia Castro Ortega (1:47.21), Jessica Merritt (1:47.24), Sam Cheverton (1:47.32), Lauren Case (1:47.34), Abbie Houck (1:47.56), Andrea Kneppers (1:47.78) and Hannah Boyd (1:47.90) also will swim in the consolation heat.
In the C final will be: Becca Postoll (1:47.96), Caroline Wilson (1:48.07), Faith Johnson (1:48.16), Grace Vertigans (1:48.28), Katy Munzenmaier (1:48.30), Hannah Cox (1:48.41), Katy Campbell (1:48.43) and Nora McCullagh (1:48.51).
Men's 200 freestyle
Michael Wynalda swam a lifetime best of 1:32.14 in the 200 free at the Big Ten championships last March, and was under Simon Burnett's U.S. Open record pace at the time. We'll see how he does in tonight's 200 free final as the top qualifier with a 1:34.36.
The rest of the championship final field is stacked with notable names with experience in the 200 freestyle … as well as Nathan Adrian. The remaining seven swimmers all posted times in the 1:35 range. Ohio State's Josh Fleagle is second with a 1:35.11, just ahead of Club Wolverine's Hassaan Abdel Khalik (1:35.22), Indiana's Blake Pieroni (1:35.23) and California Aquatic's 100 free Olympic champion Nathan Adrian (1:35.29). Louisville's Trevor Carroll (1:35.42), Louisville's Matthias Lindenbauer (1:35.74) and Michigan's Justin Glanda (1:35.77) rounded out the top eight.
Scotland's Robbie Renwick just missed a spot in the championship final by two hundredths of a second. He'll likely try to beat a few swimmers in the A final, when he swims in an equally talented B final. Michael Nunan (1:35.90), Townley Haas (1:36.07), Anze Tavcar (1:36.40), Michael Disalle (1:36.56), Jeremy Bagshaw (1:36.57), Ryan Feeley (1:36.62) and Jackson Miller (1:36.63) all will race for place nine through 16.
In the C final will be: Maxime Rooney (1:36.87), Steffen Hillmer (1:37.06), Rowan Williams (1:37.18), Thomas Duvall (1:37.19), Jack Mangan (1:37.39), Grant House (1:37.47), True Sweetser (1:37.95) and Jorden Merrilees (1:37.96).
Women's 100 breaststroke
Katie Meili of SwimMAC Carolina will be looking for her second win of the meet after taking the 200 IM last night, qualifying first in the 100 breast with a 58.82. Her lifetime best of 58.44 from 2013 is on notice as the Columbia University postgrad is having one of the best meets of her life. Another postgrad, Danielle Herrmann of Clovis, got under the 1:00 barrier for the first time in her career, posting a 59.17 at 27 years old. She'll have a tough battle on her hands, with two members of the U.S. national team in the breaststroke events qualifying right behind her.
Tennessee's Molly Hannis was third with a 59.39, while SwimMAC Carolina's Micah Lawrence got into the fourth spot with a 59.74. Kathryn Johnstone of Edina also got under 1:00 for the first time with a 59.86 to qualify fifth. Andee Cottrell of Louisville (1:00.12), Lilly King (1:00.27) and Bronwyn Pasloski (1:00.40) will also swim in the championship heat.
Miranda Tucker swam a lifetime best of 1:00.47 to lead qualifiers in the B final, followed by Amanda Rutqvist (1:00.72), Corrie Scott (1:00.90), Kennedy Lohman (1:01.16), Emily Kopas (1:01.26), Kinga Cichowska (1:01.36), Ashley Vance (1:01.48) and Beatriz Travalon (1:01.50).
The C final competitors will be: Jennifer Wilson (1:01.71), Caitlin Casazza (1:02.01), Shelby Lacy (1:02.07), Jessica Khojasteh (1:02.09), Claire Conlon (1:02.10), Jaclyn Hill (1:02.11), Charity Byrum (1:02.15) and Bryce Hinde (1:02.24).
Men's 100 breaststroke
Carlos Almeida, the 2012 NCAA champion in the 200 breast now swimming as a postgrad at the University of Louisville, took the top seed in the 100 breast with a 52.67. Zach Hayden of Club Wolverine dropped almost a second off his three-year-old lifetime best to qualify second with a 52.86 to put himself in a position to get his first top-three finish at nationals. Louisville's Thomas Dahlia in 53.06 and Michigan's Richard Funk with a 53.12 will be looking to break 53 and get into the top five in the collegiate standings.
Club Wolverine's Kyle Whitaker earned his second championship final spot after leading the 400 IM, posting a 53.44. Bruno Ortiz of Michigan was sixth with a 53.49 behind 2011 champion Mike Alexandrov and his 53.57. Addison Bray gave Louisville a second entry into the final with a 53.71 for eighth place.
Taking spots in the B final will be: Jared Pike (53.93), Fabian Schwingenschlogl (53.94), Chris Klein (54.07), DJ Macdonald (54.17), Carlos Claverie (54.18), Derek Hren (54.36), Ben Cono (54.47) and Nic Eriksson (54.47).
Tanner Kurz leads the way among qualifiers for the C final with a 54.63. Trevor Hoyt (54.74), Ian Finnerty (54.83), Luke Nosbisch (55.00), Todd Owen (55.06), Ethan Browne (55.14), Dimitri Mladenovic (55.15) and Brennen Berger (55.16) also got into the heat.
Women's 100 backstroke
Demonstrating the underwater kicking talents that helped her place second last night in the 50 freestyle, UCLA's Linnea Mack used those skills to qualify first in the 100 back with a lifetime best 52.32 to get another top-three spot in finals tonight. She'll have another talented backstroker next to her in the final, as Michigan's Clara Smiddy posted a 52.40 to coast into the second seed. Smiddy's best time is a 51.75 from last year's junior nationals, so there could be more in the tank for Smiddy tonight.
Michigan and UCLA each put another swimmer in the final, with Ali DeLoof qualifying third with a 53.01 for the Wolverines and Madison White posting a 53.06 for fourth. But it was Indiana who had the best showing, getting three ladies into the top eight: Brooklynn Snodgrass (fourth, 53.26), Kennedy Goss (seventh, 53.72) and Justine Ress (eighth, 53.79). Also getting into the final was Carmel's Claire Adams, making her first senior national final with a 53.30.
Men's 100 backstroke
Two days after breaking the U.S. Open record in the 50 backstroke, Japan sprinter Junya Koga (now swimming for Club Wolverine) leads qualifying in the 100 back with a 46.17. If he wants to make it two-for-two in U.S. Open records, he'll need to go faster than the 44.07 Nick Thoman swam last December.
Another Club Wolverine postgrad, Geoffrey Cheah, posted a 46.36 for second, while former Indiana standout James Wells qualified third with a 46.38 representing Badger Swim Club. Andrew Marsh of West Virginia was the top college swimmer out of the heats with a 46.87 to drop his lifetime best by almost two seconds and qualify fourth.
Sean Fletcher of Makos (46.89), Grigory Tarasevich of Louisville (47.05), Ohio State's Rowan Williams (47.53) and Louisville's Aaron Young (47.64) make up the rest of the championship final field.
Ohio State got two more swimmers into tonight's 100 back heats, with Matt McHugh (47.78) and Steven Zimmerman (47.85) qualifying ninth and 10 to take the top spots for the B final. Aaron Greene (48.08), Will Manion (48.18), Pedro Oliveira (48.20), Jason Chen (48.28), Eric Ress (48.31) and Max Grodecki (48.36) will also swim in the consolation final.
The athletes in the C final of the 100 back completed the swimmers under 49 seconds in today's preliminaries. Led by Joey Reilman's 48.40, the field consists of Thomas Nguyen (48.44), Tristan Sanders (48.59), Bob Glover (48.60), Nick Hasemann (48.72), Michael Pilyugin (48.74), Kyle Robrock (48.83) and Timothy Ware (48.99).
Scheduled Events
400 individual medley
100 butterfly
200 freestyle
100 breaststroke
100 backstroke
Note: The 200 freestyle relay will be swum as a timed-final event in tonight's finals session.