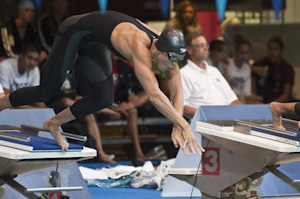 Click here for the latest Swimming World coverage of the U.S. National Championships, including on-the-spot interviews!
LIVE Universal Sports Webcast of Meet
INDIANAPOLIS, Indiana, July 9. LAST night featured the first world record of the meet with Aaron Peirsol putting on a show in the men's 100 back. The third day of preliminary action set up another round of sprint events at the USA Swimming National Championships.
Women's 100 breast
Terrapins' Kasey Carlson wowed the crowd with a meet-record time of 1:06.66 to lead qualifying this morning. Her effort cleared the 1:06.85 set by Jessica Hardy last year. Trojan's Keri Hehn also dipped under the previous meet standard with a second-seeded time of 1:06.80.
Sara Nicponski, swimming unattached, qualified third in 1:07.22, while KING's Megan Jendrick clocked a fourth-place 1:07.48. Trojan's Rebecca Soni cruised into finals with a fifth-place 1:07.64, while Wisconsin's Ashley Wanland took sixth in 1:08.13. Suburban's Corrie Clark (1:08.53) and Stanford's Kerry Kraemer (1:09.19) rounded out the top eight.
Men's 100 fly
Michael Phelps of North Baltimore led a trio of swimmers under 52 seconds during qualifying. Phelps eased through his prelim swim with a sterling time of 51.17. Auburn's Tyler McGill qualified second in 51.76, while Longhorn's Aaron Peirsol checked in with a 51.86 after setting the 100 back world record last night.
Tennessee's Davis Tarwater (52.07) and Longhorn's Ricky Berens (52.18) claimed fourth and fifth, while Tucson Ford's Albert Subirats (52.45), New Trier's Kyle Bubolz (52.59) and Tucson Ford's Masayuki Kishida (52.64) were among the top eight.
Women's 50 free
Dara Torres of Coral Springs just keeps on rolling as she had the crowd cheering for her top qualifying time of 24.72. Athens Bulldog Anne-Marie Botek placed second in 24.89, while SwimAtlanta's Amanda Weir joined them under 25 seconds with a third-place 24.94.
Tennessee's Christine Magnuson demonstrated some sprint skills with a fourth-place 25.21, while California's Dana Vollmer turned in a fifth-place 25.28. Tucson Ford's Lara Jackson (25.31) and Lacey Nymeyer (25.36) claimed sixth and seventh, while Pirate's Karlee Bispo earned eighth in 25.40.
Men's 50 free
SwimMAC Carolina's Cullen Jones put a charge into the American record, but settled just short with a quick 21.54. The readout finished shy of Garrett Weber-Gale's national mark of 21.47 set last year. Auburn's Cesar Cielo placed second in 21.71, while Longhorn's James Feigen cleared 22 seconds with a third-place 21.92. Sun Devil's Nick Brunelli (21.94) and Weber-Gale (21.99) also beat 22 seconds with fourth and fifth-place finishes.
California's Nathan Adrian (22.00), Sabir Muhammad (22.08), swimming unattached, and Tucson Ford's Matt Grevers (22.12) rounded out the top eight. Surprisingly, world-record holder from Auburn, Fred Bousquet, fell to ninth in 22.15. Bousquet has the 20.94 global standard to his credit from earlier this year.
Women's 400 IM
The stars were out in the women's distance medley with some strong morning outings. Stanford's Julia Smit plowed through her heat with a strong breaststroke leg to top qualifying in 4:40.27. In the next heat, Bluefish's Elizabeth Beisel came up just short of Smit's time with a 4:40.61.
ASK's Dagny Knutson, still looking for her breakthrough swim to earn a spot on the U.S. team heading to Rome, qualified third in 4:42.00. KING's Ariana Kukors wound up fourth in 4:43.47.
Caitlin Leverenz, swimming unattached, finished fifth in 4:43.60 with KING's Andi Taylor taking sixth in 4:44.00. WSY Swimming's Leah Gingrich (4:47.10) and Longhorn's Amber McDermott (4:47.46) completed the top eight spots.