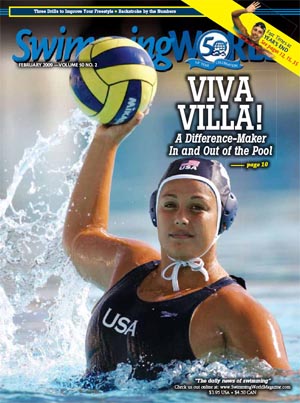 PHOENIX, Arizona, February 3. BRENDA Villa, one of the most accomplished women's water polo players in American history, is profiled as the cover personality and in the World Swimming section of the February issue of Swimming World. As a three-time Olympic medal winner, Villa has left an indelible mark on the sport she loves, but readers will also learn that she continues to build a lasting legacy in her hometown of Commerce, Calif., as well.
Click play below for a multimedia look Inside Swimming World Magazine as presented by The Morning Swim Show's Peter Busch:

The World Swimming section in this issue also contains an ongoing salute to the magazine's 50+ year anniversary celebration. February highlights top moments of the period of 1960-64. Also featured is a look at the magazine's founders; coaching greats Robert Kiphuth and Peter Daland.
Highlights of major U.S. short course meets conducted at the end of 2008 are summarized in the Winter Invitational Roundup article. In addition, a review of the European Short Course Championships world record onslaught rounds out the World Swimming section in this issue.
Click here to get your premium subscription, then visit the Premium Section to download this issue.
Click here for a preview of the other multimedia items available in the February issue.
This issue is truly interactive with nearly 100 links for Premium Subscribers to get the rest of the story, results or even visit the web sites of Swimming World Magazine's advertisers.
Become a Premium Member Today to take advantage of these great digital versions of Swimming World Magazine.
February 2009 Issue
Contents of The February issue:


6 CELEBRATING 50+ YEARS IN AQUATICS: 1960-64 by John Lohn
As we celebrate 50+ years in aquatics, Swimming World Magazine will be taking a trip through history, highlighting some of the top moments of the magazine's existence.
8 OUR FOUNDING FATHERS by John Lohn
Robert Kiphuth and Peter Daland not only made their mark as two of the most esteemed swimming coaches in history, but they are also the two men responsible for starting what would eventually become today's Swimming World Magazine.
10 MAKING A DIFFERENCE by Greg Mescall
Brenda Villa is one of the most decorated women ever to play the game of water polo, but it is her position as a role model and ambassador for the sport that sets her apart from the others.
12 WINTER INVITATIONAL ROUNDUP by Jason Marsteller
There were many notable short course performances in the U.S. during December, including USA Swimming's senor and junior nationals, the Texas Invitational and the Husky Invitational.
15 ENDING 2008 WITH A BANG by Jason Marsteller
December's European Championships put an exclamation point on a year that saw more that 100 world records broken.
54 NAG TOP 10 (LONG COURSE)
DEPARTMENTS:
4 A VOICE for the SPORT
38 CAMP DIRECTORY
51 FOR THE RECORD
59 CALENDAR
In the Swimming Technique portion of the magazine you will find the following:


24 Q&A WITH COACH CHUCK BATCHELOR by Michael J. Stott
26 HOW THEY TRAIN: Elizabeth Beisel by Michael J. Stott
27 DEPTH OF SWIMMING PERFORMANCES IN THE USA by Genadijus Sokolovas
30 USSSA: Experience the Magic by Marla Blauman
Everybody can learn to swim — and love the water with magical help!
32 THE BENEFITS OF OFF-EVENT SWIMMING by Michael J. Stott
Swimming off events can help swimmers stay mentally and physically fresh.
34 DVD REVIEW: Richard Quick's "Faster Fast Sprint Freestyle"
reviewed by Michael J. Stott
In the SWIM portion of the magazine you will find the following:

17 THE POOL'S EDGE: Backstroke as Easy as 1-2-3 by Karlyn Pipes-Neilsen
19 LANE LEADERS: Erik Hochstein by Emily Sampl
20 THE WORKOUT CARD: Energy-Conscious Swimming by Terry Laughlin
22 DRYSIDE TRAINING: Dryland Tips for Better Freestyle by J.R. Rosania
In the Junior Swimmer portion of the magazine you will find the following:
35 HIGH SCHOOL ROUNDUP: Off to a Fast Start by Sarah Eckersley
36 SPEEDO AMERICAN RELAY by Judy Jacob
37 TYR AGE GROUP SWIMMER OF THE MONTH: Madison White
Free Shipping in the USA