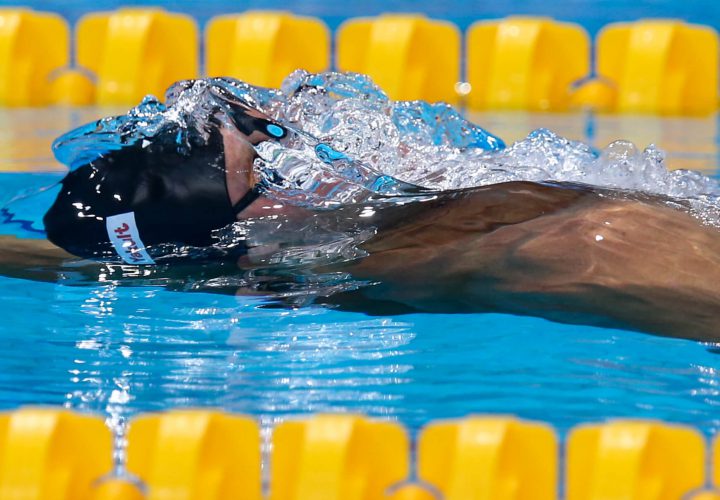 Matt Grevers.
Photo Courtesy: SIPA USA
Editorial content for the 2018 TYR Pro Swim Series Indianapolis is sponsored by SwimOutlet.com. Visit SwimOutlet.com for more information on our sponsor. For full Swimming World coverage, check out our event coverage page.
Olympic gold medalists Katie Ledecky (Bethesda, Md./Stanford Swimming), Simone Manuel (Sugar Land, Texas/Stanford Swimming), Lilly King (Evansville, Ind./Indiana University), Nathan Adrian (Bremerton, Wash./California Aquatics), Matt Grevers (Lake Forest, Ill./Tucson Ford Dealers Aquatics) and Allison Schmitt (Canton, Mich./Pitchfork Aquatics) are expected to lead a loaded field for next week's TYR Pro Swim Series at Indianapolis, May 16-19 at the Indiana University Natatorium.
Click here for the complete psych sheet.
The four-day meet opens with timed finals for the 1500-meter freestyle on Wednesday, May 16 at 6 p.m. EDT. Thursday, May 17 through Saturday, May 19 will feature 10 a.m. EDT prelims followed by nightly finals at 7 p.m. EDT. Single- and all-session tickets are on sale now: https://www.usaswimming.org/utility/indianapolis-ticket-information
Reigning Olympic and world champions, Ledecky and Manuel will be competing for the first time since leading Stanford University to its second straight NCAA women's title.
Kelsi Worrell has the top seed in the 100 butterfly (56.37), while Tom Shields has the top seed for the men (51.20).
Ledecky has the top seed in the 400 free (3:56.46) ahead of Leah Smith (4:00.65). Michigan's Felix Aubock has the top seed in the men's 400 free (3:44.19) ahead of Zane Grothe (3:44.43).
Texas A&M's Bethany Galat has the top seed in the 200 breast (2:21.77) ahead of King (2:21.83). Kevin Cordes is the top seed for the men (2:07.41).
Manuel is the top seed in the 100 free (52.27), leading a packed field that includes Mallory Comerford (52.59), Taylor Ruck (52.96), Margo Geer (53.74), Siobhan Haughey (53.83), Worrell (53.87), Schmitt (53.87), Ledecky (53.99) and Olivia Smoliga (54.21).
The men's 100 free is stacked as well with Adrian (47.72), leading a group that includes Zach Apple (48.14), Blake Pieroni (48.23), Ryan Held (48.26), Justin Ress (49.15), Cullen Jones (49.16) and Grevers (49.18).
Smith has the top seed in the 400 IM (4:33.86) as does Chase Kalisz (4:05.90).
Manuel (23.97) and Smoliga (24.70) lead the field in the 50 free. Adrian (21.47) and Jones (21.75) lead the men's field.
Ruck is the top seed in the 200 back (2:06.36). Jacob Pebley is the men's top seed (1:54.77).
Ledecky (1:53.73), Schmitt (1:55.95), Haughey (1:55.96), Smith (1:55.97), Melanie Margalis (1:56.58), Ruck (1:56.85), Comerford (1:56.95) and Manuel (1:51.11) lead a packed 200 free.
Pieroni (1:46.30) and Grothe (1:46.39) lead the men's 200.
Hali Flickinger is the sop seed in the 200 butterfly (2:06.67) as is Pace Clark (1:54.58).
King has the top seed in the 100 breast (1:04.13) as does Cordes (58.64). Smoliga is the top seed in the 100 back (58.77) along with Grevers (52.56). Margalis is the top in the 200 IM (2:08.70) along with Kalisz (1:55.56). Ledecky is tops in the 800 free (8:04.79) along with Aubock (7:49.24).