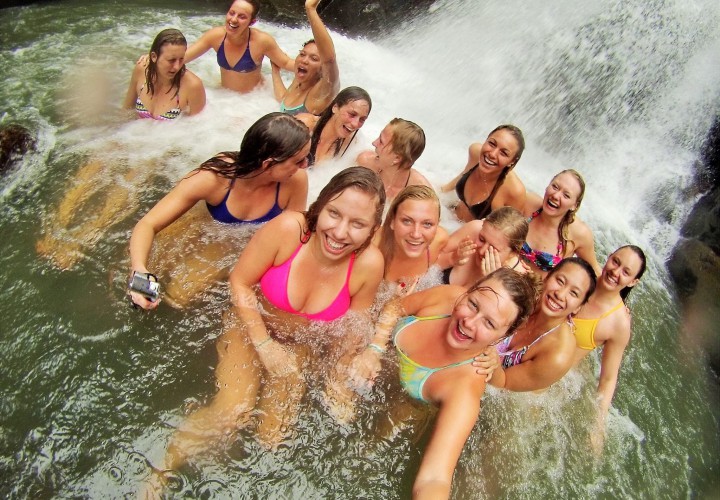 By Seren Jones, Swimming World College Intern
Both swimmers and non-swimmers agree that it's a bummer college swimmers get no more than a week at home during the winter break. But according to most non-swimmers, the "vacation" that we go on the following week or two makes up for our lack of rest at home.
The amount of times I have heard such a statement since high school is probably more than the amount of yards these non-swimmers will ever swim in their lifetimes. Seriously. Word gets out that you're going to St. Thomas, The Bahamas, or Florida on "vacation" and everyone is super jealous. Little do they know…
For this year's training trip, my team was fortunate enough to travel to the island of Puerto Rico for just over a week. Despite the idyllic scenery and tropical climate it had to offer, our trip wasn't quite a vacation.
Here are 6 reasons that explain to non-swimmers why training trips are not vacations:
1. Workouts
You would think this is the most obvious reason that highlights the fact that we're on a training trip and not a vacation, but apparently not! Training trips consist of strenuous double practices everyday, excluding the one day we receive off, thanks to the rules and regulations of the NCAA (big thanks!). Workouts tend to include an ample amount of underwaters, tedious yardage, fatigued muscles and severe nausea. Vacations, I believe, do not.
2. Nutrition
Unlike vacations, we are not able to consume food and beverages that will negatively affect our bodies and thus, our practices. Of course, we inhale large quantities (of mainly carbs) between practices, but too large a lunch can lead to it reappearing during the afternoon workout's main set (or warm up). The primary beverages that we consume during the trip are water, some sort of energy drink or Gatorade, and chocolate milk. And LOTS of it. If you're looking for a margarita or a mojito, you're on the wrong trip.
3. Tanning Time
Know that our sun-kissed tans don't come from lying on the beach and soaking up the rays all day like our social media accounts may imply, but primarily from our two to four-hour pool practices. The longer the practice, the bronzer the tan, the happier the swimmer.
4. Rain
When it rains on vacation, it is common to collect your stuff as fast as possible, and retreat to some sort of shelter as though the world is coming to a sudden end. When it rains on a training trip, whether you're underwater, in the water, about to get in the water, or out of the water, practice doesn't stop. When the going gets tough, so do we.
5. Aches and Pains
Yeah, we definitely know that the majority, if not all, non-swimmers don't suffer from aches and pains caused by exercise on their vacations. You don't suffer from sore muscles, severe cramping, oxygen debt, lactic acid, and possible lung explosions (at least it seems like it at the time). We do.
6. Alarm Clocks
Training trips are non-existent without one of our most trust-worthy possessions. Our alarm clocks. They go off twice a day like clockwork, both to alert us and remind us that we have business to take care of. They sound no later than 7:30 a.m. and 2:30 p.m. to awaken us from our deep sleeps and food comas. The only time you need an alarm clock on vacation is when you're waking up to get to the airport to go on your vacation. And that doesn't count.
Know that I'm not saying that training trips are the worst things in the world, because they're most certainly not. In fact, they're probably the highlight of our season. It's far better to train abroad in a warmer climate than it is to train in the below freezing temperatures of the Northeast and any other bitterly cold state.
We just ask that you consider and understand what goes on behind the Facebook photos and Instagram snapshots. Although we're having a great time, we're also putting in all the work. It's just behind the scenes and usually beyond the GoPro lens.