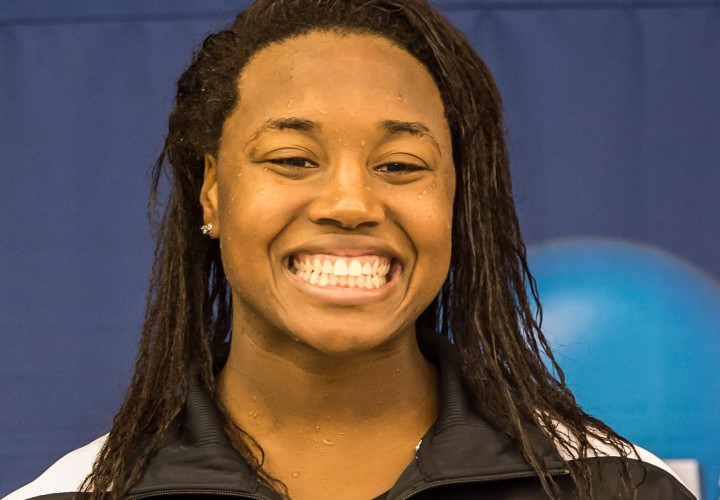 Photo Courtesy: Peter H. Bick
History was made in many ways around the United States in collegiate swimming and diving last week, while one of the best swimmers in the world starts a new chapter in her illustrious career. We're counting down the top five swimming headlines on The Week That Was.
The Week That was is supported by AgonSwim.com
The Week That Was #5: Dominance Again For Emory and Kenyon At NCAA Division III Championships
Dynasties continued for Emory University and Kenyon College last week at the Division III swimming and diving championships, as the women's team from Emory won its sixth-straight team title and the Lords of Kenyon made it a threepeat.
Andrew Wilson gave everything he had for Emory
, breaking the division records in the 200 IM and both breaststrokes in prelims and finals. His 100 breast finals time of 51.72 makes him the ninth-fastest performer in history, not in Division III, but
in all of short course yards swimming
. It's rare to see that happen at a Division III meet, so the future is looking bright for Wilson with one more year of eligibility left. As for Emory,
they beat Denison by almost 150 points
. Emory only won two events – the 400 medley relay and the 200 butterfly – but the depth really helped the Eagles soar in Texas last week.
The Week That Was #4: Ian Silverman removed from disabled swimming competition
After the 2012 Olympics, the International Paralympic Committee announced it would be doing some changes to its classification system as a result of some controversy involving athletes who were bumped to different divisions shortly before the London Games. Last week, Ian Silverman was likely one of the effects of that new system, as the Paralympic champion was told
he was not disabled enough to continue competing in disabled swimming
. Silverman was born with a mild form of cerebral palsy that affects his legs, and though he had undergone extensive testing to prove his disability, he was given the heave-ho by the IPC. Silverman is a student-athlete at the University of Southern California and was given the news just before the start of the Can-Am championships last week. Silverman made the announcement on Facebook.
The Week That Was #3: California wins women's Division I championship
At a meet that saw four American records and an additional NCAA record, history was in the air for three days at the women's NCAA Division I swimming and diving championships. Kelsi Worrell and Missy Franklin broke barriers in the
100 butterfly
and
200 freestyle
, respectively, while Stanford blew away the field with
an American record in the 400 free relay
. Simone Manuel
took back her American record in the 100 freestyle
, while Leah Smith took the prelims of the 500 freestyle out hard and
broke the NCAA record in that event. In the middle of all this was an intense struggle for the right to hold the championship trophy, and after the first day, Georgia was in command by 10 points over California. But a great second day in the pool gave Cal the advantage, and the Golden Bears never looked back, winning by 61 points. It was the fourth win since 2009 for California.
The Week That Was #2: Tae Hwan Park gets 18-month suspension for positive drug test

When news broke in January that
Tae Hwan Park had failed a drug test last fall
, many were wondering what sort of suspension would be handed down. This morning, FINA announced that the 2008 Olympic champion would be
out of competition for 18 months
through March 2, 2016. That puts him out of this year's world championships but initially makes him eligible for the 2016 Olympics. But, according to SwimVortex.com, the Korean swimming federation has a rule that keeps any swimmer out of competition for a minimum of three years for any positive drug test. This would be devastating for Park, as he would not be able to swim at the 2016 Olympics or 2017 world championships.
The Week That Was #1: Missy Franklin turns pro
Though it's been known since her senior year of high school, Missy Franklin immediately became a professional swimmer after completing competition at the NCAA championships. Franklin
picked the WME-IMG Agency and Mark Ervin to help represent her
for the remainder of her swimming career, and likely beyond that. A lot of endorsement deals are likely in the works, as is a 100 percent commitment to this summer's world championships and next year's Olympic Games. Franklin's training base appears to be undecided, as she said in an AP article that she is pondering staying with Cal head coach Teri McKeever full time or returning to Colorado to train with longtime coach Todd Schmitz.