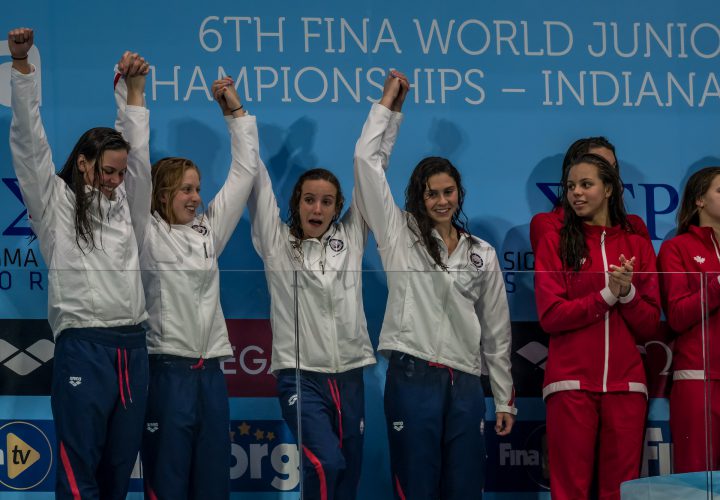 Photo Courtesy: Peter H. Bick
By Jamie Kolar, Swimming World College Intern.
Championship season is upon us. That means this is the time of missing school, napping in between prelims and finals, trying to squeeze into tiny tech suits and, most importantly, fast swimming.
Championship meets are always a lot of fun. This is what you have worked for the entire season: there is a lot of excitement and nerves before and during these meets. All though the swimming part of the meet is always fun, there are other elements of the meet that are only found during a championship and cannot be duplicated anywhere else.
The never-ending time in the locker room trying to put of a tech suit.
While putting on a suit may take girls more time than boys, we always seem to be in the locker room for ages trying to squeeze ourselves into a suit.
There is a moment that happens before you even start putting on the suit when you look around and say, "Well at least I am not alone." While putting it on, you start off in a good pace until you get to your hips and then are stuck. Then you will experience the greatest form of camaraderie that will occur in a locker room.
People you may or may not know usually come around and do their best to try to help you get in the suit. There is no giving up as you are at the point of no return, the suit is going to go up come hell or high water. When it finally does, you know that it was a group effort. It is a weird form of confidence but if your friends and even some strangers believed that you could get the suit on, the swim seems like no big deal.
Congratulating the person next to you after you swim.
It does not matter if the person you raced is your friend or a stranger, shaking their hand and congratulating them after a swim always brings a smile to both competitors faces.
You know that you have both just given your best effort and have left it all in the pool. You have challenged each other and brought out the best in each other just by being next to them. There is a certain level of respect and admiration that comes with that that cannot be found anywhere else.
Cheering for someone who is doing well.
It never really matters what team you are on, people always end up cheering for their friends on other teams. However, it is extraordinarily special when the whole natatorium is cheering for the one person who is about to break a record.
There is something about these competitive situations that brings out the excited spirit of the spectators. Swimming is unique in that spectators can be excited about each individual's success. It is when this happens that rivalries cease to matter, and everyone is just cheering and getting excited for the love of the sport.
All commentaries are the opinion of the author and do not necessarily reflect the views of Swimming World Magazine nor its staff.