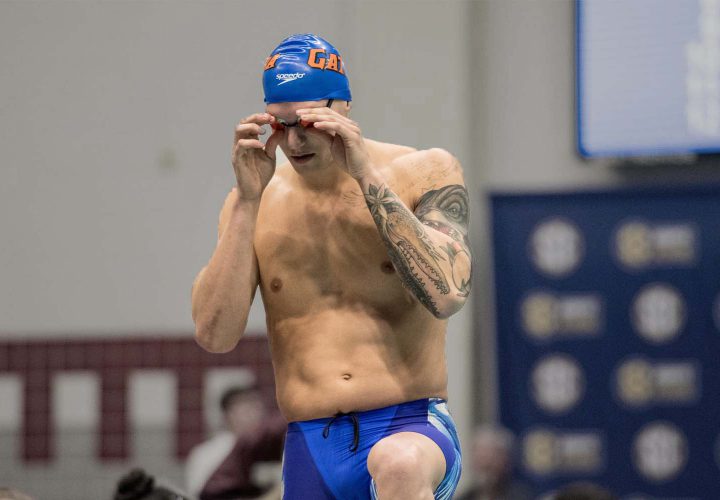 Florida senior Caeleb Dressel -- Photo Courtesy: Thomas Campbell/Texas A&M Athletics
Editorial content for the 2018 NCAA DI Championship coverage is sponsored by TritonWear. Visit TritonWear.com for more information on our sponsor. For full Swimming World coverage, check event coverage page.
Morning Splash by David Rieder.
It's been more than two years since an NCAA Division I swimming championships has featured much of any drama in the team race. At the last two women's meets, Stanford has been a clear favorite, and Texas has steamrolled through the men's championships each of the past three years.
The Longhorns may very well win again in 2018, but it won't come easy, with Cal looking like a massive threat and NC State, Florida and Indiana all boasting impressive squads.
We'll break down the psych sheet scoring projections later, but those lists can be deceiving. Texas and Cal rarely enter on top of those lists, but both teams typically post big time drops at NCAAs. That also means that a swimmer listed well down on the psych sheet can be a title favorite—like the 11th-seeded Townley Haas in the 500 free.
Let's take a full swing through the races on tap for this week in Minneapolis.
Freestyle
The 50 and 100 free will be all about a 21-year-old Floridian named Caeleb Dressel. If you have read Swimming World at any point during the past year, either online or the magazine, you've probably heard of him. Most recently, Dressel has garnered attention for his record-breaking efforts in the 200 IM and 100 breast, but he's returning to his sprint roots for the national meet.
The question will be his times: Can he get under 18 seconds in the 50 free (his American record is 18.20), and can he crack the 40.00 he swam in the 100 free last year?
Try as Ryan Held, Blake Pieroni, Zach Apple and co. might, they won't get anywhere close to Dressel.
The 200 free should be one of the meet's most intriguing races, with Pieroni and Harvard's Dean Farris having already swum in the 1:31-low range this season, Florida's Khader Baqlah at 1:31.9 and two-time defending champion Townley Haas of Texas looming.
How will Arizona State's Cameron Craig (1:31 last year) and USC's Dylan Carter (1:30 last year) factor in here? NC State's Justin Ress, known for his long course abilities in backstroke, could be a darkhorse here, and so could Maxime Rooney.
Haas also won the 500 in 2016 and finished second behind graduated teammate Clark Smith last year, but this one should be a wide open affair with the Michigan duo of Felix Auböck and Ricardo Vargas Jacobo, the South Carolina duo of Fynn Minuth and Akram Mahmoud, Stanford's Grant Shoults and NC State's Anton Ipsen all in the mix here.
As for the mile, last year's race was one of the greatest in NCAA history, and while Smith and Jordan Wilimovsky both graduated, Auböck and Mahmoud return to face off again. Ipsen and Shoults could challenge them, and Notre Dame's Zach Yeadon will look to continue a stellar freshman season. Stanford's True Sweetser will have to throw down his best effort in the last of the afternoon heats.
Backstroke
After four years of Ryan Murphy backstroke sweeps, these events will have new champions in 2018. John Shebat finished second to Murphy last season in both the 100 and 200, but like many familiar names from Texas, he's seeded lower than one might expect: 14th in the 100 back and 31st in the 200 back.
Three men have broken 45 seconds this year in the 100 back, but Dean Farris will skip the 100 back to focus on the 200 free. That leaves NC State's Coleman Stewart, who posted a 44.54 during his breakout ACC championships, and Grand Canyon's Mark Nikolaev, who owns a best of 44.71 as his Antelopes are making their NCAA Division I championship debut.
In the 200 back, Texas freshman Austin Katz and the aforementioned Farris are the only men seeded under 1:39, and of the other eight men who have broken 1:40 this season, only USC junior Patrick Mulcare has ever finished in the top three at an NCAA championships.
Others in that group include Stewart, World Junior champion and Auburn freshman Hugo Gonzalez and Texas redshirt sophomore Ryan Harty.
Breaststroke
With Will Licon and Fabien Schwingenschlogl both out of eligibility, there are no overwhelming favorites in the breaststroke events. Caeleb Dressel broke the 100-yard American record at the SEC championships, but he won't swim the event in Minneapolis, leaving Indiana junior Ian Finnerty as the top seed at 50.72.
The rest of the top five seeds include Indiana's Levi Brock, Minnesota's Conner McHugh, Michigan's Jacob Montage and Cornell's Ilya Evdokimov—none of whom were A-finalists last year. The only returning A-finalists are USC's Carsten Vissering, Cal's Connor Hoppe and South Carolina's Nils Wich-Glasen.
Finnerty is also the top seed in the 200 breast at 1:50.78. McHugh and Texas A&M's Mauro Castillo will both be factors, and so will Florida's Mark Szaranek and Cal's Andrew Seliskar, both of whom are much better known for their IM abilities but have moved towards the 200 breast this season.
Butterfly
Olympic gold medalist Joseph Schooling holds the top seed in the 100 fly, followed closely by fine swimmers like Vini Lanza, Ryan Held, Coleman Stewart and Justin Lynch. But make no mistake: This one will be about Schooling and Caeleb Dressel.
Dressel is seeded 49th out of 57 swimmers, but he hasn't swum a 100 fly while rested and suited up all year. And he has recorded the fastest time ever at 43.58, and that was recorded before he won seven World Championship gold medals over the summer. For his part, Schooling has used Dressel, his former Bolles teammate, for motivation after Dressel beat Schooling by a full second in the World Champs final of the 100-meter fly.
As for the 200 fly, eight men are seeded within 1.02 seconds, with Lanza seeded at the top with his time of 1:39.95, just ahead of Cal's Zheng Quah and Arizona's Justin Wright. But Schooling should be the favorite here, despite bombing out of the event last season and failing to score. He won the event as a freshman and a sophomore and is one of only two men to swim in the 1:37 range in the event.
IM
In both IM events, the man paving the field will be Hugo Gonzalez. He finished more than two seconds behind Caeleb Dressel in the 200 IM at the SEC championships, but Dressel opted for the 50 free instead at the NCAA meet.
So Gonzalez will deal with the likes of Mark Szaranek, who tied with Will Licon for last year's championships, along with his Florida teammate Jan Switkowski, Stanford's Abrahm DeVine, Cal's Andrew Seliskar, Georgia's Gunnar Bentz and NC State's Andreas Vazaios.
Chase Kalisz's graduation opens up the 400 IM, and that's the event where Gonzalez has been most impressive as a freshman, with his SECs time of 3:35.76 making him the second-fastest man in history in the event. It's mostly the same crowd contending behind him, minus Switkowski and adding in South Carolina freshman Brandonn Almeida and Bentz's Georgia teammate Jay Litherland.
Relays
Caeleb Dressel holds the key to the relay events based on the four he chooses to swim in. Florida's all-around best relay is the 4×200 free, and the Gators can be a top-three contender in that one with the team of Jan Switkowski, Khader Baqlah, Mark Szaranek and Maxime Rooney.
With Dressel, a win would be possible, but Florida needs his abilities even more on the other four relays. So the Gators will likely have to settle for battling against Texas, Cal, NC State and the top-seeded, Blake Pieroni-led Indiana Hoosiers.
NC State holds the top seed in both sprint free relays, with Ryan Held and Justin Ress leading the way and a pool of depth behind them that includes Jacob Molacek, Giovanni Izzo and Coleman Stewart. Cal is dangerous with the likes of Justin Lynch, Pawel Sendyk, Ryan Hoffer and Michael Jensen, and so is Texas with Joseph Schooling, Tate Jackson, Brett Ringgold and, in the 4×100 relay, Townley Haas.
In medley relay action, Cal likely brings the most balanced squads, with freshman Daniel Carr likely to step in for Ryan Murphy on the backstroke leg. Connor Hoppe on breast, Lynch or Matthew Josa on fly and Hoffer or Jensen on the anchor is a formidable group.
Indiana will have a strong shot at contending, particularly in the 4×100 medley with Ian Finnerty (breast), Vini Lanza (fly) and Blake Pieroni (free) and an impressive freshman backstroker in Gabriel Fantoni. Texas, meanwhile, has a massive hole on breaststroke but John Shebat (back), Joseph Schooling (fly) and one of the sprinters on the anchor leg should help make up the deficit.
Florida? Always watch out for Dressel, on whatever leg he swims. NC State? Their sprinters can swim other strokes, too, and Stewart, in particular, is a backstroke weapon. Even Tennessee or Louisville could surprise—the Vols have strengths on breaststroke (Peter John Stevens) and free (Kyle Decoursey), and the Cardinals will have Andrej Barna as their anchor.
Check back later for an analysis of the scoring projections for the meet.