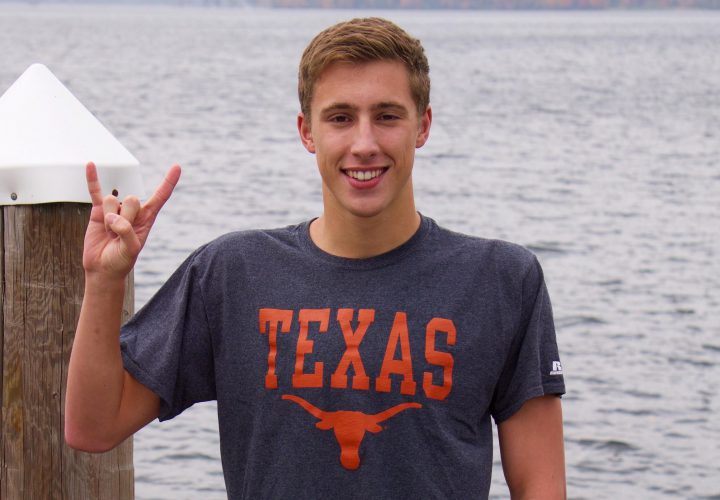 Photo Courtesy: JohnThomas Larson
Agon is the proud sponsor of all high school coverage (recruiting, results, state championships, etc.) on SwimmingWorld.com. For more information about Agon, visit their website AgonSwim.com.
Edina Swim Club's JohnThomas Larson has verbally committed the the University of Texas Longhorns. Larson is a distance/IM addition to the defending NCAA Champions. He swims for Coach Jeff Rodriguez.
His best times are:
500 Free 4:22.21
1000 Free 8:56.88
1650 Free 15:15.91
200 IM 1:50.64
400 IM 3:52.29
The USA Swimming Scholastic All-American ended his summer as a US Open finalist in the 400 IM. He swam the 400 freestyle at Olympic Trials. At Winter Junior Nationals (West) last December Larson was a finalist in the 500 free (third), 200 free (fifth), 400 IM (sixth) and the mile (eighth).
Larson will be a significant addition to the Longhorns. At the Big 12 level, he would have been the runner up in the mile last year. Clark Smith won that event in 2016. Larson would also be a 400 IM A finalist and have a year to train with 2016 Conference Champion Robert Jonathan. Last year freshmen Townley Haas and Jeff Newkirk went 1-2 in the 500, and with his best time Larson would have joined them in that final.
To report a college commitment email HS@swimmingworld.com.