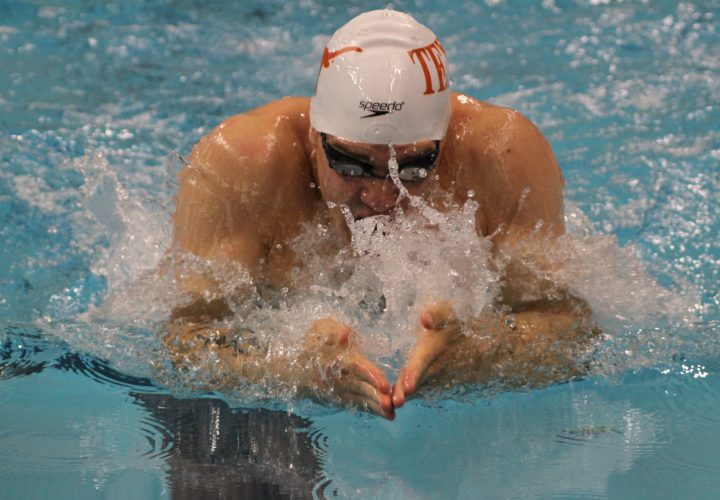 Photo Courtesy: Andy Ringgold / Aringo Photos
By Dan D'Addona.
It has been a strong start to the season for many of the nation's top swimming and diving teams.
Many of the national powers are looking to end the first semester with a bang before refocusing their training during winter break.
The defending national champion Texas Longhorns won't have to travel far for their final hurrah of 2016, hosting the Texas Invitational.
The Longhorns are ranked No. 5 in the men's College Swimming Coaches Association of America poll and No. 3 in the women's poll.
Texas will be joined by big-conference opponents like the Stanford men, USC, UCLA, Arizona and Wisconsin.
Stanford is ranked No. 19, while USC is No. 17, Arizona is No. 24 and Wisconsin is 27th in the men's poll.
The women's competition brings No. 8 USC, No. 13 Wisconsin, No. 22 UCLA and No. 24 Arizona, among others.
This meet will almost feel like a mini Pac-12 Conference Championship meet with the Trojans, Wildcats and Bruins as well as the Stanford men.
Texas will take the place of the Stanford women and the Cal men as the dominant team to beat, making for an interesting dynamic.
The USC, UCLA and Arizona women are moving up the national ranks and quietly putting together solid seasons. This will be the perfect gauge for them heading into winter break. The men's meet should have some stellar freestyle races, while the women's best races might be in the stroke events.
With the depth of all of these teams, every touch-out could swing the score. It will prepare everyone for when everything is on the line later this season.
---
Associated Links
---