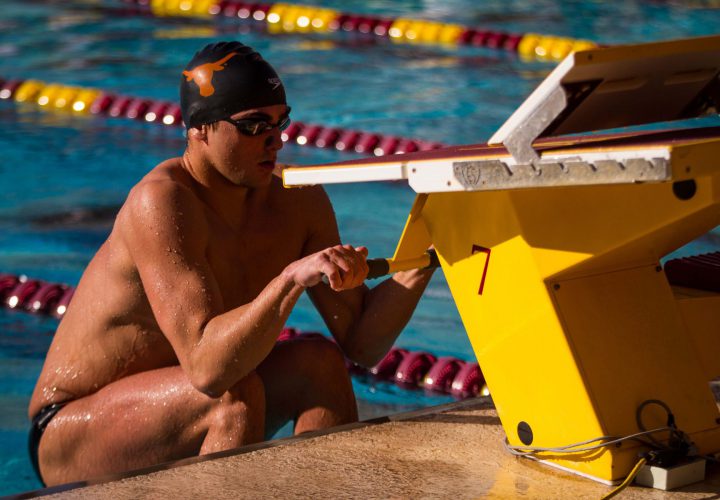 Photo Courtesy: Blake Benard
Editorial content for the 2018 NCAA DI Championship coverage is sponsored by TritonWear. Visit TritonWear.com for more information on our sponsor. For full Swimming World coverage, check event coverage page.
Texas freshman Austin Katz set a pool record on his way to winning the 200 back A final in a time of 1:37.53. This moves Katz ahead of Tyler Clary for third on the all-time list.
Fellow Longhorn John Shebat took second with a 1:37.94 while USC's Patrick Mulcare touched in third with a 1:38.43. Rounding out the A final was 400 IM champion, Stanford's Abrahm DeVine in a 1:41.99.
In the B final, Hawaii's Metin Aydin led all they way up until the 175 where Georgia sophomore Javier Acevedo took over the lead and ultimately touched first in a time of 1:39.06.
Event 16  Men 200 Yard Backstroke
=========================================================================
         NCAA: N 1:35.73  03/26/2016Ryan Murphy, California-PC
     American: A 1:35.73  03/26/2016Ryan Murphy, California-PC
   U. S. Open: O 1:35.73  03/26/2016Ryan Murphy, California-PC
 Championship: C 1:35.73  03/26/2016Ryan Murphy, California-PC
         Pool: P 1:38.02  03/24/2018John Shebat, Texas-ST
    Name           Year School            Prelims     Finals NISCA Points
=========================================================================
                            === A - Final ===                            
 
  1 Austin Katz      FR Texas             1:38.84    1:37.53P        20  
    r:+0.65  23.01        47.51 (24.50)
        1:12.62 (25.11)     1:37.53 (24.91)
  2 John Shebat      JR Texas             1:38.02    1:37.94P        17  
    r:+0.69  22.23        46.42 (24.19)
        1:11.63 (25.21)     1:37.94 (26.31)
  3 Patrick Mulcare  JR USC               1:38.85    1:38.43         16  
    r:+0.68  23.26        47.99 (24.73)
        1:12.72 (24.73)     1:38.43 (25.71)
  4 Bryce Mefford    FR California        1:39.04    1:38.48         15  
    r:+0.70  23.51        48.03 (24.52)
        1:13.12 (25.09)     1:38.48 (25.36)
  5 Jonathan Robert  SR Texas             1:38.73    1:38.64         14  
    r:+0.79  22.84        47.40 (24.56)
        1:12.88 (25.48)     1:38.64 (25.76)
  6 Anton Loncar     SR Denver            1:38.62    1:39.15         13  
    r:+0.75  23.36        48.17 (24.81)
        1:13.84 (25.67)     1:39.15 (25.31)
  7 Dean Farris      SO Harvard           1:39.21    1:40.37         12  
    r:+0.68  23.12        48.04 (24.92)
        1:13.59 (25.55)     1:40.37 (26.78)
  8 Abrahm DeVine    JR Stanford          1:39.22    1:41.99         11  
    r:+0.68  23.46        48.86 (25.40)
        1:15.23 (26.37)     1:41.99 (26.76)