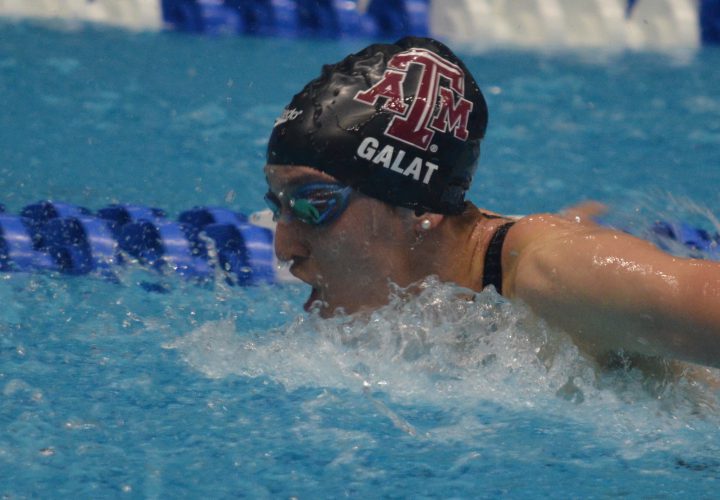 Bethany Galat.
Photo Courtesy: Dan D'Addona
By Dan D'Addona.
Texas A&M continued its strong performance at the Art Adamson Invitational at home Friday.
The Aggies hag 867.5 points to lead Stanford (724), Arizona State (256) and LSU (184) in the 10-team event.
The Aggies edged Stanford in another relay to open the second day of competition as Lisa Bratton, Jori Caneta, Jing Quah and Beryl Gastaldello won the 200 medley relay in 1:35.90.
Stanford's Janet Hu, Kim Williams, Ally Howe and Lauren Pitzer took second (1:36.79). Both were NCAA "B" cuts.
The Aggies also won the 800 freestyle relay as Katie Portz, Gastaldello, McKenna DeBever and Claire Rasmus finished in 7:05.27.
Stanford dominated the 400 IM as Katie Ledecky (3:59.69) led a 1-2-3 charge with Ella Eastin (4:00.74) and Brooke Forde (4:02.83). Texas A&M's Bethany Galat was fourth (4:02.85). The top four were all NCAA "A" cuts.
Ledecky won the 200 freestyle in 1:42.48, an "A" cut.
Hu won the 100 butterfly (51.27) ahead of Gastaldello (51.44) — both "B" cuts.
Howe won the 100 backstroke in 50.91, an "A" cut, ahead of Hu (51.30) and Bratton (51.65), both "B" cuts.
Arizona State's Silja Kansakoski won the 100 breaststroke in 58.96, a "B" cut.
In the men's meet, the Aggies have the team lead with 976 points. Rounding out the top five teams in the team race are Utah (607), LSU (420.50), Hawaii (285) and Air Force (253).
Texas A&M's Brock Bonetti, Mauro Castillo Luna, Jose Martinez and Adam Koster won the 200 medley relay (1:24.67), edging Utah's Paul Ungur, Jack Burton, Ben Scott and Rodolfo Moreira (1:24.80) — both NCAA "B" cuts.
Martinez (46.12), Castillo Luna (46.66) and Bonetti (46.81) went 1-2-3 in the 100 butterfly. Castillo Luna won the 100 breaststroke (52.34), going 1-2-3 with Jonathan Tybur (53.72) and Tanner Olson (53.75), all "B" cuts.
A&M's Austin Van Overdam won the 400 IM (3:44.79), going 1-2-3 with teammates Benjamin Walker (3:52.20) and Jake Gibbons (3:52.22) — all NCAA "B" cuts.
Utah's Liam O'Haimhirgin won the 200 freestyle (1:35.47). Ungur won the 100 backstroke (46.04) ahead of Bonetti (46.36). Felix Chiun, O'Haimhirgin, Rahiti De Vos and Austin Phillips won the 800 free relay (6:29.98).
LSU's Juan Hernandez won 3-meter diving with 459.20.