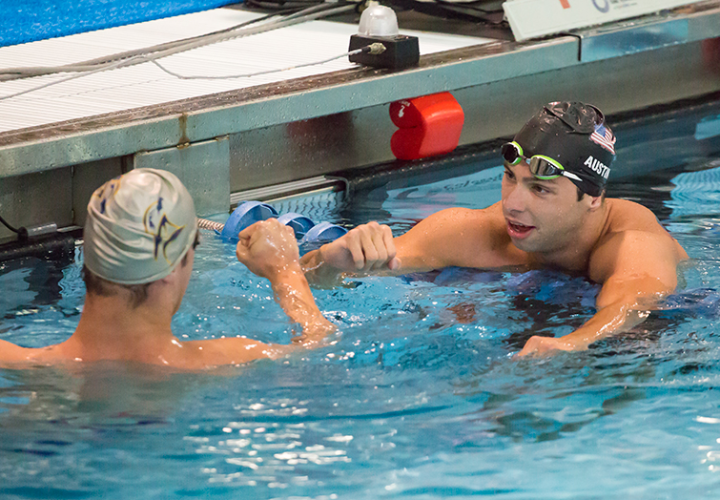 Evan Austin.
Photo Courtesy: Kevin McCarthy
On the final day of competition at the Indianapolis 2018 World Para Swimming World Series, Team USA tallied eight medals, including five gold, to finish the event with 26 medals overall. This world series stop at Indiana University Natatorium featured 198 swimmers from 17 countries.
To kick off the evening, U.S. women recorded the second sweep of the event. Four-time Paralympic medalist McKenzie Coan (Clarkesville, Georgia/S7), four-time Paralympic medalist Michelle Konkoly (Eagleville, Pennsylvania/S9) and six-time Paralympic medalist Becca Meyers (Baltimore, Maryland/S13) placed first, second and third, respectively, in the 100-meter freestyle.
Twelve-time Paralympic medalist Cortney Jordan (Henderson, Nevada/S7) placed first in the 50 butterfly, while teammate Julia Gaffney (Mayflower, Arkansas/S7) finished third. In the 100 fly, two-time Paralympic medalist Lizzi Smith (Muncie, Indiana/S9) took home gold.
On the men's side, two-time Paralympian Evan Austin (Terre Haute, Indiana/S7) won the 50 fly, while Lawrence Sapp (Waldorf, Maryland/S14) won the 100 fly.
Four records were set by three U.S. athletes on the final day of competition: Leanne Smith (Beverly, Massachusetts/S3) with an American and Pan Am record in the S3 100 free (1:47.07) and an American record in the S3 50 fly (1:00.41); Austin with an American and Pan Am record in the S7 50 fly (29.97); and Robert Griswold (Freehold, New Jersey/S8) with an American and Pan Am record in the S8 100 fly (1:03.13).
The World Para Swimming Points System is used at World Para Swimming World Series competitions. All athlete results at each world series event will be calculated using a standardized points system. This will ensure that the overall World Para Swimming World Series winner will be the best performing athlete over the duration of the series, meaning that every performance counts. For further explanation, please read here.
Full results of each session can be found here.
QUOTES
McKenzie Coan
"It means so much to sweep the event and be up here with these girls. There's nothing better than that. It really shows how strong the U.S. women are, and that we can come to any meet and dominate. I think it's really exciting for where we're at in the season. It should be a great year."
Lizzi Smith
"That was the best that a 100 fly has felt, and I think that goes a lot to my training. Even taking time off has helped me relax as a swimmer, get out of my head, and let my body do the work that it needs to do. My 100 fly time tonight was just two-tenths of a second off of my Rio time, and for only being back in the water for three months, it gives me a lot of hope for what the rest of the season is going to look like."
— This was a news release from USA Paralympic Swimming.
---
Associated Links
---