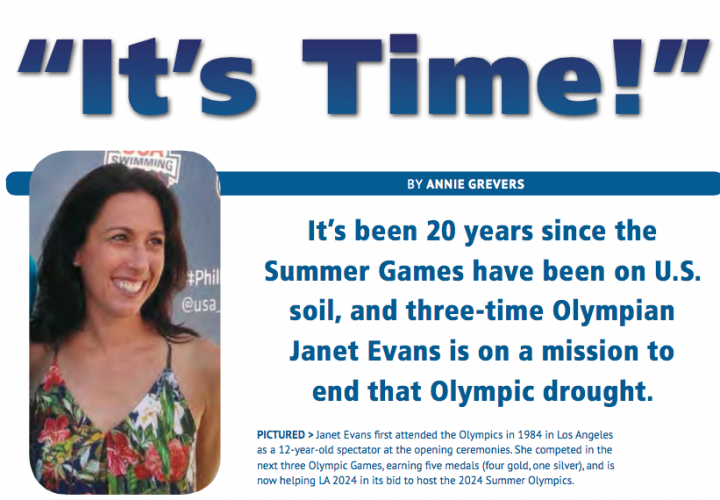 "It's Time"
It's been 20 years since the Summer Games have been on U.S. soil, and threetime Olympian Janet Evans is on a mission to end that Olympic drought.
Los Angeles is among four candidates (Paris, Budapest and Rome are the others) bidding to host the 2024 Olympics. Serving as a vice chair and director of athlete relations for the LA 2024 organization, Olympian Janet Evans is a key liaison, keeping athletes involved in the Olympic bid process. Swimming World caught up with "Miss Perpetual Motion" in a recent interview.
To read more about Swimming World's interview with Evans check out the October issue, available now!
Total Access Members Can Visit the Swimming World Vault and Download Now!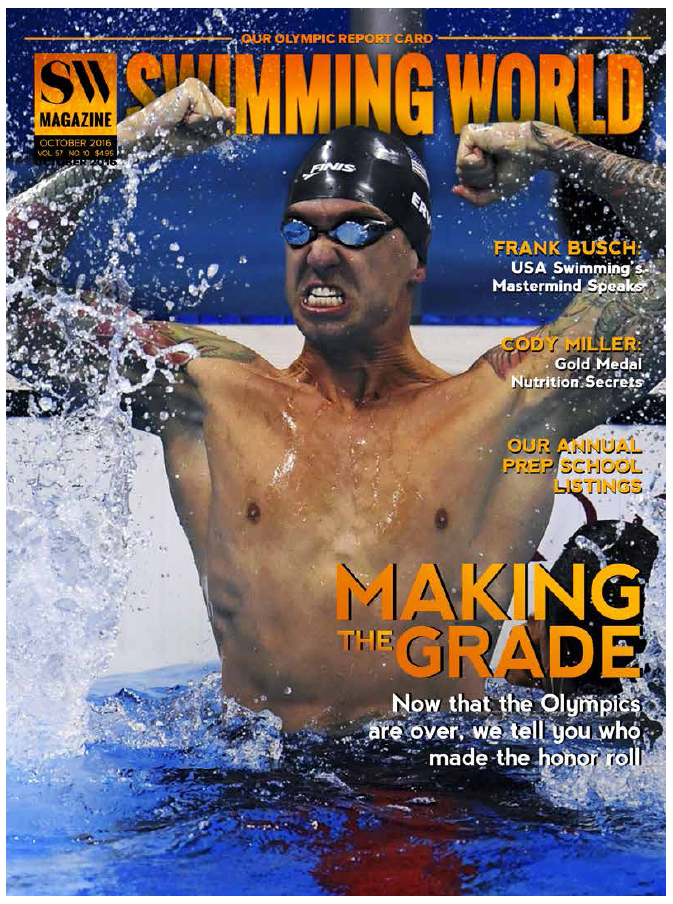 Not a subscriber? Swimming World Magazine gives you unlimited access to all online content on SwimmingWorldMagazine.com and access to all of the back issues of Swimming World Magazine dating back to 1960! To Access everything in the Swimming World Magazine Vault, Subscribe With This Special 3-Year Offer!
Take A Video Tour Of The Current Issue Of Swimming World Magazine…
FEATURES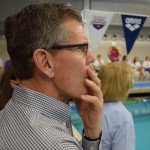 014 RIO RETROSPECT: HOLY SMOKES!
by Annie Grevers
Frank Busch, USA Swimming's national team director, offers his take on the Rio Games—the good, the bad and the ugly.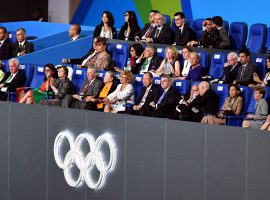 016 RIO REPORT CARD
by David Rieder
Nearly 900 swimmers from 173 countries competed in this summer's Olympic Games in Rio de Janeiro. How did some of the different nations of the world perform? How did Rio 2016 measure up to expectations? What does the future hold for competitive swimming? Swimming World gives you the answers.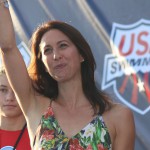 021 "IT'S TIME!"
by Annie Grevers
It's been 20 years since the Summer Games have been on U.S. soil, and threetime Olympian Janet Evans is on a mission to end that Olympic drought.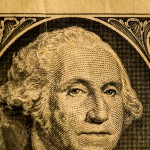 022 SHOW ME THE MONEY
by Annie Grevers
There's plenty of room for financial growth among professional swimmers in the United States.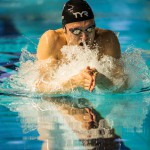 030 NUTRITION: AROUND THE TABLE WITH CODY MILLER
by Annie Grevers and Tasija Korosas
After Olympic gold and bronze medalist Cody Miller spoke with a nutritionist and developed a healthier diet, he has seen stark improvement in recovery time after practices, and he's detected more energy toward the end of the week after logging many miles of hard breaststroke.
COACHING
009 EARLY-SEASON SETS: SETTING THE STAGE
by Michael J. Stott
Long before the first day of high school practice—whether it be fall, winter or spring—coaches are hard at work mapping out team organization, season plans and daily sets. Here's a sample workout that Miramonte (Orinda, Calif.) High School's Coach Don Heidary uses to help roll his swimmers back into the rigors of the high school season.
010 LESSONS WITH THE LEGENDS: GEORGE BREEN
by Michael J. Stott
012 SWIMMING TECHNIQUE MISCONCEPTIONS: LEVERAGE
by Rod Havriluk
While it is true a swimmer must exert considerable effort to begin the pull, it is not true that the effort produces considerable propulsion. In actuality, the perceived muscular effort (force) does not directly equate to the force applied to the water. The difference between muscular force and applied force is due to leverage—technically, the "mechanical advantage" of a lever.
042 Q&A WITH COACH RANDY ERLENBACH
by Michael J. Stott
043 HOW THEY TRAIN STEPHEN HOLMQUIST & HUGO SYKES
by Michael J. Stott
TRAINING
025 DRYSIDE TRAINING: STRONGER FLIP TURNS
by J.R. Rosania
JUNIOR SWIMMER
039 GOLDMINDS: CAN YOU REALLY CHANGE?
by Wayne Goldsmith
YES, you can! Follow these 10 tips, and you'll be on your way to becoming an even better swimmer. START TODAY!
045 UP & COMERS
by Taylor Brien
COLUMNS & SPECIAL SECTIONS
008 A VOICE FOR THE SPORT
026 HOLIDAY GIFT GUIDE
032 PREP SCHOOL DIRECTORY
046 GUTTER TALK
048 PARTING SHOT